The Advil Pain Equity Project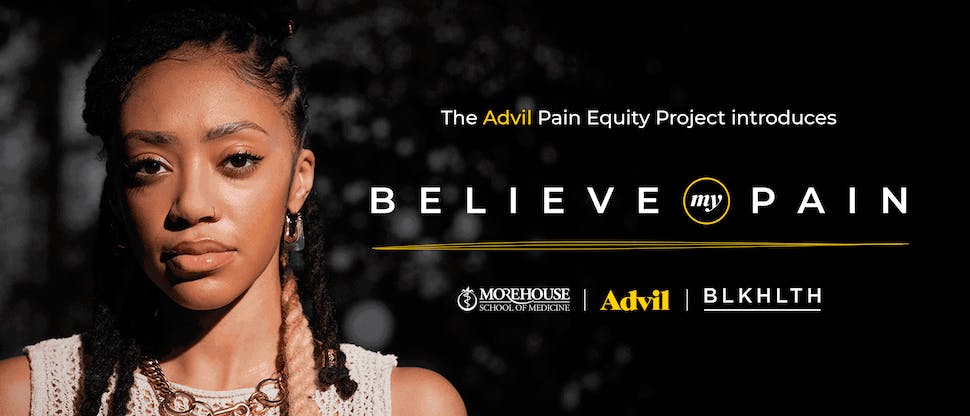 The Advil Pain Equity Project Introduces Believe My Pain
While many organizations and individuals within the Black community are working to address pain bias, we believe it takes greater involvement from the broader health community to solve this systemic issue.
That's why Advil, Morehouse School of Medicine (MSM) and BLKHLTH have decided to team up in a mission for pain equity.
Together, we're committed to taking on challenges at the source, through research, education and collaboration.
OUR KEY INITIATIVES
Illuminating the impact of pain equity through powerful research
Advil, with guidance from Morehouse School of Medicine, surveyed 2000 people in America to assess the real impact of pain on their lives. Topics included pain experience, life impact, pain management, and perceived bias. The study found that 64% of Black individuals felt their healthcare providers treat people of their race and ethnicity worse than people of other races and ethnicities.
Funding solutions to progress medical education
The launch of Advil's Pain Equity Fund included grants to both Morehouse School of Medicine and BLKHLTH. Part of the grants will be used to partner with other leading experts to begin to develop a pain-equity-focused training for medical students that will be piloted next year.
Developing tools and resources for improved pain management
A workshop during National Pain Awareness Month with Morehouse School of Medicine students aimed to better understand the key drivers of inequitable pain care and what needs to change from a medical training perspective. This resulted in the development of digital tools and resources aimed at helping Black patients improve their clinical experience in the near term.