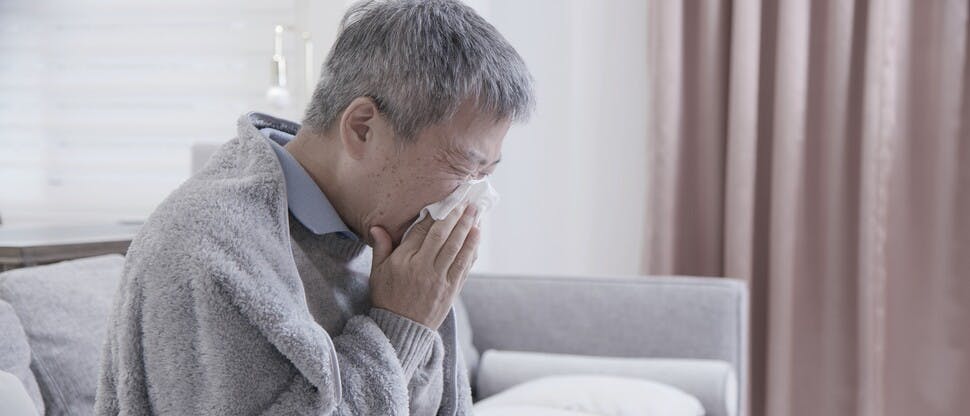 An overview of cold and flu
Patients are increasingly concerned about respiratory conditions and may conflate them. The information here can help you counsel patients and manage symptoms of cold and flu pain. Information about COVID is also available.
Information to share with patients about the common cold: this benign upper respiratory viral illness is distinct from flu. Symptoms usually last for at least a few days. A cold can sometimes lead to secondary infections such as ear or sinus infections.
Information to share with patients about the flu: the flu has an abrupt onset with more severe symptoms than a cold. It can progress to serious complications, such as pneumonia and even death.
Many types of viruses cause colds, but only the human influenza virus causes the flu.
You can expect that your adult patients will contract between 2 and 3 colds each year, while children will contract 4 or more. Approximately 1 in 10 of your patients present with the flu during flu season. Flu presents a significant risk. Each year, on average 8,200 to 20,000 Americans die of flu-related causes, and more than 200,000 Americans are hospitalized due to complications of the illness.

Patients confuse cold and flu symptoms. The table above helps you quickly identify the specific differences and share the information with your patients.

Defining "high risk" for patients

Most patients experiencing symptoms of the common cold or flu can recover at home without medical intervention, but some people are at "high risk," including:

Adults aged 65 years or older
Pregnant patients
Young children
Adults with chronic health conditions (e.g., asthma, heart disease, diabetes)

You may find it helpful to reassure your patients that most cases of the common cold and flu are harmless. Pain and fever symptoms can be safely managed at home using over-the-counter medicines such as Advil Tablets or Advil Liqui-Gels. Other symptoms may require a cough and cold medicine.

You may also want to direct them to seek early medical intervention if symptoms worsen, especially if they have underlying medical conditions or risk factors, to limit the potential for further complications.

Many patients need to be reminded that the CDC recommends that everyone 6 months of age or older get the flu vaccine every season.

Providing relief for colds

As you know, the common cold will typically clear up on its own and is relatively harmless. Furthermore, there are no medicines available to "cure" or shorten the common cold; because viruses cause colds, antibiotics have no therapeutic efficacy.

Treatment suggestions include:

For relief from fever, headaches, and body aches, try over-the-counter ibuprofen such as Advil Tablets or Advil Liqui-Gels
Plenty of rest
Increased fluid intake

Treating the Flu

Patients in "high risk" categories (as outlined above) may require antiviral medication to help prevent more serious complications and should speak to their healthcare provider.

Otherwise, the average person will successfully recover from the flu at home without medical intervention.

For symptom relief, recommendations include:

For relief from fever, headaches, and body aches, suggest over-the-counter ibuprofen like Advil Tablets or Advil Liqui-Gels
Plenty of rest
Increased fluid intake

Why Advil is an appropriate choice

Advil is proven to provide significant relief of fever and aches and pains associated with cold and flu, with a favorable safety profile when used as directed.

Extensively studied and widely used in clinical practice, Advil nonselectively inhibits COX-1 and COX-2 enzymes to block prostaglandin production and pain signaling, effectively treating pain and discomfort caused by inflammation.

To learn more, go to Cold and Flu Management.
Read more about cold and flu
Learn how to manage cold symptoms
See the management options available to help provide relief.