Corsodyl short-term treatment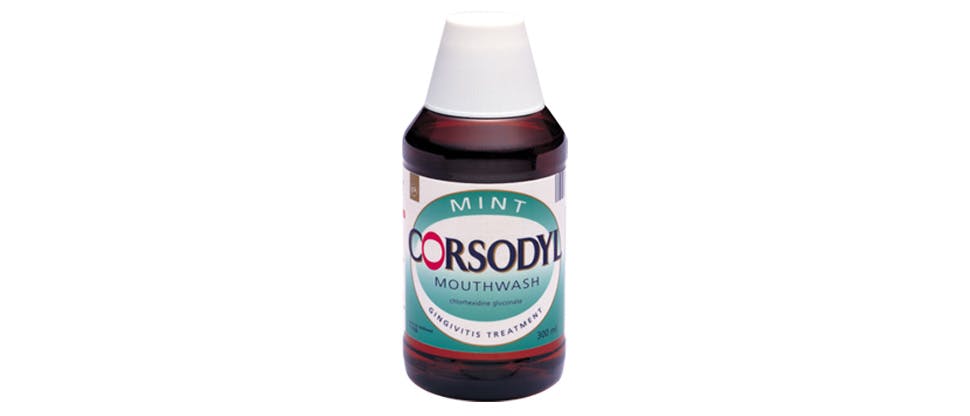 Kills, repels and lasts
Intensive treatment for persistent gum problems, clinically proven to be effective against bleeding gums, gum irritation and gum inflammation.1–3
Acts rapidly to significantly reduce oral bacterial count4
Prevents plaque build-up through 12-hour substantivity4
Significantly reduces gingivitis symptoms after 2 weeks following a supragingival prophylaxis1
Forms a protective antibacterial layer to help gum healing2,4
Clinically proven to accelerate gingival healing after periodontal surgery3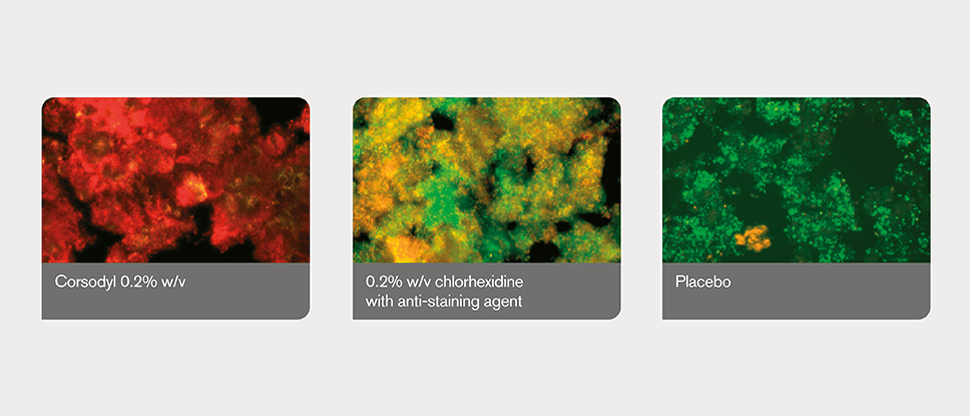 Not all chlorhexidine formulations are the same
In a 5-week randomised study, Corsodyl 0.2% w/v Mouthwash was more effective at inhibiting plaque growth when compared with another commercial 0.2% chlorhexidine solution with an anti-staining agent.5
After 4 days of treatment:5
73% reduction in plaque with Corsodyl 0.2% vs. 37% with comparator*5
78% reduction in biofilm vitality with Corsodyl 0.2% vs. 26% with comparator*5
Images show the vitality of the plaque biofilm after 4 days of treatment determined using an image analysis program to discriminate green (vital) bacteria, yellow (vital and dead) bacteria and red (dead) bacteria5*Mean values and statistical comparison between placebo and two chlorohexidine solutions in terms of plaque index, plaque area and biofilm vitality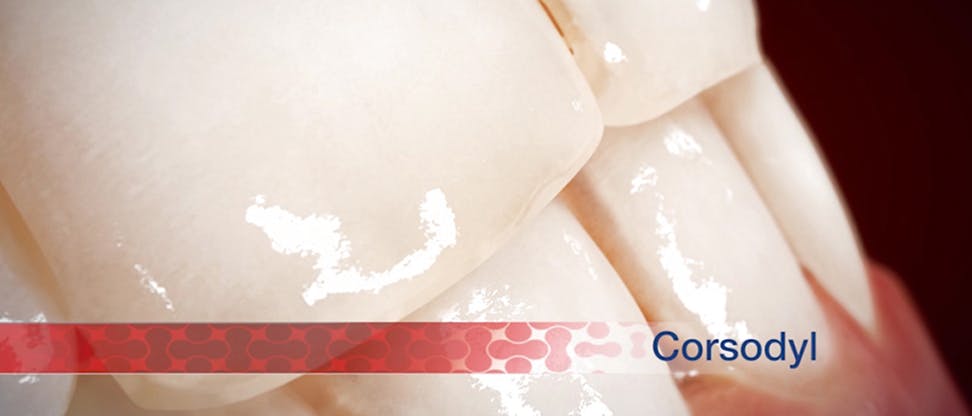 Rapid action
Chlorhexidine digluconate acts rapidly, killing the bacteria that cause plaque in 30 seconds4,6
Chlorhexidine is incompatible with anionic agents

Often present in conventional toothpastes, anionic agents interact with chlorhexidine.7,8 Toothpastes with anionic agents should therefore be used before Corsodyl Short-Term Intensive Treatment (rinsing the mouth between applications) or at a different time of day.

Simple recommendations to help avoid staining

To minimise the risk of staining after using chlorhexidine mouthwashes, advise patients to avoid tannin-containing food and drinks.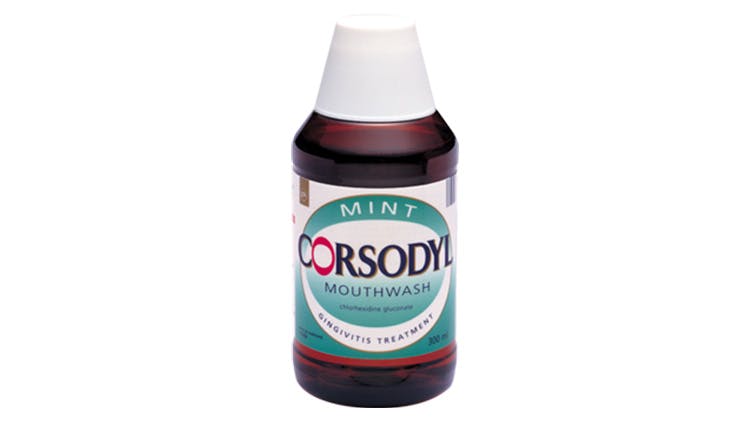 Corsodyl 0.2% w/v Mouthwash
For patients with gingivitis who need short-term intensive treatment that is clinically proven to be effective against bleeding gums, gum irritation and gum inflammation.1–3
Ingredients

0.2% w/v Chlorhexidine Digluconate (equivalent to 1.0% v/v Chlorhexidine Digluconate Solution Ph Eur.), ethanol, macrogolglycerol hydroxystearate, sorbitol, flavour and water.

Directions

Use twice daily. Rinse with 10mL for 1 minute then spit out.Do not swallow and do not rinse with water.Do not drink from the bottle.

Warnings & Precautions

Keep out of the sight and reach of children. Stop using the mouthwash and seek immediate medical help if you get a rash, swelling of the mouth or face, or have difficulty breathing. These effects may be symptoms of an allergic reaction which is very rare. As with any other oral care product, if irritation occurs discontinue use.Not for use by children under 12 years of age unless on advice of a dental professional or doctor.
Help your patients on their journey to optimal gum health