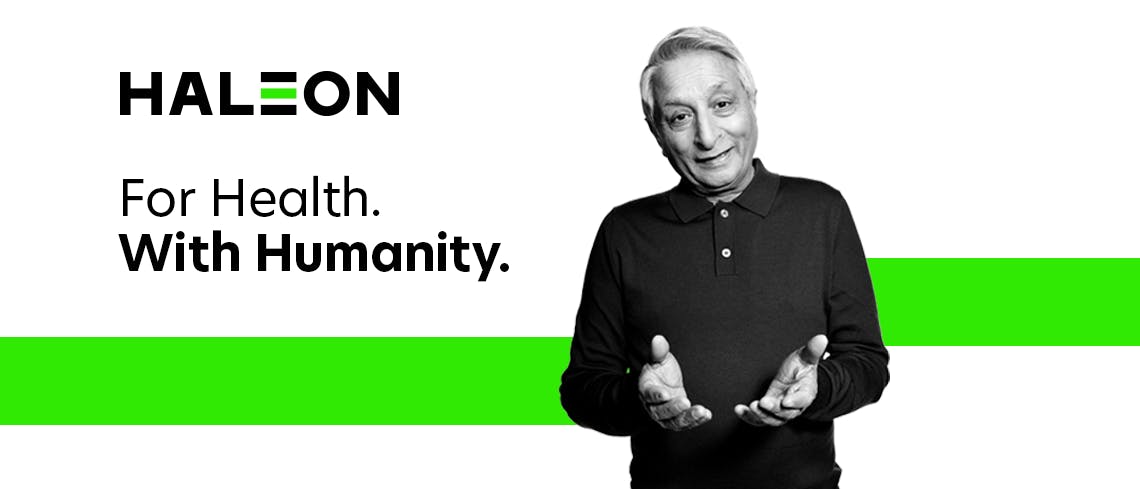 We recently demerged from GSK Plc (formerly GlaxoSmithKline Plc) and became Haleon, a company single-mindedly focused on delivering better everyday health with humanity.
Our business is built on an exceptional portfolio of trusted brands, backed by leading consumer healthcare-focused scientific capabilities and a well-developed organisational understanding of human health behaviour, generated by in-house expertise and proprietary consumer insight tools.
We hope that our trusted science and deep human understanding will continue to drive innovation and meaningful engagement in health for decades to come.
But we also have a restless desire to do more.
That's why we're focused on raising the bar in our services for health professionals, patients, and everyday health.
As a health professional, your ability to see a person beyond a patient and to treat illness within the context of everyday lives makes you an extraordinary leader from whom we can learn.

That's why partnering with health professionals is a top priority and why the ability to actively listen and co-create with health professionals are the skills we value highly in our people.

In recent collaborations, health professionals told us that a lack of education in patient communication, behaviour change and emerging technologies, as well as a lack of time and recognition from peers, policymakers, and even patients sometimes make the delivery of better everyday health with humanity a challenge.

Removing those challenges is the goal of Haleon HealthPartner. Here you will find professional education, practical tools and the latest on new services, as well as our awareness campaigns and community-building efforts in support of health professionals.

Standing with Pharmacists in the Age of Self-Care

In 2021, we made a 3-year commitment to support pharmacists in their increasingly challenging role in the primary care ecosystem – a world where there is a much greater focus on everyday health and selfcare. This programme advocates for pharmacy policy and regulation change, whilst also offering a range of support, training, and tools.

Supporting the Mental and Emotional Health of Dental Health Professionals

We teamed up with Dr Koula Asimakopoulou of Kings College London (registered Psychologist, Reader in Health Psychology, and a member of the Health Care Professions Council) to create a series of videos that help dental professionals understand and manage their emotions to make the right choices for their clinic, staff and patients in a Covid-19 and post Covid-19 world.

Taking care of our everyday health should be easier. Despite significant improvements in medicine, data and technology, better everyday health remains elusive for too many people.

We want to change that and believe in increasing the knowledge, skills and confidence people have in managing their own health, as well as the value of community-based care.

Whether it's manufacturing effective products, researching determinants of health inequity, supporting patient access, or improving health literacy, we are fully committed to empowering self-care. To empowering people, as well as treating patients.

By 2025, we aim to help 50 million people per year gain access to opportunities for better everyday health.

Coming Soon: The Launch of The Health Inclusivity Index

In September 2022, Haleon will publish the world's first Health Inclusivity Index in partnership with the Economist Intelligence Unit and University College of London.

Research with a global panel of experts into the core determinants of health and health equality is ongoing and when published, will highlight gaps in health inclusivity worldwide.

Haleon's Partnership with Smile Train

Haleon is proud to partner with Smile Train, a world-leading charity that empowers health professionals to provide free, life-changing surgery and comprehensive cleft care to children with cleft lip and palate in more than 90 countries.

Haleon provides valuable funding, support, and expertise to help more children living with clefts lead full and productive lives, as well as helping increase awareness and education about cleft.

You can expect continuous improvement from us – our hope is that our trusted science and deep human understanding will drive innovation in health for decades to come.

We're also aware that the health of people and the planet are inextricably linked, therefore, playing a positive role in tackling environmental issues is central to our purpose. We have a dual focus: continuing to mitigate any environmental impact of our operations and focusing on positive impacts and opportunities. For example, we have reduced carbon use by installing renewable electricity generation at 12 out of our 24 manufacturing sites and 100% of electricity we use comes from renewable sources. We are also focused on sustainably sourced ingredients, so 80% of glycerine, our palm oil derivative, is RSPO certified. In addition, all our sites are Zero to Waste Landfill and are improving waste circularity.

Producing Sustainable Oral Health Products

In 2021, we launched 40 million recycle-ready toothpaste tubes in Europe, this was part of our ambition to make over a billion toothpaste tubes recyclable by 2025. We have also increased circularity of our packaging and our key Oral Health brands in Europe are now in recycled board cartons, with around 80% cartons having recycled fibre content. Plastic is another big focus for us, and we have just launched our first ever plastic-free toothbrush packet and a sustainably sourced bamboo toothbrush, with a plastic-free handle and bristles from renewable castor oil. This year, we will also roll out our first recyclable toothpaste tubes and mouthwash bottles.

The Clean Breathing Institute

In 2019, 99% of the world's population was living in places where the WHO air quality guidelines levels were not met. To help reduce the negative impact of this air pollution, we set up a collaborative scientific initiative called The Clean Breathing Institute (TCBI). TCBI's mission is to empower HCPs to help their patients breathe better by providing high quality educational tools and resources, developed together with thought leaders, to assist patients who are suffering from the effects of air pollution.

Haleon For Health. With Humanity
Explore our tools and resources