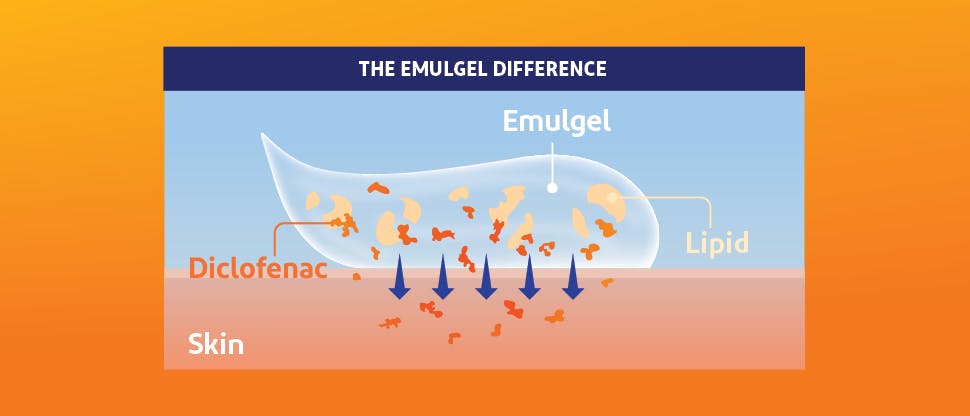 Targets Pain Directly at the Site
The Voltaren® Arthritis Pain Gel formulation is an emulgel, a non-greasy formulation that combines a gel and cream for topical application. It is specially designed to penetrate deep through the skin at the site of pain to deliver powerful arthritis pain relief.
Voltaren® Arthritis Pain gel OTC
Targets arthritis pain at the site and persists there for long-lasting therapeutic effect.1
On its own, diclofenac does permeate the skin. However, Voltaren® Arthritis Pain gel OTC is specially designed to aid diclofenac's entry into and transit through the skin. It delivers diclofenac across the skin faster than a diclofenac solution of the same concentration.*1

*Comparison of diclofenac transdermal permeation ex vivo from Voltaren® Arthritis Pain gel and a solution of diclofenac sodium (wt %, pH 8.1) in water/isopropanol 50/50 wt %).Source: Data on file, GSK 2019. Penetration Study.

Voltaren® Arthritis Pain gel facilitates the formation of a diclofenac reservoir within the skin.* The drug stocked in this reservoir releases continuously into the underlying tissue.1

*Image of diclofenac reservoir formation obtained ex vivo by Raman microscopy at Rutgers University, NJ.Source: Data on file, GSK 2019. Raman Microscopy Study.
Learn more about Voltaren® Arthritis Pain—the #1 doctor recommended topical pain brand*2