Voltaren—Arthritis Hand Pain Relief Efficacy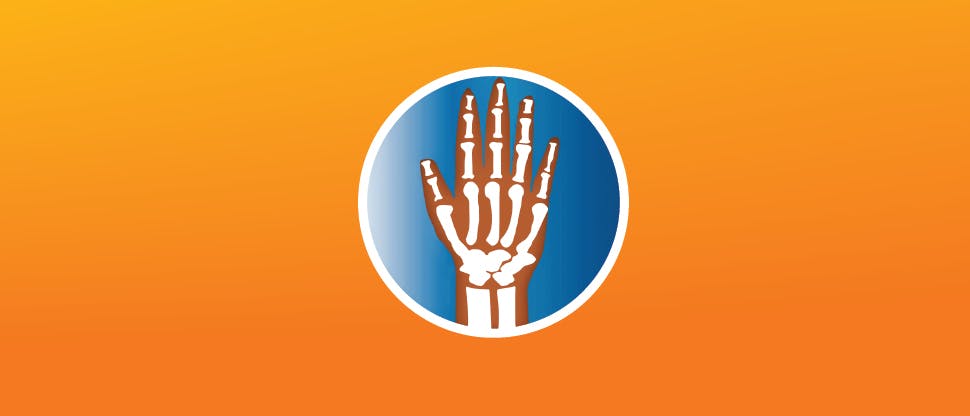 Clinically Proven to Deliver Significant Pain Relief in OA of the Hand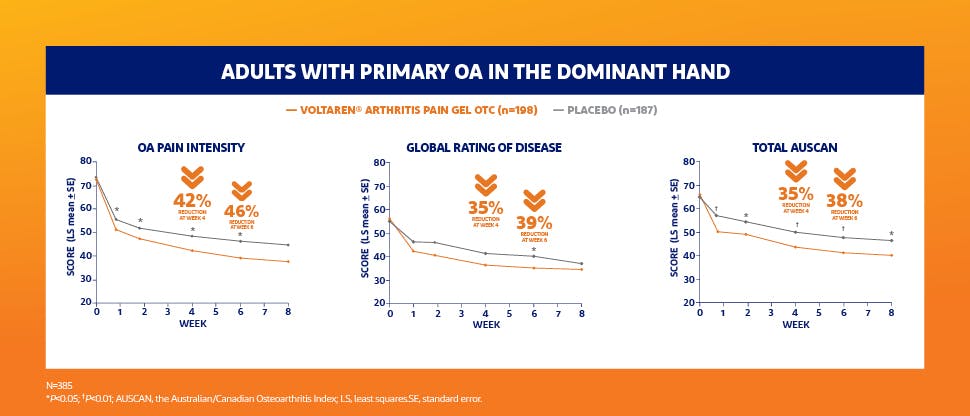 Voltaren® Arthritis Pain gel OTC was superior to placebo in most primary and secondary endpoints by Week 1.1
This clinical trial observed how Voltaren® Arthritis Pain gel OTC compared to placebo in several key pain and function indices for 385 patients with OA over 8 weeks.
Primary efficacy outcomes were the 4- and 6-week measurements of 3 co-primary efficacy indices.
Patients receiving Voltaren® Arthritis Pain gel OTC reported significant reductions in OA pain intensity and total AUSCAN score at Week 4 vs placebo1
At Week 6, patients receiving Voltaren® Arthritis Pain gel OTC showed a significant reduction in all 3 efficacy measures—OA pain intensity, global rating of disease, and total AUSCAN score1
Patient population included overweight and obese individuals1
Voltaren Arthritis Pain gel OTC is the #1 doctor recommended topical pain brand*2
An 8-week, multicenter, randomized, double-blind, placebo-controlled, parallel-group trial of diclofenac sodium gel 1% in 385 adults aged ≥40 years with primary osteoarthritis of the hand. Following the initial visit, patients returned for follow-up assessments at Weeks 1, 2, 4, 6, and 8.1

AUSCAN is a self-reported assessment of hand pain, stiffness, and function that is used to appraise an overall condition rather than relying on any one particular symptom. Total AUSCAN score was calculated as the average of scores on 15 questions rating pain, stiffness, or function—standardized to range from 0 (no pain/stiffness/difficulty) to 100 (extreme pain/stiffness/difficulty).
Learn more about Voltaren® Arthritis Pain—the #1 doctor recommended topical pain brand*2