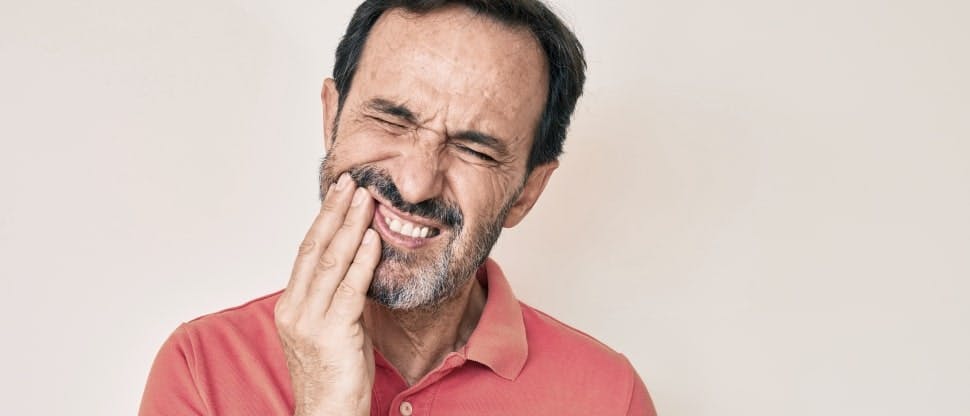 Dental pain: relief and management
The ADA guidelines recommend NSAIDs, like Advil, first line for acute dental pain.1 Whether patients are experiencing pain due to dental procedures or oral conditions, you can help them find safe, effective relief.
Relieve your patients' dental pain
More than 40% of adults reported feeling pain in their mouths in the past year, and 80% will have at least 1 cavity by 34 years of age.2

Dental pain can be caused by pathological conditions, underlying disease processes, and/or their treatment.1 Understanding the cause of dental pain can help you accurately treat your patients' symptoms. Ongoing dental pain should be identified as soon as possible because it can lead to more serious dental problems in the future.

Causes:

Dental procedures
Dental cleanings
Dentin hypersensitivity
Dental caries
Other causes, such as bruxism, periodontal disease, and more

Signs and symptoms:

Sensitivity
Sharp pain when biting down
Lingering pain after eating
Constant and severe pain and pressure
Dull ache and pressure in upper teeth and jaw
Wisdom tooth pain symptoms

Diagnosing dental pain is important to help patients recognize triggers, find a treatment plan, and regain their quality of life.

Depending on the type of dental pain, you can recommend different types of treatment:

For mild to moderate postoperative dental pain and inflammation

, recommend an NSAID pain reliever, such as Advil. Postoperative dental pain is associated with inflammation of the underlying tissues. Advil works at the site of pain to relieve and reduce pain caused by inflammation
The ADA recommends NSAIDs, like Advil,

first line

for dental pain management over prescription opioids

Ibuprofen and acetaminophen

A recent study comparing OTC and prescription pain relievers in The Journal of the American Dental Association found a combination therapy of ibuprofen with acetaminophen (like Advil Dual Action), more effective than any prescription opioid-containing regimen with a lower risk of adverse effects, in the treatment of acute dental pain from third-molar extractions. Advil Dual Action is the first and only pain-relief medication approved by the US Food and Drug Administration that combines acetaminophen and ibuprofen

For dentin hypersensitivity

, recommend a specialist toothpaste like Sensodyne, the #1 dentist-recommended brand for sensitive teeth. It's clinically proven to relieve dentin hypersensitivity*

For other causes of dental pain

, dental evaluation is recommended for treatment

Nonpharmacologic options for mild dental pain:

Rinse with salt water to speed gum tissue healing and minimize pain and sensitivity
Rinse with water and honey
Use a soft toothbrush

Advil, the #1 NSAID brand preferred by patients. It is clinically proven to be an effective medication for reducing or stopping dental pain, among a variety of other pain conditions. Postoperative dental pain is associated with inflammation in underlying tissues. Advil works at the site of pain to relieve pain caused by inflammation. It has been shown to provide superior relief for acute dental pain over acetaminophen. In fact, it has a longer duration of pain relief per dose than Tylenol Regular Strength®.

See how Advil relieves tough dental pain compared to Tylenol

Advil Dual Action fights pain in 2 ways

Provides more effective and longer pain relief than Tylenol Regular Strength in postsurgical dental pain3

Advil is clinically proven to be superior to prescription Tylenol with codeine for acute, postsurgical dental pain4

Dosage

Adults and children 12 years of age and older should take the smallest effective dose when using Advil products to get rid of dental pain fast. Advise patients to follow product directions:

Take 1 tablet every 4 to 6 hours while symptoms persist

If pain or fever does not respond to 1 tablet, 2 tablets may be used

Do not exceed 6 tablets in 24 hours, unless directed by a doctor

Do not give to children under 12 years of age, unless directed by a doctor

For effective relief of acute dental pain, recommend Advil.
Advil is the #1 dentist-recommended OTC pain reliever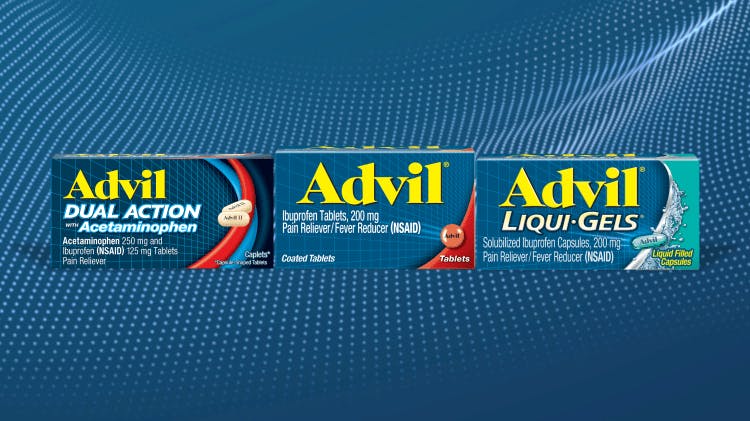 Advil's proven efficacy and safety profile
Discover why Advil is the #1 NSAID brand preferred by patients.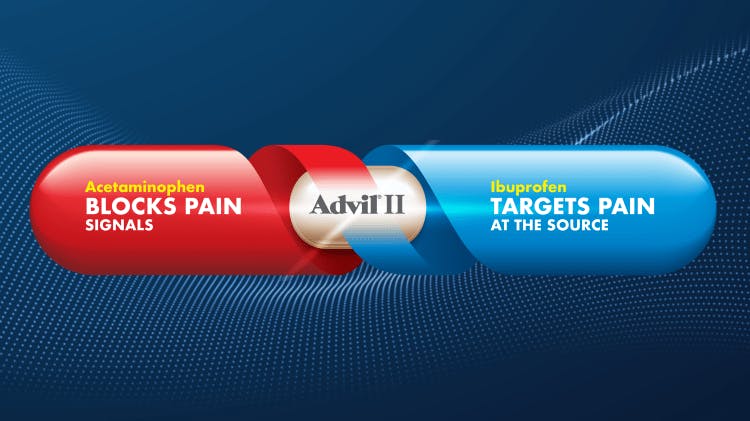 Discover Advil Dual Action
Learn how Advil Dual Action combines 2 distinct mechanisms of action (MOA) to fight dental pain in 2 ways.
Patient resources
Access resources designed to help your patients as they navigate their pain symptoms.