How stannous fluoride works in parodontax toothpaste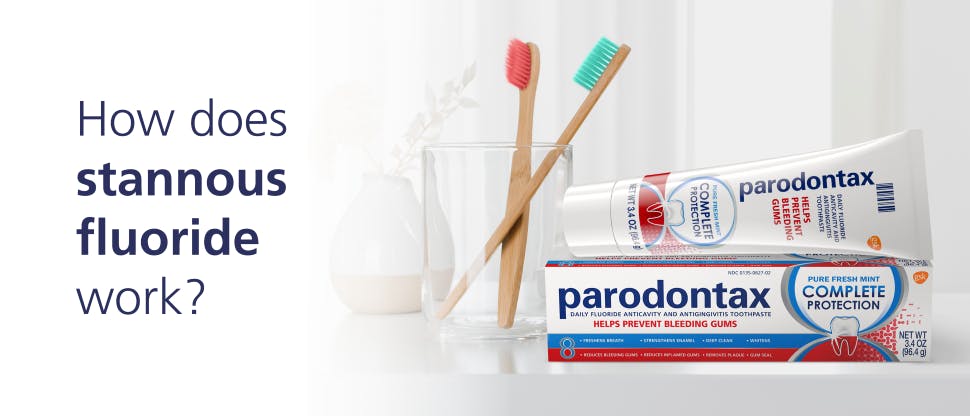 parodontax with stannous fluoride is an anti-cavity & anti-gingivitis toothpaste that helps prevent bleeding gums.
Plaque forms a matrix structure that a specialist toothpaste can help to disrupt as part of daily brushing. With its clinically proven formulation containing 0.454% stannous fluoride, parodontax removes plaque more effectively than a sodium monofluorophosphate (SMFP) toothpaste, removing 3x more plaque build-up. It's a meaningful difference that supports you and your patients to take action today on gingivitis. Learn more about how stannous fluoride works by watching our new MOA video below.
With stannous fluoride, parodontax helps you enhance your patients' daily brushing*
Stannous fluoride inhibits plaque bacteria regrowth by disrupting the metabolic activity of the bacteria in the biofilm, inhibiting glycolysis and preventing the bacteria in the biofilm from utilizing the dietary sugars needed for survival and regrowth. By inhibiting bacterial regrowth, stannous fluoride helps to loosen the structural integrity of the biofilm itself.
*vs. brushing with a sodium monofluorophosphate toothpaste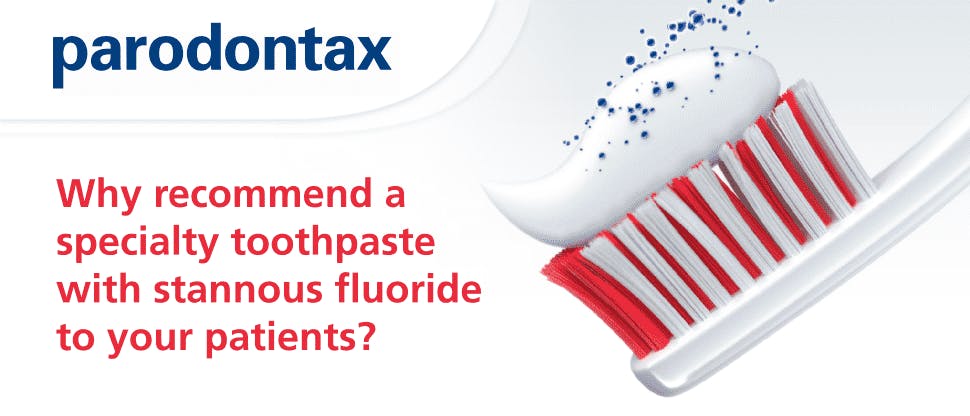 In clinical studies, parodontax toothpaste has been proven to improve patients' gum health by:
Reducing plaque and gingival bleeding, and helping to reduce gingival inflammation

By removing 3x more plaque, the main cause of gingival bleeding,* parodontax helps reduce red & inflamed gums, keeps the seal between gums and teeth tight, and provides a deep clean.

Inhibiting bacterial growth

parodontax is scientifically proven to kill bacteria, and helps to prevent the build-up of plaque bacteria.**

Helping to remove surface stains

parodontax toothpaste helps to restore teeth to their natural whiteness by gently removing surface stains.

Strengthening enamel and helping to prevent cavities

When used twice-daily, parodontax toothpaste with 1100 ppm of fluoride helps to keep teeth strong and helps prevent decay.
*vs. brushing with a sodium monofluorophosphate toothpaste**plaque bacteria associated with gingivitis in an in-vitro test
It's good when patients brush and it's better when they brush with stannous fluoride,* but the best outcomes happen when we work together over the long-term to help fight gingivitis and extend your reach beyond the chair.
Working with you to help your patients achieve and maintain healthy gums*
Help keep your patients on a journey to healthy gums. Your professional advice, regular cleanings and proper home care are vital in helping prevent disease progression and helping reverse early-stage gingivitis in your patients.
Check out the video above for a simple and actionable framework Dr. Koula Asimakopoulou recommends using when it comes to driving meaningful patient behavior change.
*vs. brushing with a sodium monofluorophosphate toothpaste
Expert Opinions: Dr. Samantha Rawdin on Stannous Fluoride and Stain Prevention
Watch this video to learn more about stannous fluoride formulations and stain prevention.
Parodontax toothpaste is clinically proven to reduce plaque from baseline by 20%*1 helping patients maintain gum health between professional cleanings every 6 months.

*With twice daily brushing

Parodontax toothpaste with 0.454% stannous fluoride is clinically proven to reduce gingival inflammation from baseline by 29%*, supporting patients good gingival health.1

*With twice-daily brushing

Parodontax toothpaste is clinically proven to provide 63% reduction in gingival bleeding from baseline*, helping to support patients gum health1

*With twice daily brushing
Help your patients on their journey to healthy gums