Diagnosing periodontal disease
Early detection of the clinical signs of periodontal disease is key to changing its course1
Following the 2017 World Workshop on the Classification of Peridontal & Peri-Implant Diseases and Conditions, a new classification system was published, including direction on the development of a diagnostic statement for patients with periodontitis. This page provides more information on diagnosing periodontal disease and using the Basic Periodontal Examination (BPE) to assess gum health in line with the new guidelines.3
Click here to download and access the quick guide to the new classification for you and your team
Looking for CPD and learning? Click here to access our distance learner module on the new classification and periodontal disease.
History taking
Assessment of your patient's gum health profile should begin when they first walk into your consulting room – with history taking being an important part of this process. It's recommended that you ask open questions at first to allow for unbiased answers, and then move on to more specific questions about their symptoms.2
Suggested questions from the British Society of Periodontology:2
Do your gums bleed on brushing or overnight?
Are any of your teeth loose?
Can you chew everything you want to?
Do you have a bad taste or smell from your mouth?
Do you suffer from pain, swelling, gumboils or blisters?
Do you smoke?
Is there anything else you would like to tell me?
Patient history should include any possible risk factors for periodontal disease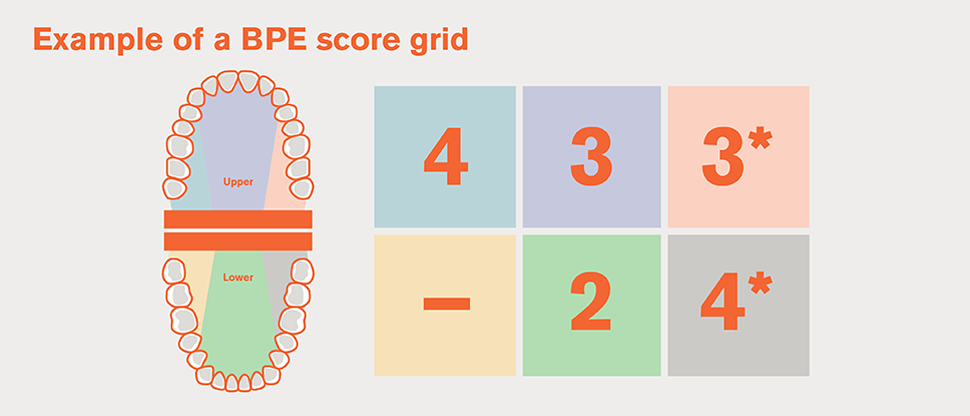 Screening for periodontal disease with the Basic Periodontal Examination
The Basic Periodontal Examination (BPE) is a simple screening tool to identify periodontal clinical needs. First developed by the British Society of Periodontology in 1986, the BPE was most recently updated in 2016.2,3
The BPE divides the dentition into six sections – 'sextants'2,3

All teeth in each sextant are examined and scored with a code, which is entered onto a score grid2,3

A WHO 621 probe with a 0.5mm diameter 'ball point' at its tip is used for the examination2,3
Interpreting BPE scoring codes as part of the new Classification of Periodontal Diseases
The British Society of Periodontology has developed a flow chart of guidance for implementing the 2017 Classification of Periodontal Diseases to reach a diagnosis in clinical practice.4
This highlights the diagnosis as follows:
BPE codes 0/1/2 with no obvious evidence of interdental recession
<10% bleeding on probing – diagnosis of clinical gingival health10-30% bleeding on probing – diagnosis of localised gingivitis>30% bleeding on probing – diagnosis of generalised gingivitis
BPE code 3 with no obvious evidence of interdental recession
No pockets >4mm and no radiographic evidence of bone loss due to periodontitis – continue with pathway above to diagnose as per codes 0/1/2
Pockets >4mm remain and/or radiographic evidence of bone loss due to periodontitis – see code 4 pathway below
BPE code 4 and/or obvious evidence of interdental recession
Ensure appropriate radiographic assessment completed
Full periodontal assessment (including 6-point pocket chart)
Molar incisor pattern – diagnosis of periodontitis molar-incisor pattern<30% of teeth – diagnosis of localised periodontitis>30% of teeth – diagnosis of generalised periodontitis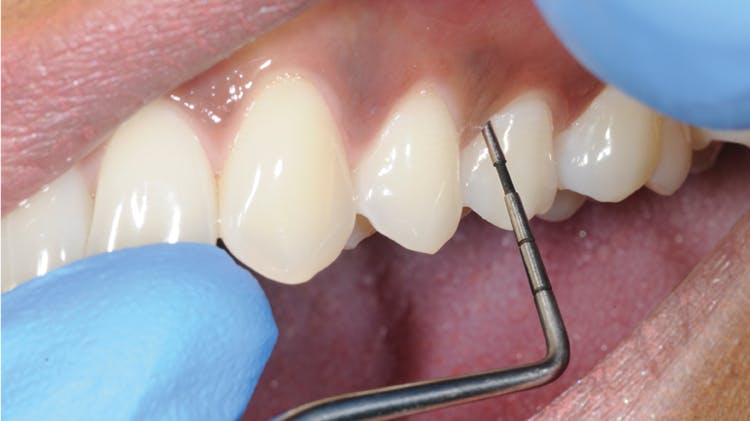 BPE CODE 0
No bleeding after probingNo pocketing over 3.5mmNo calculus/overhangsBlack band completely visible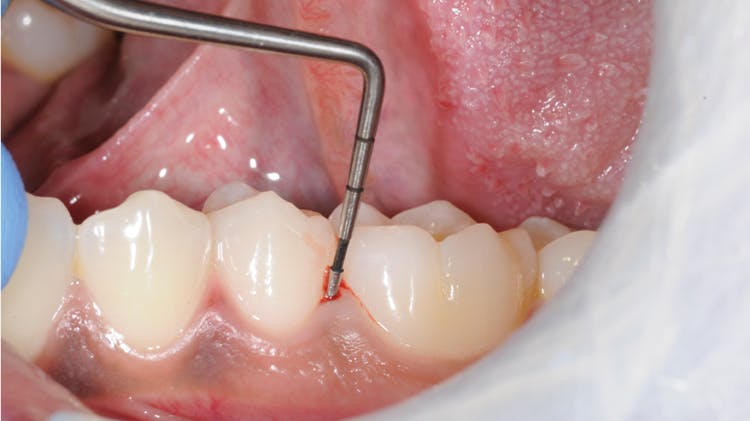 BPE CODE 1
Bleeding after probingNo pocketing over 3.5mmNo calculus/overhangsBlack band completely visible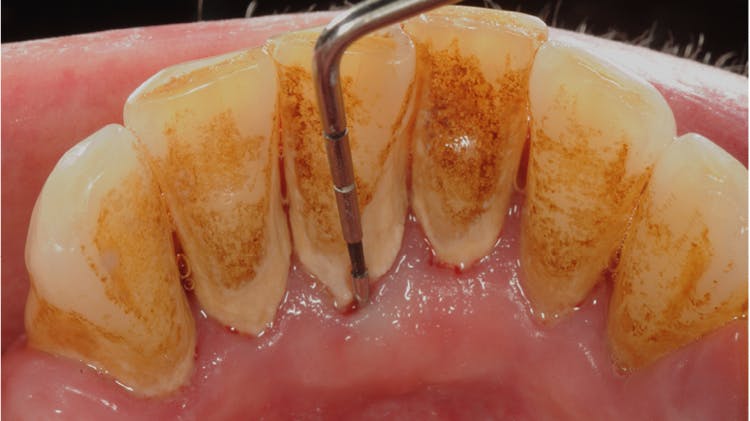 BPE CODE 2
Bleeding after probingNo pocketing over 3.5mmSupra- or subgingival calculusBlack band completely visible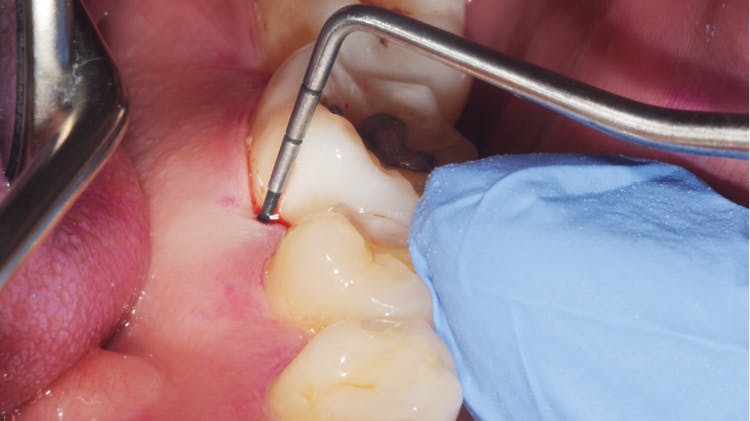 BPE CODE 3
Pocketing between 3.5mm and 5.5mmSupra- or subgingival calculusBlack band partially visible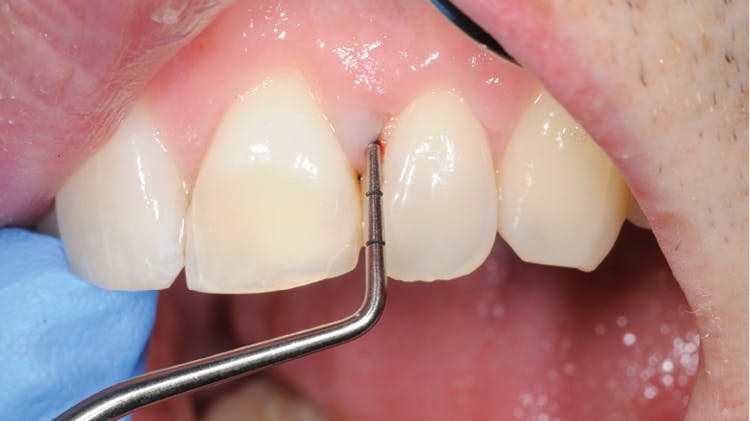 BPE CODE 4
Pocketing over 5.5mmBlack band entirely within the pocket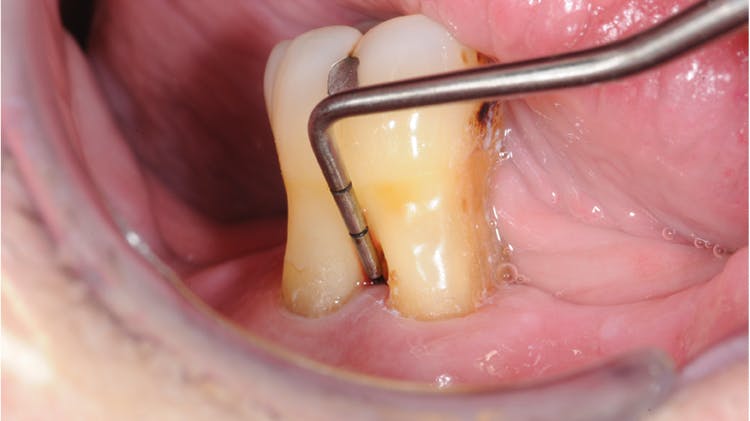 BPE CODE *
Furcation involvementBoth the number and the * should be recorded if a furcation is detected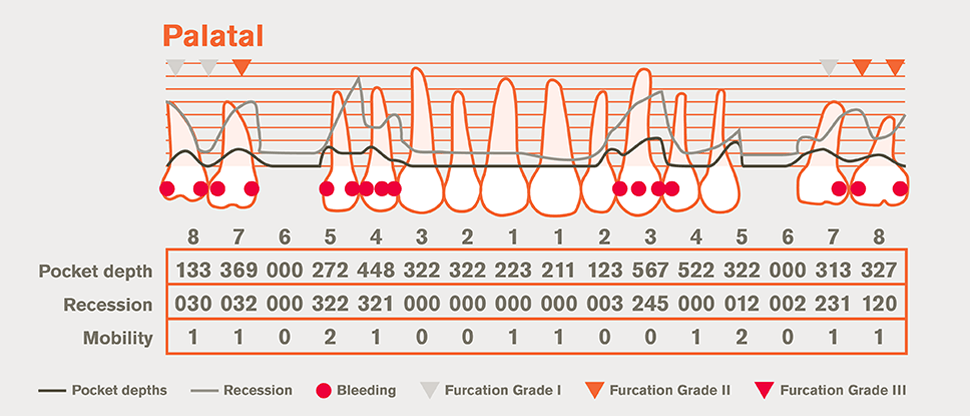 Help your patients on their journey to optimal gum health