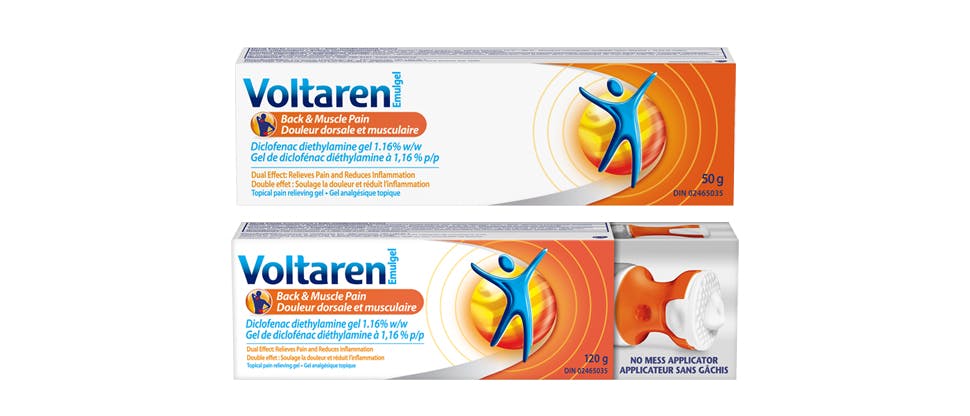 Voltaren Diclofenac Diethylamine 1.16% w/w - relieves muscle, back & joint pain1
Relieves pain associated with acute, localized muscle or joint injuries such as sprains, strains or sports injuries.1
Contains diclofenac, a non-steroidal anti-inflammatory drug (NSAID).1
Voltaren Emulgel Back & Muscle Pain is also available with a No Mess applicator.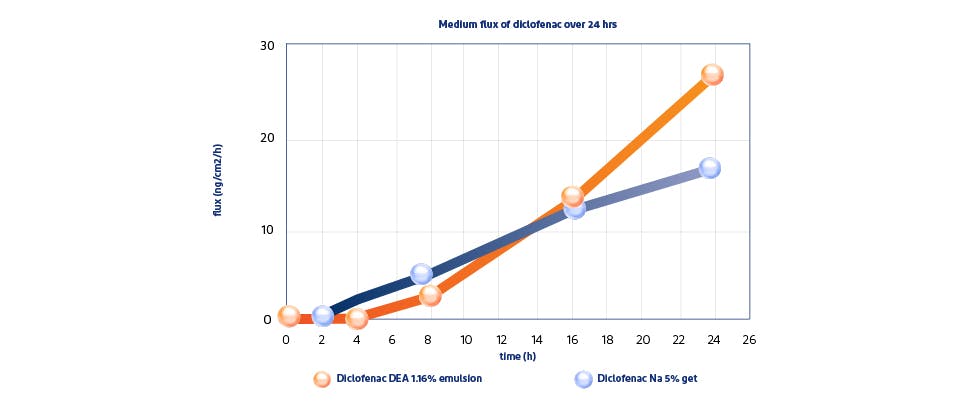 A formulation designed for absorption1,2
After topical application, diclofenac is absorbed through the skin, and a reservoir is formed in the subdermis, from where it reaches the area of inflammation.1,2 Diclofenac persists in the muscle and other tissues, which are the site of pain and inflammation.1,2
When it comes to topical NSAIDs, formulation can be more important than concentration when it comes to absorption:
Results of an in vitro study published by Pradal J, et al. in the Journal of Pain Research (2019), showed that physiochemical properties, such as viscosity, salt, molecular weight and excipients, rather than a higher concentration of active ingredient lead to greater absorption.3
Voltaren Diclofenac Diethylamine 1.16% w/w demonstrated a statistically significant greater permeation through the skin* (Pradal, et al., 2019), at 24 hours vs. diclofenac sodium 5% gel (554 vs. 361 ng/cm2, respectively).3
*Absolute cumulative penetration (ng/cm2) measured over 24 hours. In vitro study on ex vivo skin.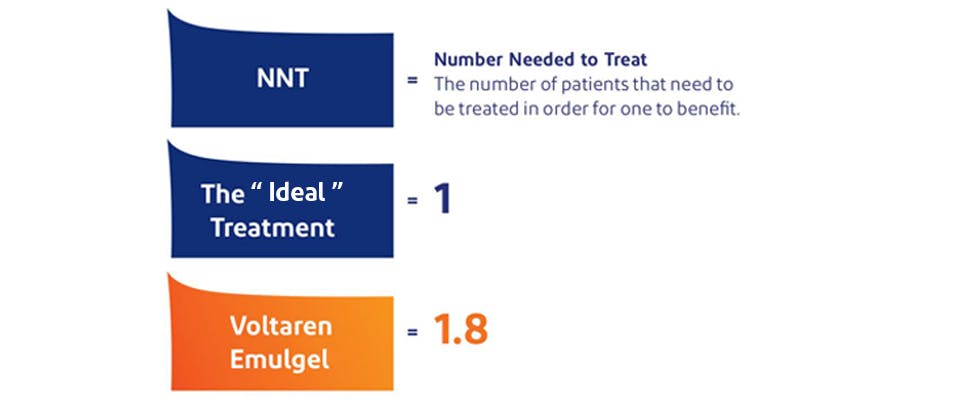 Diclofenac Diethylamine demonstrated a low NNT value, 1.8, for acute musculoskeletal pain4,5
Cochrane reviews are systematic reviews of primary research in human health care and health policy, and are internationally recognized as the highest standard in evidence-based health care.6
In 2015, a Cochrane Review† of 61 studies (>8000 patients) comparing topical NSAIDs in acute musculoskeletal pain reported that Diclofenac Diethylamine demonstrated an NNT value of 1.8.*‡ In comparison, the "ideal treatment" would have an NNT of 1.0.4,5¶
NNT (number needed to treat) is a measure of clinical efficacy and indicates the number of patients that need to be treated in order for one to benefit.7‡
The authors concluded that topical NSAIDs provided good levels of pain relief in acute conditions such as sprains, strains and overuse injuries, probably similar to that provided by oral NSAIDs (Derry, et al., 2015).4
†The review included randomized, double-blind, active or placebo-controlled trials in which treatments were administered to adults with acute pain resulting from strains, sprains or sports or overuse-type injuries.*1.16 % w/w and 2.32 % w/w Voltaren Emulgel formulations included in the review.¶ Reflects a hypothetical scenario where all the patients in the treatment group have benefitted but no one has in the control arm.‡Substantial clinical benefit with Voltaren defined as at least 50% pain reduction.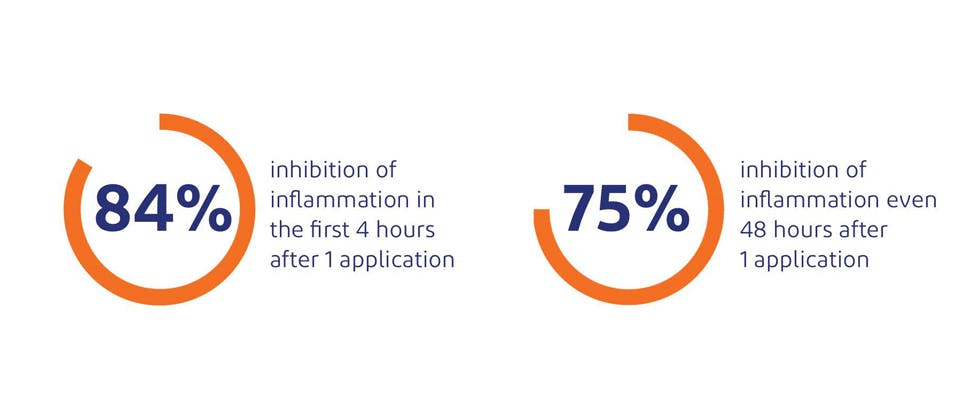 Effective relief of acute pain and reduction of inflammation8
In a clinical study by Duteil L, et al. published in the Journal of Clinical & Experimental Dermatology (1990), Voltaren Emulgel 1.16% w/w demonstrated anti-inflammatory effects within the first 4 hours of application and sustained anti-inflammatory effect even 48 hours after the intial application.8*
*Voltaren was compared to 5 other topical NSAIDs and 3 topical corticosteroids. Methyl-nicotinate was rubbed on each subjects forearm to induce skin inflammation. Each application was followed by continuous skin blood flow recordings over 1 hour. Thirty minutes later the laser-Doppler probes were fixed onto the areas to be tested and 5-min baseline skin blood flow measurements were made. Each group of products was evaluated separately with a minimum of 9 days between each session to allow for wash-out.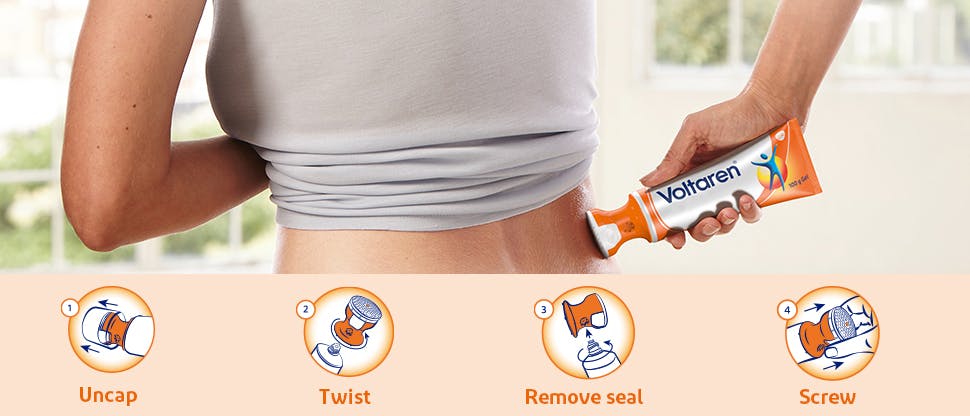 Voltaren Emulgel Back & Muscle Pain available with a No Mess applicator
Just over a third of patients (31%) say that topical creams and gels are messy.9
The No Mess applicator allows patients to easily apply Voltaren Diclofenac Diethylamine 1.16% w/w at the point of pain, keeping hands and fingers clean.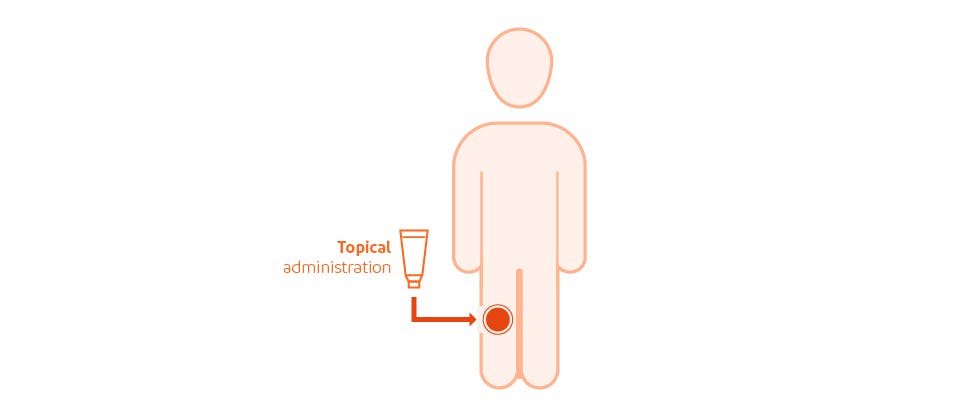 Voltaren offers low systemic absorption
The low systemic absorption of Voltaren Emulgel (6% systemic absorption) is associated with a low incidence of systemic side effects.1,2,10
For the full list of side effects, please click here for Voltaren (diclofenac diethylamine 1.16% w/w) or here for Voltaren Emulgel Extra Strength (diclofenac diethylamine 2.32% w/w).
Medication recommendations
To improve pain, inflammation and recovery after acute injuries such as sprains and strains, the National Institute for Health and Care Exellence has developed a clinical knowledge summary for mild-moderate pain, recommending acetaminophen, or a nonsteroidal anti-inflammatory drug (NSAID), oral or topical, as treatment.11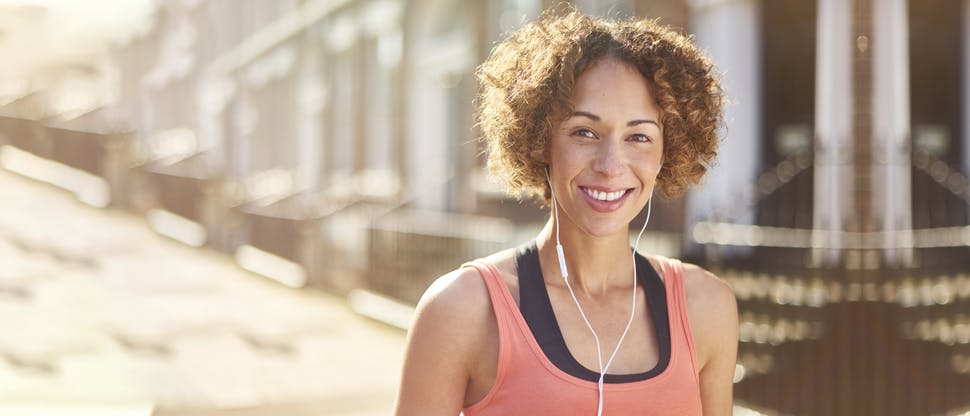 Aisha wants effective relief for her acute back pain
Aisha* balances her full-time job with staying active. She enjoys rock-climbing and hiking with friends.
Now that she has pain in her back, she is struggling to do activities outside of work.
Her pain: back pain; started yesterday
She describes: back pain, which developed while hiking and rock climbing.
Voltaren is applied topically where its anti-inflammatory ingredient penetrates through the skin to provide clinically proven pain relief, so Aisha can get back to doing the things she enjoys!1,2
*Fictional case study.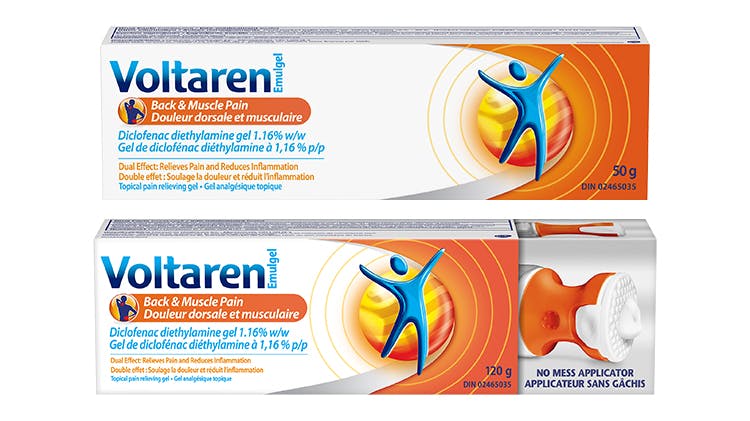 Voltaren Diclofenac Diethylamine 1.16% w/w
For patients looking for the relief of pain associated with acute, localized muscle or joint injuries such as sprains, strains or sports injuries.1
Voltaren – for effective relief of acute muscle, back & joint pain1,2