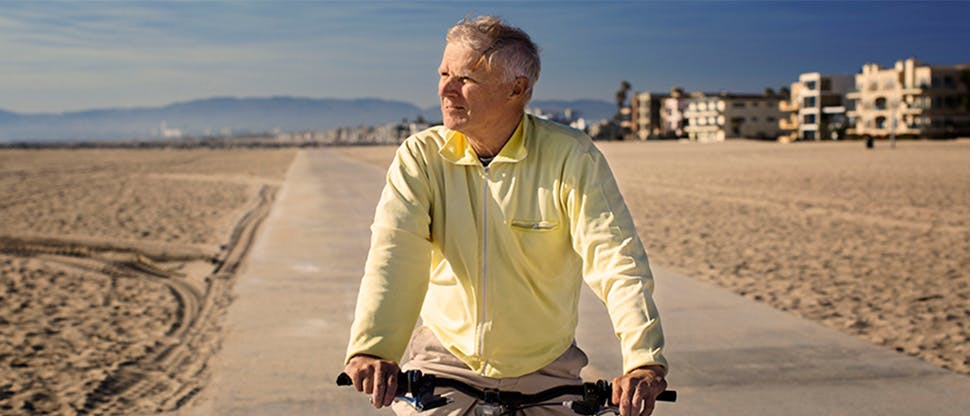 Voltaren – bring back the joy of movement for your patients
Voltaren products provide effective relief of acute body pain to help patients rediscover the joy of movement1,2
Voltaren – for effective relief of acute muscle, back & joint pain1,2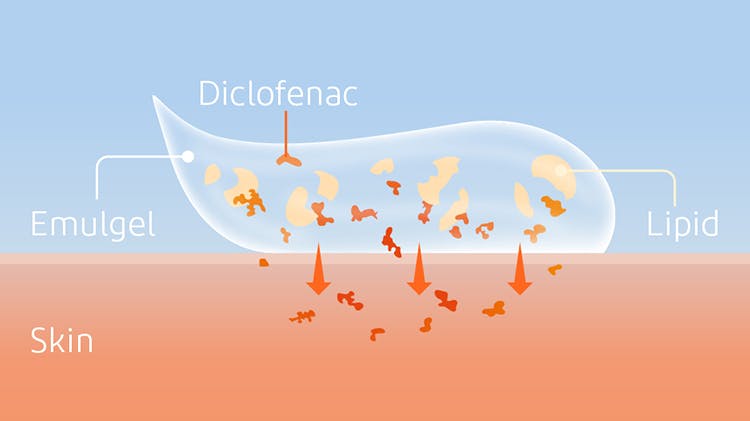 Treats Pain at the Site
Voltaren® is an emulgel. The formulation is an emulsion of an oily phase and an aqueous gelled phase, for topical application. It is specially designed to be absorbed through the skin. It reaches into inflamed soft tissues and joints to relieve pain and inflammation associated with acute injury.1,2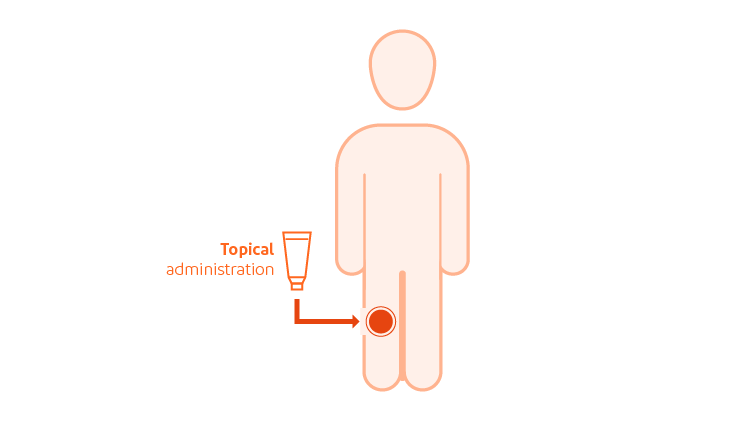 Voltaren offers low systemic absorption
With on average 6% systemic absorption, using Voltaren for pain relief is associated with a low incidence of systemic side effects1-3:
For the full list of side effects, please click here for Voltaren (diclofenac diethylamine 1.16% w/w) or here for Voltaren Emulgel Extra Strength (diclofenac diethylamine 2.32% w/w).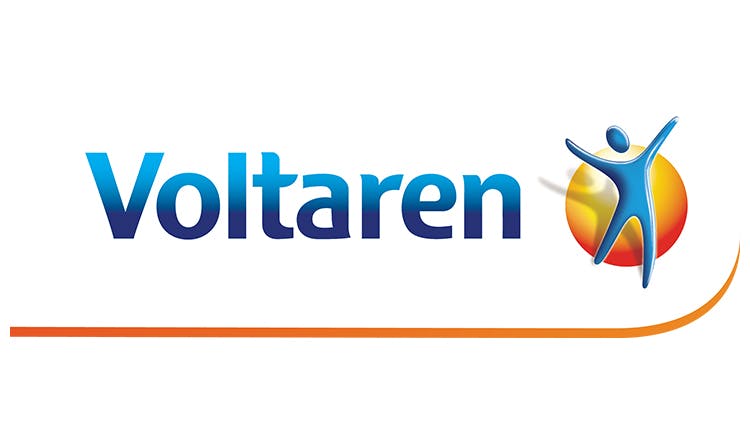 Voltaren products
The Voltaren brand of topical products consists of two strengths that provide pain management due to acute injury:
Diclofenac diethylamine (DDEA) 1.16% w/w and 2.32% w/w
Diclofenac diethylamine 2.32% w/w offers easy, twice a day application for better compliance
Voltaren formulations treat common types of acute pain - including joint and back pain due to acute injury (sprains and strains)1,2
Variants with an easy to open cap & no mess applicator
The science behind Voltaren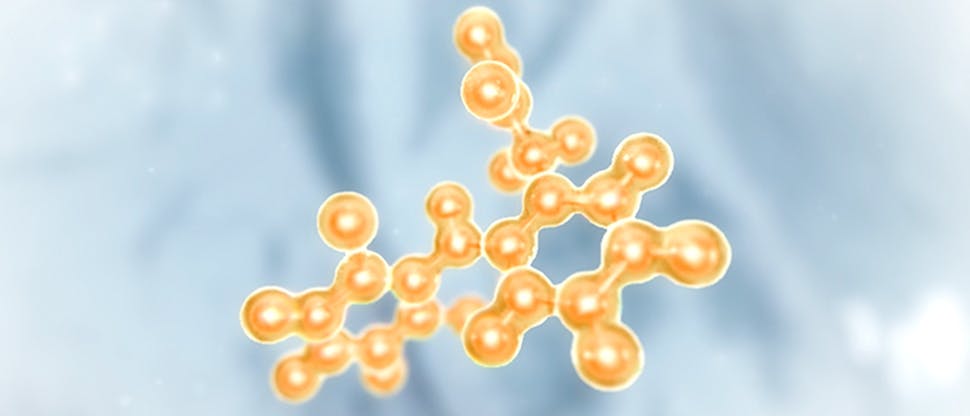 Targeting pain with the anti-inflammatory effects of diclofenac diethylamine1,2
Voltaren products include the non-steroidal anti-inflammatory drug (NSAID), diclofenac diethylamine.1,2
Diclofenac reduces inflammation by inhibiting prostaglandin biosynthesis through action on the cyclo-oxygenase (COX) enzymes. It is a non-selective inhibitor of COX-1 and COX-2 (preferentially COX-2) and also reduces the production of leukotrienes by inhibiting the lipoxygenase enzyme.1,2
Diclofenac not only provides acute pain relief but also relieves the underlying inflammation.1,2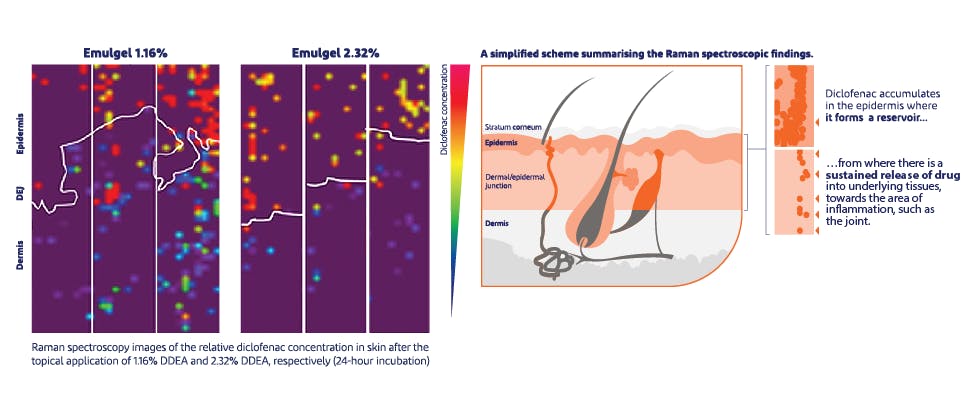 Voltaren forms an epidermal reservoir for sustained release of diclofenac4
In 2020, Zhang et al. published a proof-of-concept study in the Journal of Pain Research for all Voltaren gels (1.16% DDEA and 2.32% DDEA) demonstrating the permeation of diclofenac into the skin layers and forming a reservoir4.
The above Raman spectroscopy images demonstrated that4:
Topical gels deliver diclofenac through the stratum corneum skin barrier and form a drug depot localized in the epidermis.

Diclofenac is efficiently delivered to the inflamed tissues through sustained drug release rather than systemic redistribution.
This data is in line with earlier clinical findings that this depot acts like a true reservoir and enabled sustained drug release.
Explanation of image:
The images on the left above show the Raman Spectroscopy visualization of the relative diclofenac concentration in the skin after the topical application of DDEA 1.16% and DDEA 2.32%. The red colour indicates the highest concentration of DDEA within the epidermis, where it forms a reservoir, confirming that DDEA penetrates through the stratum corneum.
DDEA: Diclofenac Diethylamine
DEJ: Dermal/epidermal junction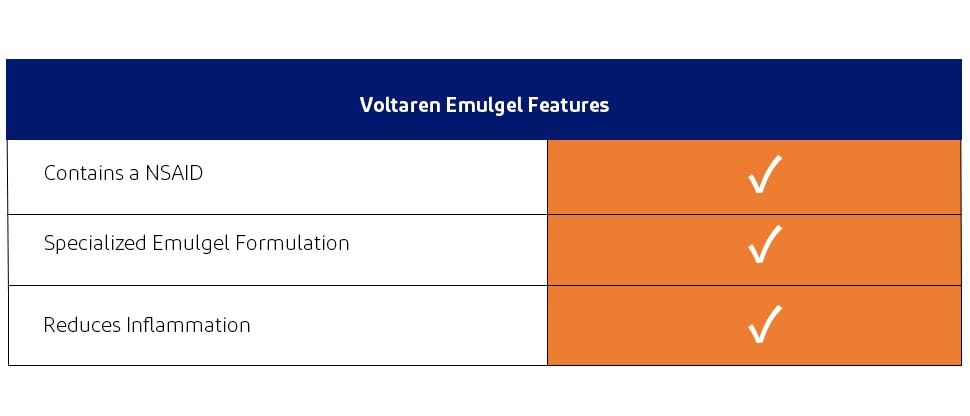 Voltaren products offer an alternative to other topical pain treatments
Voltaren is a topical NSAID approved for use in Canada that is clinically proven to reduce pain and inflammation at the site of application.1,2
While some OTC analgesics from the rubefacient class of products use a counterirritant mechanism to relieve pain, Voltaren contains a non-steroidal anti-inflammatory ingredient, Diclofenac Diethylamine, which reduces the formation of inflammatory mediators, prostaglandins and leukotrienes.1,2
The Voltaren acute pain-relief products for your patients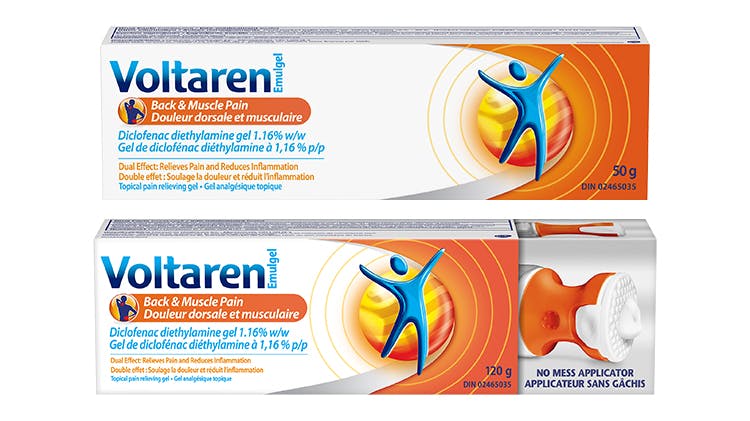 Relieves acute muscle, back & joint pain, and reduces inflammation.1
Indicated for the relief of pain associated with acute, localized muscle or joint injuries such as sprains, strains or sports injuries.1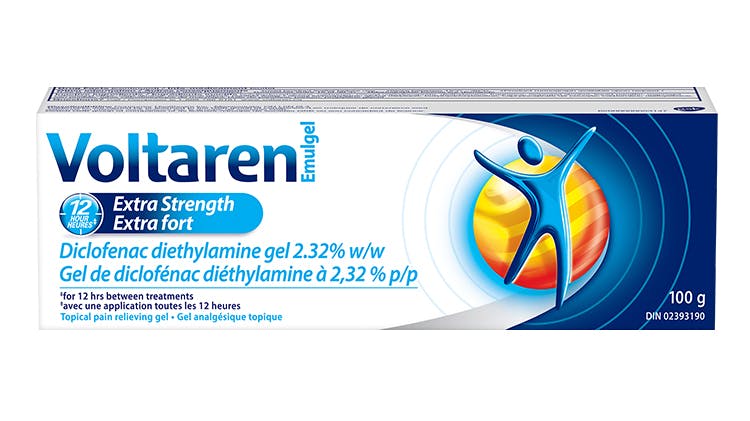 Contains a permeation enhancer to help increase penetration of diclofenac through the skin.2,5
Relieves acute muscle, back & joint pain, and reduces inflammation.2
Indicated for the relief of pain associated with acute, localized muscle or joint injuries such as sprains, strains or sports injuries.2
Voltaren – for effective relief of acute muscle, back & joint pain1,2