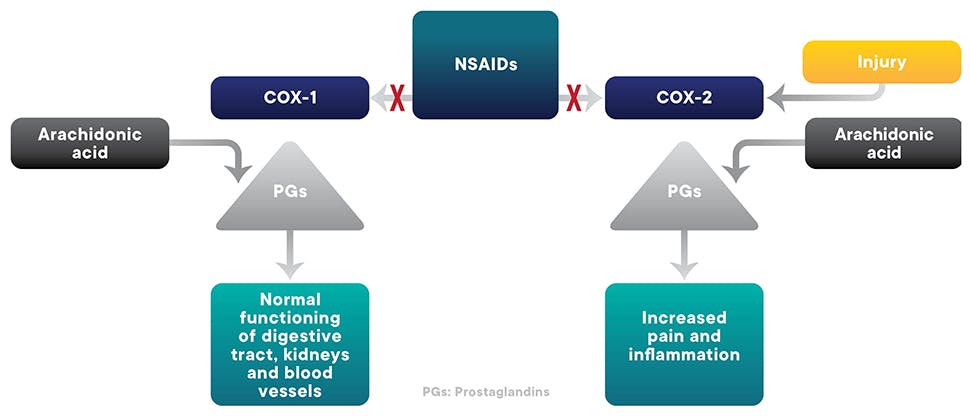 The principal mechanism of action (MOA) of ibuprofen and other NSAIDs is inhibition of prostaglandin biosynthesis1
One of the principle actions of NSAIDs in delivering effective analgesic and anti-inflammatory activity is via decrease of prostaglandin biosynthesis by inhibiting cyclooxygenase.1
MOA Key Points:
Prostaglandins are naturally-occurring fatty acid derivatives that are believed to be a common factor in the production of pain, fever and inflammation.1
Prostaglandins are widely distributed and believed to sensitize tissues to pain and inflammation through mediators such as histamine, 5-hydroxytryptamine, and kinins. 1
Cyclooxygenases (i.e., COX1 and COX2) are the enzymes that catalyze the committed step in prostaglandin biosynthesis that NSAIDs such as ibuprofen inhibit to prevent prostaglandin production.1,3
NSAID = nonsteroidal anti-inflammatory drug.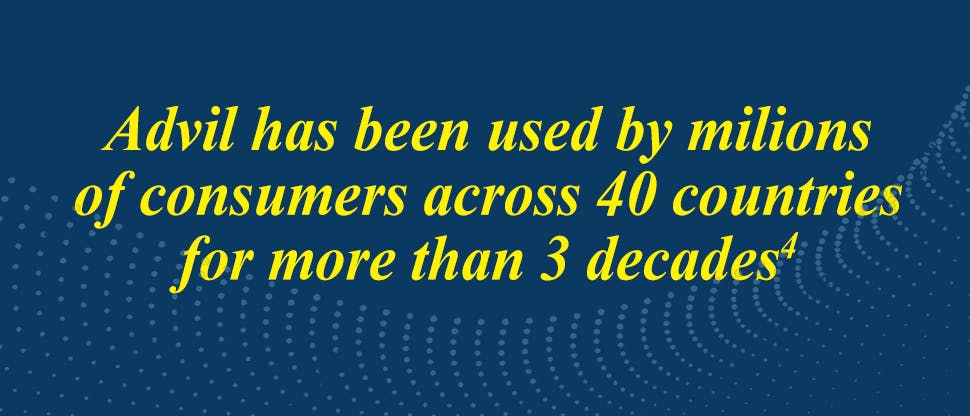 Demonstrated efficacy and a well-established safety profile1,2,5*
One Advil is often all it takes to relieve mild to moderate acute pain including:1
Sore throat pain
Headache & migraine
Muscle aches
Menstrual pain
Toothache (dental pain)
Advil also reduces fever.
There is considerable evidence documenting the efficacy of both the 200 mg and 400 mg doses of ibuprofen in the treatment of mild to moderate acute pain in a range of pain models.1
Low dose (<1200 mg/day) and short duration use of ibuprofen has a well-demonstrated clinical tolerability profile comparable to acetaminophen.1,6-9
* Advil should not be taken for fever for more than 3 days or for pain for more than 5 days unless directed by a physician. Please consult the Product Monograph for complete dosing and safety profile.1Please consult the Product Monograph available upon request (1-855-367-7349) or on the Health Canada website₹ for information to assist in benefit-risk assessment. Always direct the patient to read the label.
Advil manages acute pain and fever with a range of well studied and effective pain-relieving products.
Ibuprofen containing products
Advil — for all your patients' acute pain relief needs