Pronamel Toothpaste Overview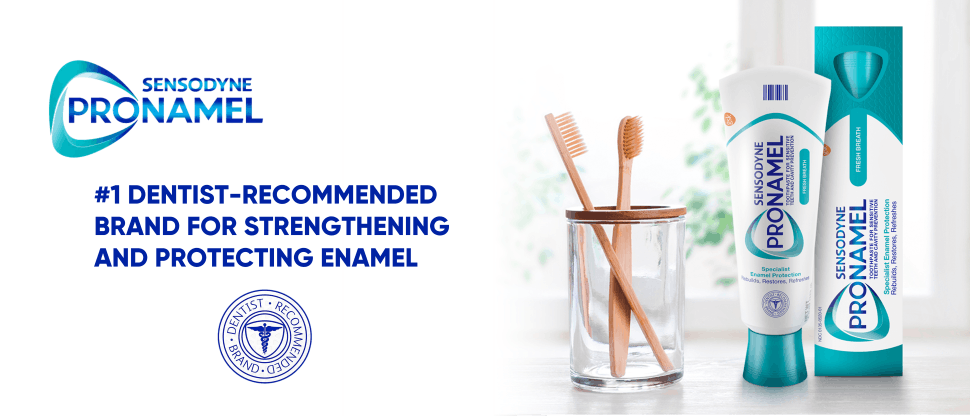 Pronamel: The Acid Protection Specialist
Enamel erosion is a widespread oral health concern, with modern diets—even healthy ones—being high in dietary acids, a key culprit in dental erosion. Pronamel is a specialist daily toothpaste proven to drive minerals deep into enamel surfaces and help actively repair acid-weakened areas for stronger, better protected teeth. Request samples for your patients and learn more about Pronamel below.
Act early to help safeguard the future of your patients' enamel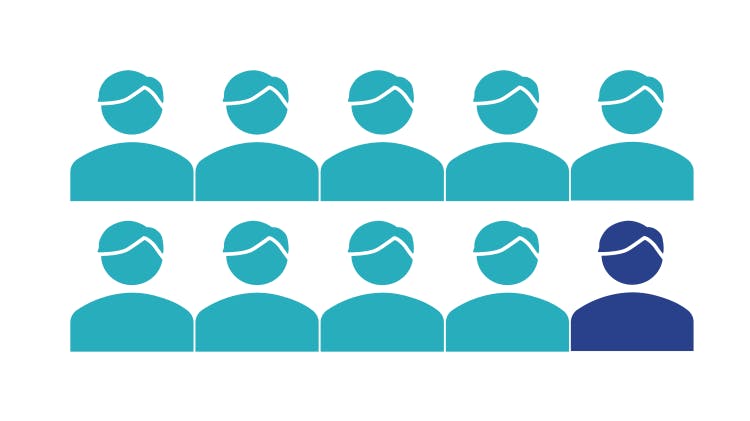 9 out of 10 adults are at risk of enamel loss due to acidic diets, and nearly 50% of adolescents already exhibit signs of enamel erosion.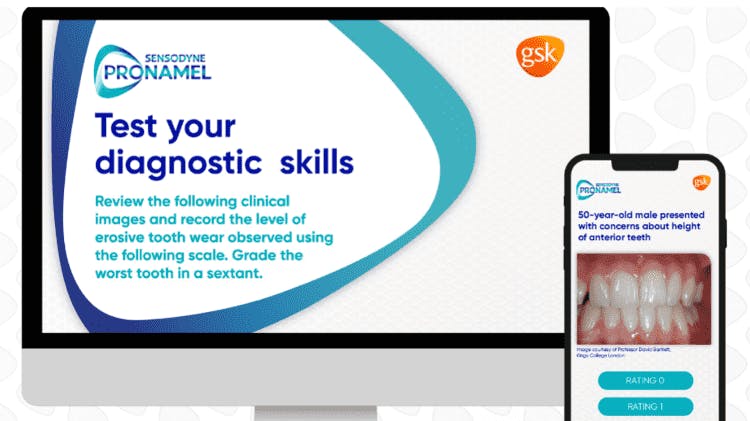 Detecting enamel erosion in patients can be difficult. Brush up on your diagnostic skills now with our new enamel erosion grading quiz!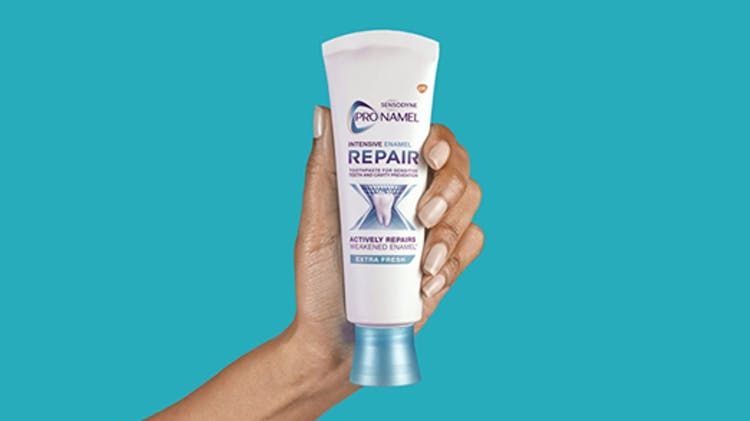 Good news! You can help your patients prevent further enamel loss by taking a few key steps, including using Pronamel as their daily toothpaste.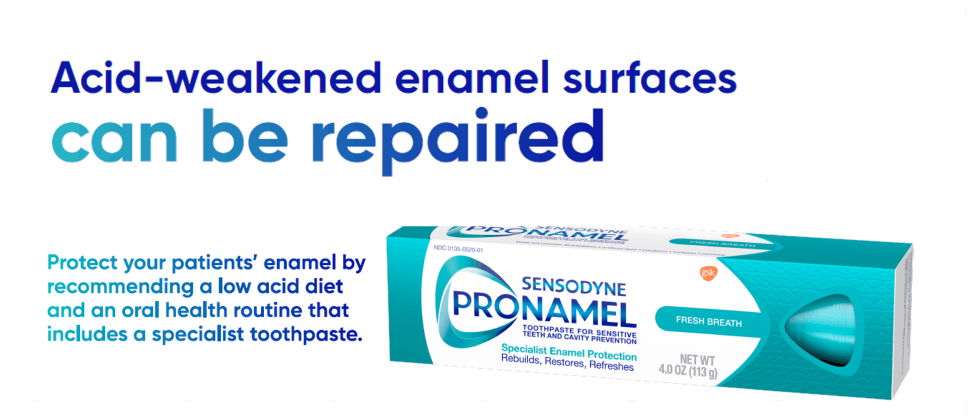 Help your patients protect their enamel by recommending this simple, three-pronged approach:
Help your patients lower their exposure to dietary acids with the following tips:

Reduce consumption of acidic foods and drinks
Avoid holding or swishing acidic drinks in your mouth
Drink acidic beverages through a straw
Rinse your mouth with water after eating or drinking anything high in dietary acids

Brush teeth twice-daily and floss teeth once-daily

When it comes to brushing and flossing teeth, encourage your patients to develop schedules and routines that they can stick to in their day-to-day lives.
Because dietary acids demineralize and weaken the tooth surface, patients should try to avoid brushing their teeth immediately after consuming acidic foods and drinks when their enamel surface is more susceptible to damage from brushing.
Brush teeth gently but thoroughly with a soft-bristled toothbrush.

Recommend a daily toothpaste that offers more fluoride uptake vs. a non-optimized fluoride toothpaste to help remineralize acid-weakened enamel

Pronamel has a specially designed and optimized formulation for patients at risk of the effects of enamel erosion, and is formulated without certain components known to inhibit fluoride uptake.

Learn more about the science behind Pronamel in the video below.
Watch Video: How Pronamel Works
Pronamel's formulation has been engineered to optimize fluoride uptake and help repair acid-weakened areas of the enamel surface.
Discover the Pronamel product range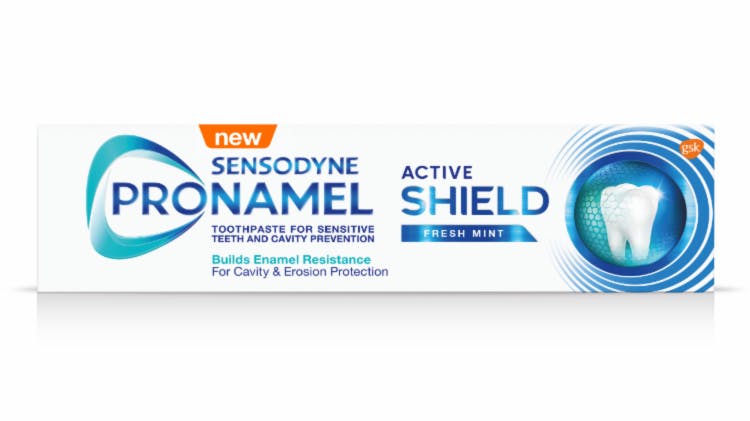 Actively strengthens enamel with an optimized fluoride formulation that maximizes fluoride uptake.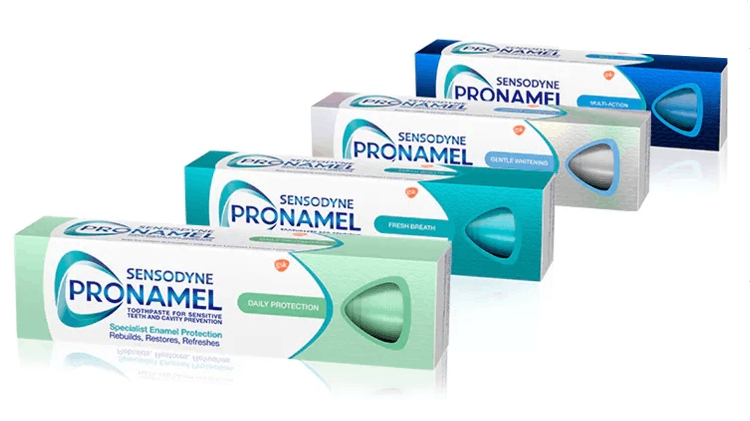 Pronamel helps strengthen and reharden enamel, and helps protect against cavities with twice-daily brushing.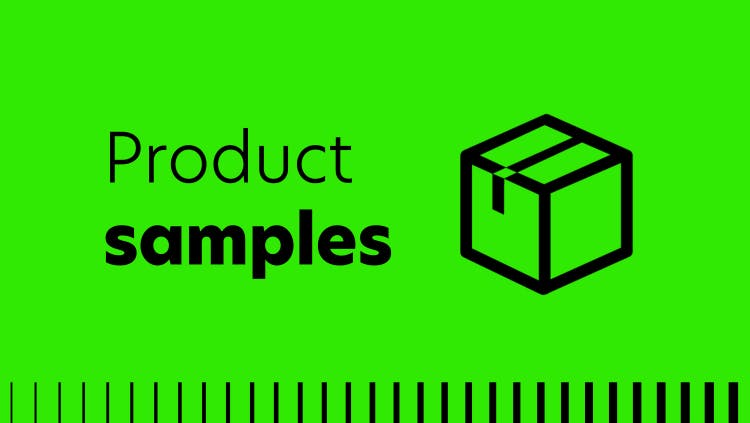 Samples
Request Haleon product samples, which are subject to eligibility requirements and availability.