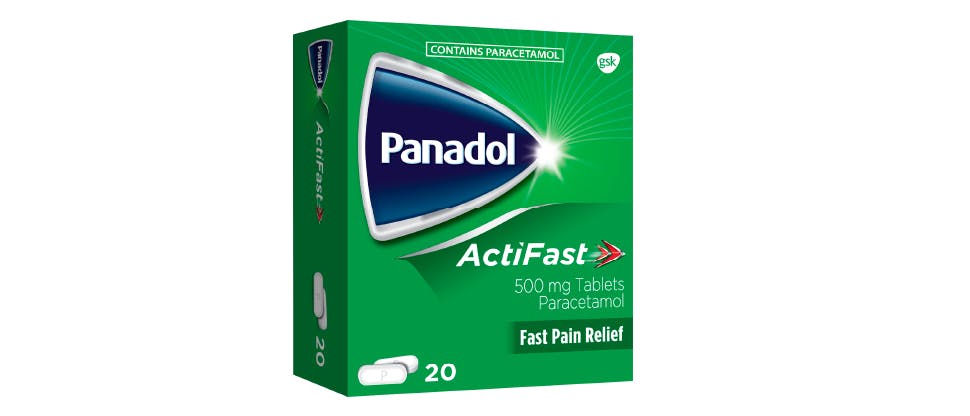 For fast relief1*
With 2x faster disintegration and absorption than standard paracetamol tablets, Panadol Actifast relieves pain fast1 and can even be taken on an empty stomach.2,3†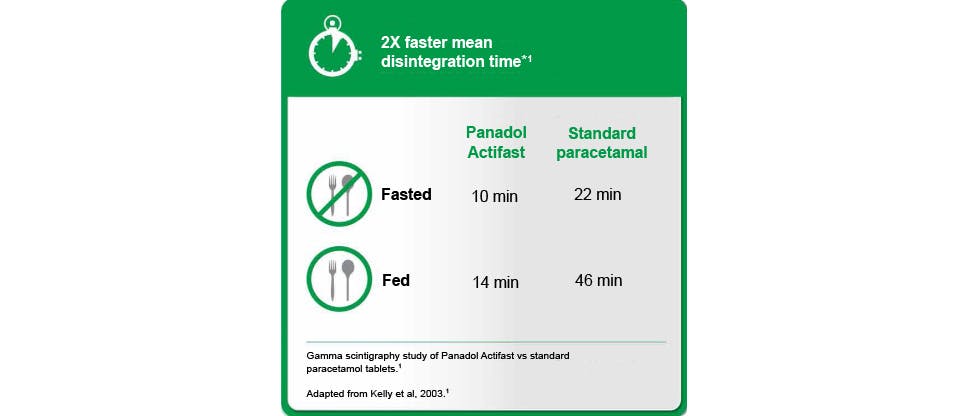 2X faster mean disintegration time1*
Gamma scintigraphic images (scinitigraphy is a form of radio-imaging or scanning that involves injecting a radioisotope that emits gamma rays into a patient's vein, which are captured as images)4 of the stomach showed that Panadol Actifast disintegrated 2x faster than standard paracetamol tablets, whether patients were fasted or fed.1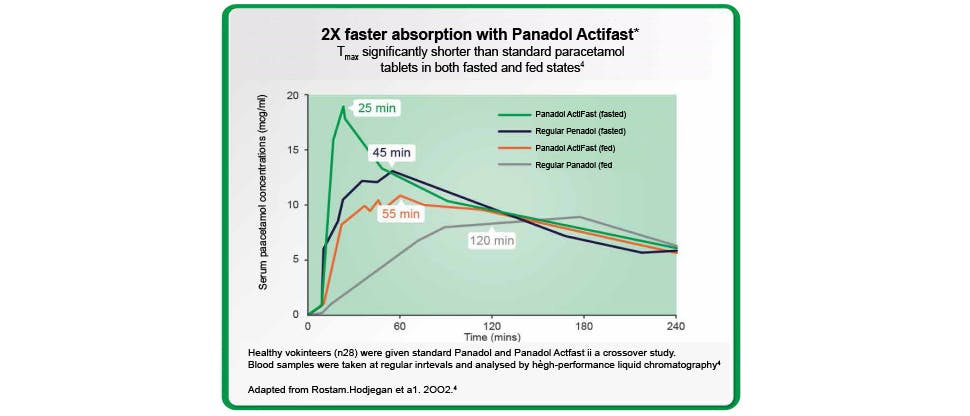 2X faster absorption with Panadol Actifast5,6*
Twenty-eight healthy volunteers were given standard paracetamol tablets and Panadol Actifast in a crossover study. Blood samples were taken at regular intervals and analysed by high-performance liquid chromatography.
The time taken to reach maximum dose (Tmax) of Panadol Actifast was significantly shorter than standard paracetamol tablets in both fasted and fed subjects.5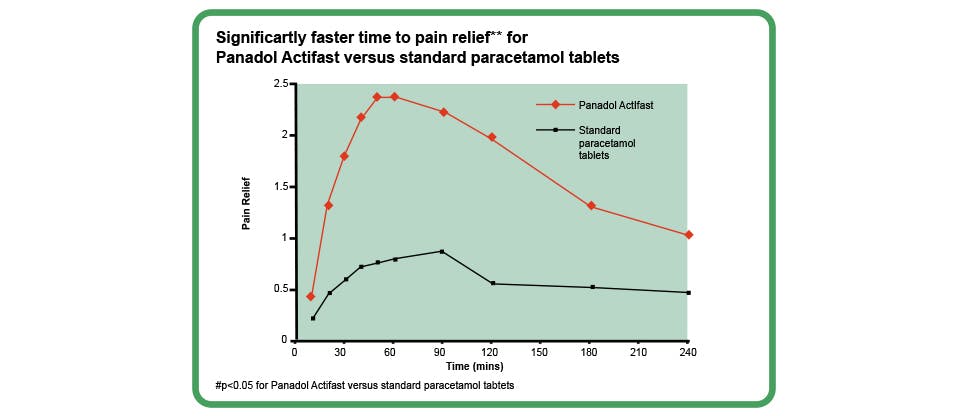 Pain relief ‡ 10 minutes faster7*
Panadol Actifast was shown to provide some pain relief 10 minutes faster than standard paracetamol. In a single centre randomised, double blind, single-dose study, the time to onset and the degree of pain relief were determined with either two Panadol Actifast tablets (n=90) or standard paracetamol tablets (n=90) administered to patients who had undergone dental extraction. The time to onset of meaningful pain relief was 30 minutes vs. 40 minutes for standard paracetamol.7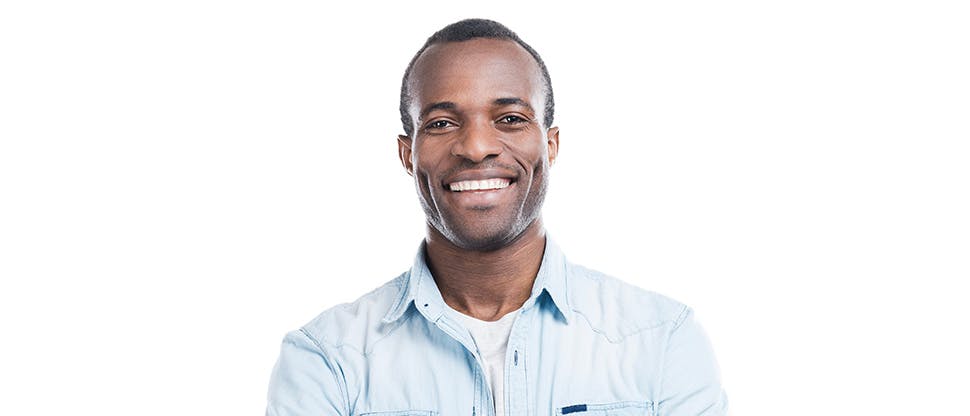 Brody wants to gain relief from his headache fast
Brody is a young executive working his way up the corporate ladder. With long workdays and tight deadlines, it's not surprising he sometimes suffers from headaches. He's seen his doctor about it and was glad to hear that these were nothing more serious than tension type headaches, though it impacts his life and work at times.
Brody needs something that works fast to relieve his headaches when he gets them. He also wants something gentle for his stomach, so he doesn't have to take them at meal times.
Panadol Actifast offers Brody the fast relief he needs and is gentle on the stomach.
Recommend Panadol Actifast for fast relief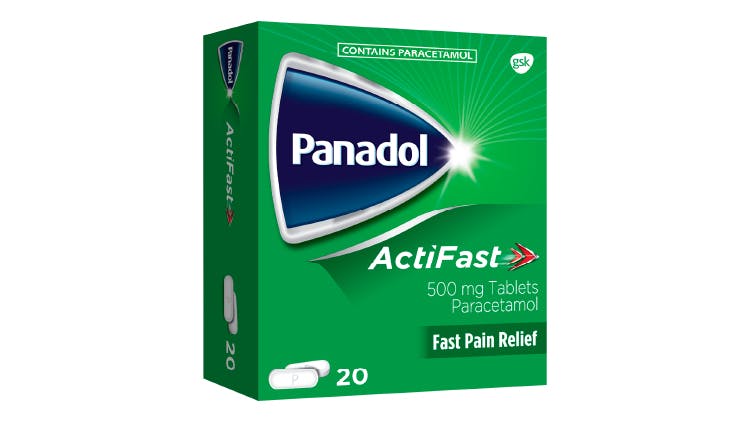 Panadol ActiFast Tablets 500mg
Release paracetamol even before it reaches the stomach.1 Does not compromise the stomach's protective lining and can be taken even on an empty stomach or by those at risk of stomach ulcers.2,3†
Contains paracetamol. Always read the label/leaflet.

Product Information: Please consult the summary of product characteristics for full product information.

Panadol ActiFast Tablets 500mg (paracetamol) Indications: Short-term management of symptoms of headaches, musculoskeletal disorders, menstrual pains, toothache, colds and flu.

Dosage: Adults (including the elderly) and children 16 years and over: 1-2 tablets every 4-6 hours as required. Max 8 tablets in 24 hours. Children aged 12-15 years: 1 tablet every 4-6 hours as required. Max 4 tablets in 24 hours. Do not give to children for more than 3 days without consulting a doctor. Do not give to children under 12 years. Minimum dosing interval: 4 hours. The lowest dose necessary to achieve efficacy should be used.

Contraindications:Hypersensitivity to paracetamol or any of the other ingredients.

Precautions: Do not use with any other paracetamol-containing products. The concomitant use with other products containing paracetamol may lead to an overdose. Paracetamol overdose may cause liver failure which can lead to liver transplant or death. Patients with depleted glutathione levels / glutathione depleted states. Underlying liver disease, liver or kidney impairment. Do not exceed the stated dose. Contains 352 mg sodium per 2 tablet dose. Prolonged use except under medical supervision may be harmful.

Side effects: Very rare cases of serious skin reactions have been reported. All very rare: Hypersensitivity reactions including anaphylaxis and skin rash, thrombocytopenia, angioedema, Stevens-Johnson syndrome, Toxic Epidermal Necrolysis, bronchospasm, hepatic dysfunction.

MA Holder: GlaxoSmithKline Consumer Healthcare (Ireland) Limited, 12 Riverwalk, CityWest Business Campus, Dublin 24.

MA Number: PA 678/39/12.

Legal Category: <12 Tablets GSL; <24 Tablets Pharmacy Only.

Text revised: January 2020. Further information available on request.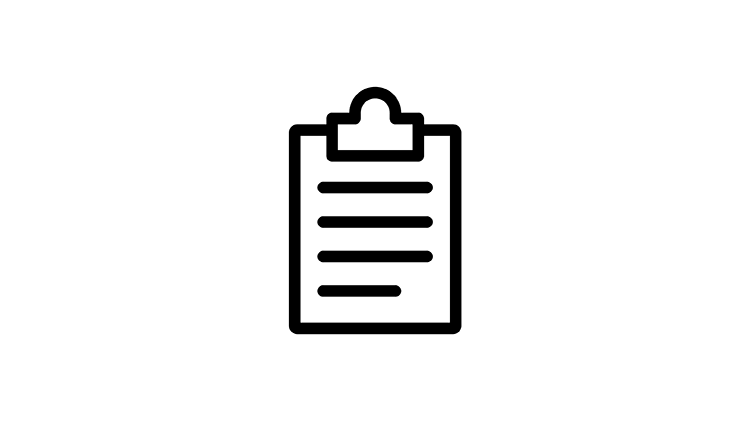 Conditions
Our overviews of common pain conditions explore the causes, signs, symptoms and impact of each condition, and summarise the latest evidence-based management recommendations.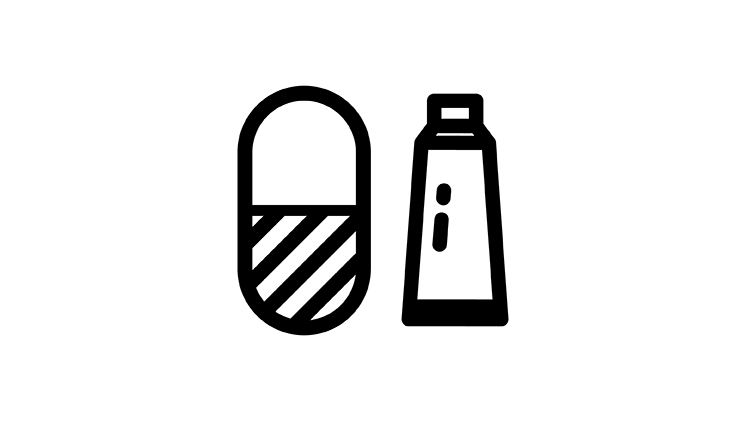 Products
Find out how our tailored treatments can help your patients manage their everyday pain.