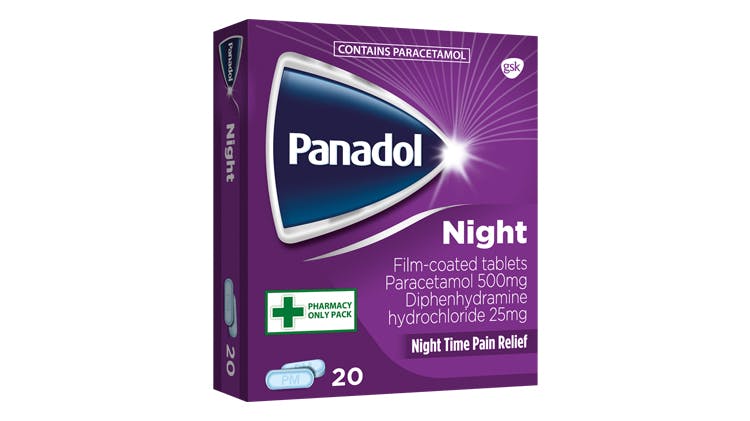 Panadol Night Film-Coated Tablets (paracetamol 500mg, diphenhydramine hydrochloride 25mg)
Dual formulation for night time pain relief:
Paracetamol 500mg – pain relief
Diphenhydramine hydrochloride 25mg – antihistamine and sleep aid
How to recommend Panadol Night
Recommend for short-term treatment of pain that is causing difficulty getting to sleep
2 tablets to be taken 20 minutes before bed
Use for up to 7 consecutive nights – if the problem persists, seek medical attention
Suitable for all ages over 16
Other products containing paracetamol may be taken for daytime pain relief at a reduced dose of 6 tablets in 24 hours
Should not be used with other antihistamine-containing preperations including topical antihistamine and cold & flu products
Should not be taken by elderly patients with confusion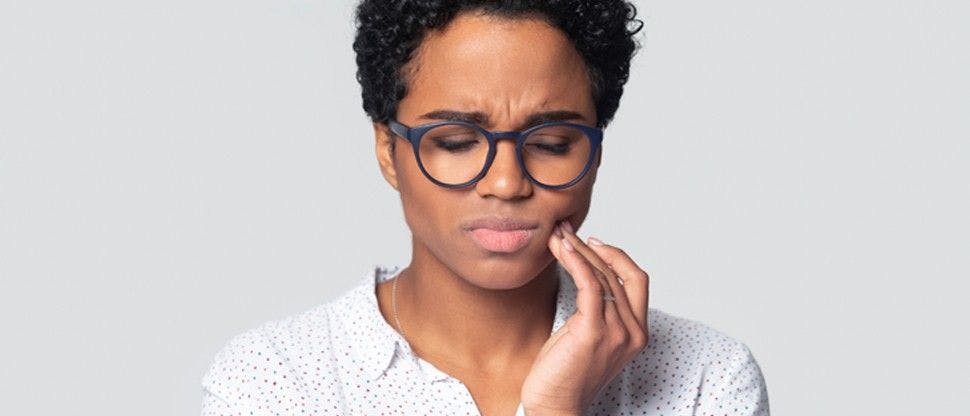 Charlotte has been suffering with toothache
Charlotte has a busy job in office admin. She has recently developed a toothache which is preventing her from sleeping. She has a dental appointment booked in 2 days but is suffering with lack of sleep.
She needs something to help relieve her pain at night and help her to sleep.
Panadol Night has a dual action formula to help manage pain when it is keeping you awake.
Recommend Panadol Night for bedtime pain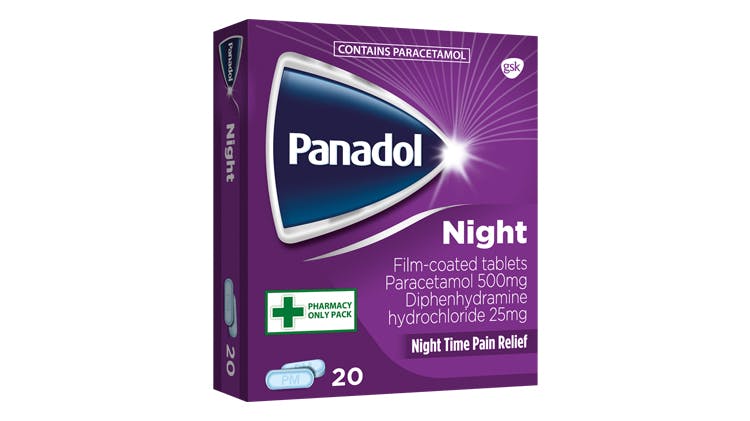 Panadol Night
Dual active formula to relieve night time pain.
Product Information: Please consult the summary of product characteristics for full product information. Panadol Night Film-coated Tablets, paracetamol 500mg, diphenhydramine hydrochloride 25mg. Indications: Short-term treatment of bedtime symptoms of cold and flu pain, rheumatic and muscle pain, backache, toothache, headache, menstrual pain. Dosage: Adults and children 16 years and over: 2 tablets, 20 minutes before bed. Children aged 12-15 years: 1 tablet, 20 minutes before bed. Minimum dosing interval between this and any other paracetamol containing product: 4 hours. Other products containing paracetamol may be taken during the day but the total daily dose of paracetamol must not exceed 4000mg for adults and 2000mg for children aged 12-15 years. Do not give to children under 12 years except on medical advice. Avoid use in elderly patients with confusion. Avoid use with other antihistamine-containing products. Do not use for more than 7 days without medical advice. Contraindications: Hypersensitivity to paracetamol or any of the other ingredients. Closed angle glaucoma, porphyria. Precautions: Hepatic or renal dysfunction/failure. Patients with depleted glutathione levels (e.g. eating disorders) or chronic alcoholism or sepsis. Avoid use with alcohol. Avoid concurrent use with sedatives (including hypnotics and anxiolytics), antimuscarinics and other antihistamines. Caution in those with epilepsy or seizure disorders, myasthenia gravis, narrow angle glaucoma, prostatic hypertrophy, urinary retention, asthma, bronchitis, COPD or with any form of glucose-galactose malabsorption or lactase deficiency. Avoid use of MAOIs within 2 weeks. Caution, due to paracetamol, if administered with flucloxacillin due to increased risk of high anion gap metabolic acidosis. Should not be used during pregnancy or lactation without medical advice. Side effects: See SPC for full details. All very rare: thrombocytopaenia, hypersensitivity reactions including anaphylaxis and skin rashes, angioedema, Stevens-Johnson syndrome and Toxic Epidermal Necrolysis, bronchospasm, hepatic dysfunction. Common: fatigue, sedation, attention disturbance, dizziness, unsteadiness, dry mouth. Frequency unknown: confusion, paradoxical excitation, GI disturbances, convulsions, headache, paraesthesia, dyskinesias, blurred vision, tachycardia, palpitations, muscle twitching, urinary difficulty, urinary retention, thickening of bronchial secretions. Overdose: Immediate medical advice should be sought in the event of an overdose, even if symptoms of overdose are not present. Legal Category: Pharmacy only. MA Number: PA 678/39/8. MA Holder: GlaxoSmithKline Consumer Healthcare (Ireland) Limited, 12 Riverwalk, Citywest Business Campus, Dublin 24. Text prepared: September 2022. Further information available on request. Contains Paracetamol. Always read the label/leaflet.