Sensodyne: Complete Care + Smart Clean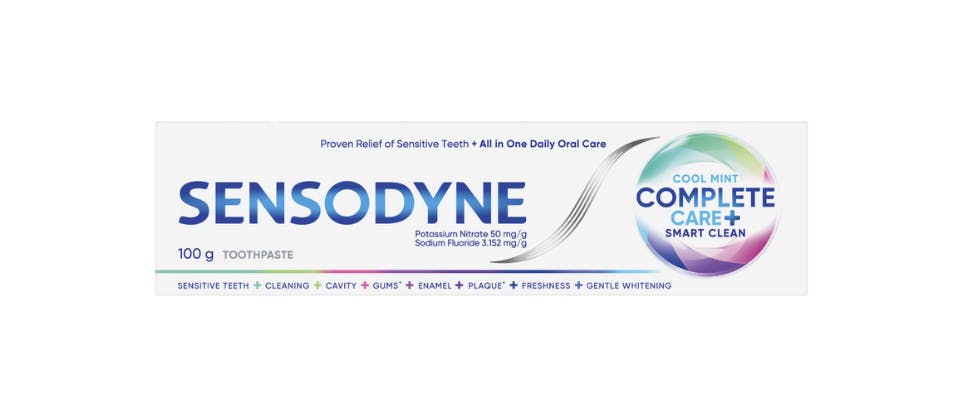 Sensitivity Protection and All in One Daily Oral Care
Caring for your patients' sensitive teeth shouldn't come at the expense of other important benefits. Sensodyne Complete Care + Smart Clean toothpaste provides multiple oral care benefits together with proven sensitivity protection, all in an ultra low abrasion formulation.
Sensitivity relief
Deep cleaning
Cavity protection
Healthy gums†
Strong enamel
Plaque removal†
Freshness
Gentle whitening
Ultra low RDA ~13
†With twice-daily brushing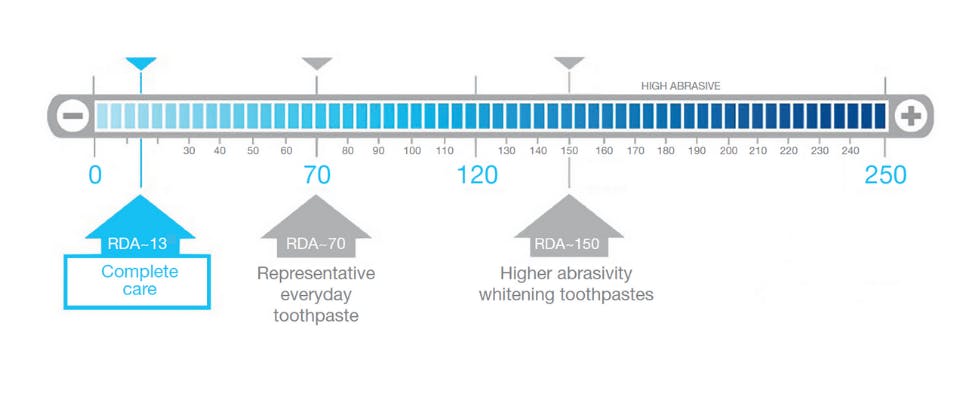 Low abrasion formulation, designed with the Smart Clean System (5% STP)
Complete Care's Smart Clean System (5% sodium tripolyphosphate) delivers effective stain removal, stain prevention and gentle whitening, without the use of dental abrasives.
Active stain lifting
With twice daily brushing, Sensodyne Complete Care helps to lift stains from the surface of the tooth by competing with the stain-forming molecules for binding sites on the salivary pellicle.3-5
Active stain lifting
Sodium tripolyphosphate (STP) in Sensodyne Complete Care is known to chelate the calcium ions, which are believed to facilitate the adhesion of anionic proteins and chromagens to the tooth surface. This aids in preventing adsorption of these substances to the tooth surface, reducing the adhesion of dental stain.5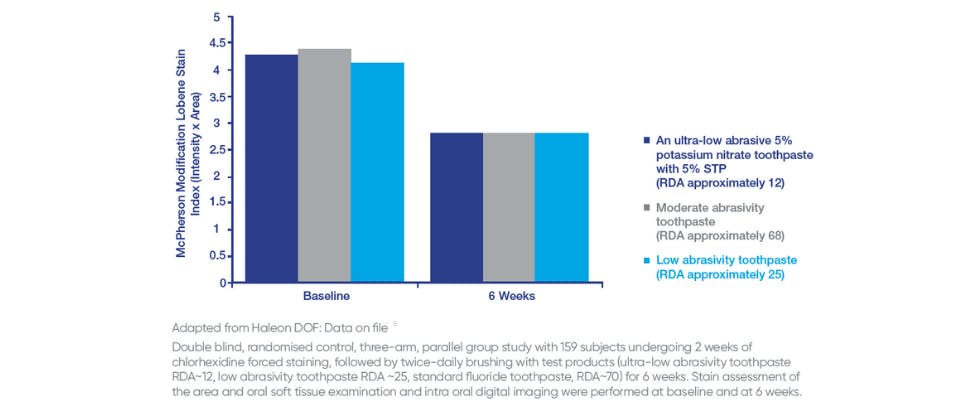 Complete Care's stain removal power is comparable to an everyday toothpaste that is 5 times more abrasive6
Sorbitol (70% Non-Crystallising), Glycerol, Hydrated Silica, Water – Purified, Sodium tripolyphosphate, Potassium nitrate, Macrogol 300, Flavour, Titanium dioxide, Cocamidopropyl betaine, Sodium methyl cocoyl laurate, Xanthan Gum, Sodium hydroxide, Sodium Fluoride, Saccharin sodium, Limonene

DO NOT SWALLOW: Not for use by children 12 years of age or under unless on the advice of a dental professional or doctor.

ALWAYS FOLLOW THE LABEL: Brush twice a day and not more than 3 times, be sure to spit out. If irritation occurs, discontinue use. Keep out of reach of children.

Sensitive teeth may indicate an underlaying problem that needs prompt care. If symptoms persist or worsen consult your dentist. Talk to your dentist or doctor as soon as possible if you experience swelling of the mouth or face. Store below 30C.
#1 Toothpaste Brand for Sensitive Teeth*