The PATH-BP Trial Clinical Summary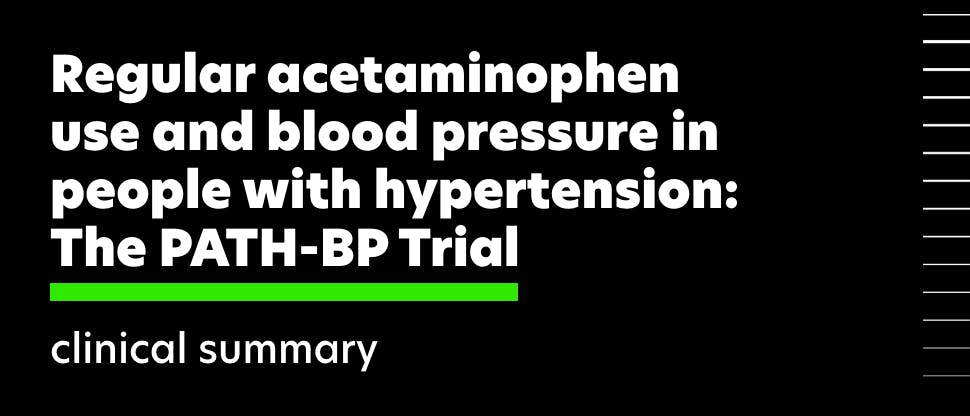 Overview
Acetaminophen (like Tylenol®) has been widely used as a first-line therapy for acute and chronic pain management due to its perceived safety profile advantages over non-steroidal anti-inflammatory drugs (NSAIDs), which is based on the belief that it has minimal effect on blood pressure (BP) in hypertensive patients.
While observational studies have in the past suggested that acetaminophen could increase BP, the new PATH-BP Study provides evidence-based support that acetaminophen may increase blood pressure1, challenging the belief that APAP has a safer cardiovascular (CV) profile as it relates to blood pressure compared to other pain relievers.
Study details
The PATH-BP Study is a double-blind, placebo-controlled, crossover study supported with appropriate statistical methods to measure "change in blood pressure". This well-designed RCT demonstrated that acetaminophen use (within OTC maximum dosing levels) statistically significantly increased mean ambulatory and clinical blood pressure in hypertensive patients versus placebo, beginning at day 4 and extending throughout the 14-day test period.
Patients participating in the study experienced a clinically meaningful increase of approximately 5 mmHg in SBP. Due to the established continuous relationship between BP and cardiovascular and cerebrovascular diseases, as well as the widespread use of acetaminophen, this rise in blood pressure may contribute to an increase in cardiovascular morbidity and mortality.
Visit the publication website to read the full study details.
Note: The below link will lead you to an external website independently operated and not managed by Haleon.
To quote the PATH-BP study authors,

"Acetaminophen should no longer be thought of as a 'safe' alternative analgesic to NSAIDs, at least with respect to hypertension"

Healthcare providers should be aware of these findings when considering acetaminophen (Tylenol and similar generics) for patients with hypertension, controlled or not. Caution should be taken when prescribing acetaminophen, particularly in those with increased cardiovascular risk, and opportunities to stop acetaminophen or reduce the dose should be considered
We encourage physicians, pharmacists, dentists, nurse practitioners and physician assistants to discuss their patients' medical history with them, particularly if they have hypertension, before making a recommendation for the use of an OTC pain reliever

Advil (ibuprofen) is a well-established NSAID that safely and effectively provides pain relief when used as directed. It has a proven safety profile over a 35-year brand history.

Learn more about the clinically proven safety and efficacy of Advil.
Explore Haleon HealthPartner