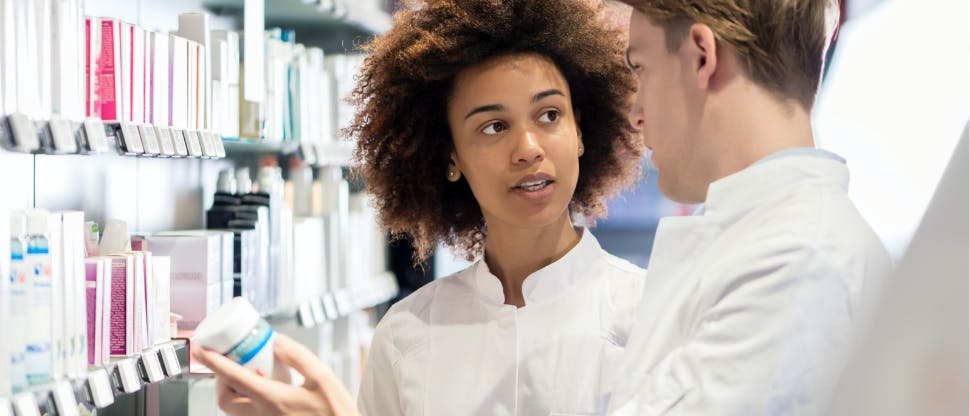 When to Consider a Multivitamin
Patients should consume most of their vitamins and minerals from a balanced diet, with recommended servings from all of the food groups to satisfy macronutrient and micronutrient needs. However, some individuals may eat differently than expert dietary recommendations and even well-designed eating patterns sometimes may fail to achieve suggested intakes for a variety of vitamins and nutrients. A poor eating pattern leads to inadequacies in nutrient intake that often result in suboptimal health and wellness and may contribute to chronic illness.
Along with a nutritious eating plan, research shows that regular multivitamin/multimineral use helps patients consume the recommended amounts of vitamins and minerals necessary to prevent insufficiencies1 and support health.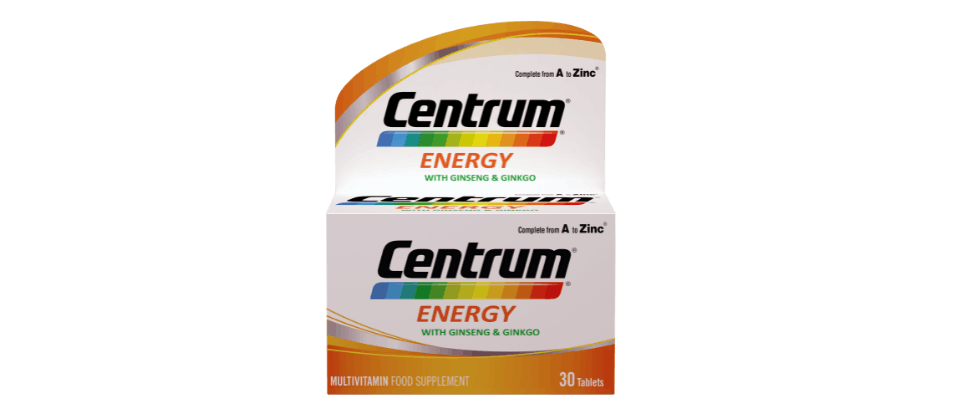 Centrum energy is a complete multivitamin enhanced with Ginseng, Ginkgo biloba and higher levels of B-vitamins to support the mental and physical demands of an active lifestyle. Centrum energy provides balanced formula each tablet contains key nutrients for whole body health.
Centrum offers a range of solutions for a variety of patient needs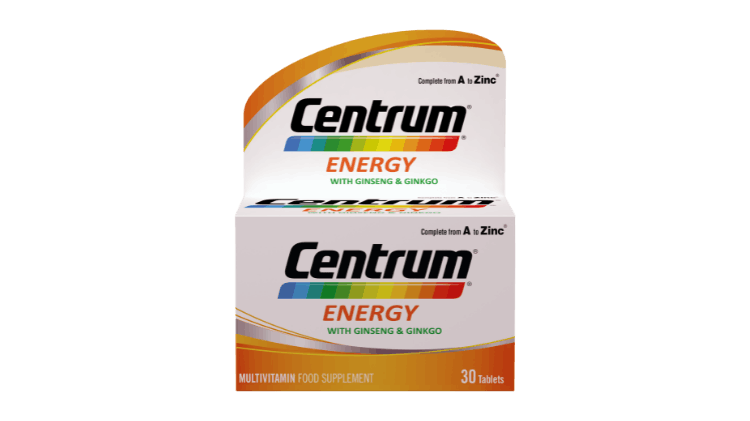 Centrum Energy
Centrum energy has higher levels of B- Vitamins and ginseng, with added gingko biloba to support daily energy needs.
Each tablet contains:

Vitamins:

Vitamin A (as Acetate) 0.4 mg
Beta Carotene 2.39 mg
Vitamin B1 (as Thiamine Mononitrate) 4.2 mg
Vitamin B2 (Riboflavin) 4.8 mg
Niacinamide 36 mg
Vitamin B6 (as Pyridoxine Hydrochloride) 6 mg
Vitamin B12 (Cyanocobalamin) 18 mcg
Vitamin D3 5 mcg
Vitamin E 26.84 mg
Vitamin K1 25 mcg
Vitamin C (Ascorbic Acid) 120 mg
Biotin 40 mcg
Folic acid 0.4 mg
Pantothenic Acid as (as Ca. Pantothenate) 10 mg

Minerals:

Iodine (as Potassium Iodide) 0.15 mg
Calcium (as Carbonate + Ca Phosphate Dibasic) 100 mg
Phosphorus (as Ca Phosphate Dibasic) 48 mg
Magnesium (as Magnesium Oxide) 45 mg
Iron (as Ferrous Fumarate) 14 mg
Copper (as Sulfate) 0.7 mg
Manganese (as Sulfate) 4 mg
Chromium (as Chloride) 0.12 mg
Molybdenum (as Sodium Molybdate) 75 mcg
Selenium (as Sodium Selenate) 70 mcg
Zin (as Zinc Oxide) 7.5 mg

HERBS

Ginkgo Biloba Extract 60 mg
Ginseng Extract 50 mg

Always read the label prior use.

Dosage: For Adults, Take 1 tablet daily, preferably with food.

Close tightly and keep out of reach of children.
In case of accidental overdose, contact your doctor immediately.
Do not exceed the recommended daily dose.
If taking other supplements, read the label, since supplements may contain the same ingredient.
Nutritional supplements cannot replace a balanced diet.
Consult your doctor before taking this supplement if you have any serious disease or if you are pregnant or breast feeding.

Store below 25˚C, in original package away from moisture.
Recommend Centrum energy as completed multivitamin to support the physical and mental demands of an active lifestyle