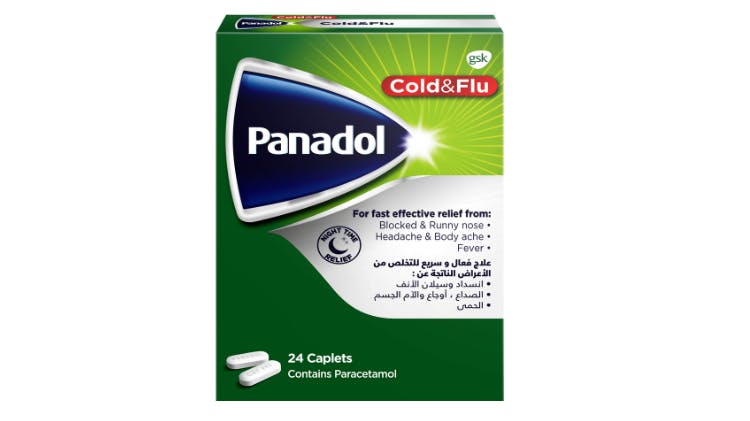 Panadol C&F (paracetamol 500mg, Pseudoephdreine 30mg & Chlorpheniramine Maleate 2mg)
For patients who are looking for effective multi-symptom relief from colds and flu.1-16
Active ingredients:

Paracetamol 500 mg
Pseudoephedrine Hydrochloride 30 mg
Chlorphenamine Maleate 2 mg
Other non active ingredients: Silicon dioxide, stearic acid, sodium benzoate, povidone, pregelatinised starch, maize starch, talc.

Always follow the label directions.

Adults (including the elderly) and children aged 12 years and over:

Take 1 or 2 caplets, every 4 to 6 hours as needed but do not take more than 8 caplets in 24 hours.
Do not use for longer than 7 days without asking your physician.
Do not take more frequently than every 4 hours.
Do not use in children under the age 12 years unless on the advice of your physician.
Always use the lowest effective dose to relieve your symptoms.

1. Do not take Panadol Cold and Flu:

If you have known previous history of allergy to paracetamol pseudoephedrine hydrochloride, Chlorphenamine maleate, other antihistamines or any of the other ingredients of Panadol Cold and Flu.
You are taking or have taken in the past two weeks, drug called Monoamine Oxidase Inhibitors (MAOIs). You have severe renal impairment.
Do not use this medicine if you are taking any other prescription or non-prescription medicines containing paracetamol to treat pain, fever, symptoms of cold and flu, or to aid sleep.

2. Take special care with Panadol Cold and Flu in case of:

You have mild to moderate kidney impairment or hepatic impairment.
You have cardiovascular disease, arrhythmias, hypertension, hyperthyroidism, prostatic enlargement, diabetes, glaucoma, phaeochromocytoma, epilepsy, bronchitis, bronchiectasis and bronchial asthma.
You have glutathione depleted states such as sepsis or you have a severe infection as the use of Paracetamol may increase the risk of metabolic acidosis.

Signs of metabolic acidosis include:

Deep, rapid, difficult breathing.
Feeling sick (nausea), being sick (vomiting).
Loss of appetite.

Contact a doctor immediately if you get a combination of these symptoms.

There have been reports of ischaemic colitis with pseudoephedrine, Pseudoephedrine should be discontinued immediately and medical advice sought if sudden abdominal pain, rectal bleeding or other symptoms of ischaemic colitis develop.
There have been rare cases of posterior reversible encephalopathy (PRES)/ reversible cerebral vasoconstriction syndrome (RCVS) reported with sympathomimetic drugs, including pseudoephedrine.

Symptoms reported included sudden onset of severe headache, nausea, vomiting and visual disturbances.

Most cases improved or resolved within a few days following appropriate treatment. Pseudoephedrine should be discontinued and medical advice sought immediately. If signs/symptoms of PRES/RCVS develop.

The anticholinergic properties of Chlorphenamine Maleate may cause drowsiness, dizziness, blurred vision and psychomotor impairment in some patients.
Chlorphenamine may increase the effects of alcohol and therefore concomitant use should be avoided.
Concurrent use with drugs which cause sedation, such as anxiolytics and hypnotics may cause an increase in sedative effects.
You taking beta-blockers or other antihypertensive.
Children and elderly are more likely to experience neurological anticholinergic effects and paradoxical excitation (e.g. increased energy, restlessness, nervousness).
Stop using this product and seek immediate medical attention if you experience sudden severe headache.

This product contains paracetamol, Pseudoephedrine and Chlorphenamine. Do not use with other products containing paracetamol, decongestants or other flu cough, and cold preparations.

If symptoms persist, get worsen or new symptoms appear please consult your doctor.

Do not exceed the stated dose or frequency of dosing.

Keep all medication out of sight and reach of children.

Taking too much paracetamol can cause serious harm to your liver.
Always read and follow the label.
Check with your doctor before use if you:

Have liver or kidney problems.
You are underweight or malnourished.
Regularly drink alcohol.

You may need to avoid using this product altogether or limit the amount of paracetamol that you take.

3. Possible drug interactions:

The anticoagulant effect of warfarin and other coumarins may be enhanced by prolonged regular daily use of paracetamol-containing products with increased risk of bleeding; occasional doses have no significant effect.
Concomitant administration of pseudoephedrine hydrochloride-containing products and MAOIs (or within two weeks of stopping of MAOI) may lead to hypertensive crises. The anticholinergic effects of Chlorphenamine are intensified by MAOIs.
Concomitant use of this medication with sympathomimetic agents (such as congestants, appetite suppressants and amphetamine-like psychostimulants) which interfere with the catabolism of sympathomimetic amines, may occasionally cause a rise blood pressure.
Pseudoephedrine-containing products may antagonise the effect of certain classes of antihypertensive.
Concurrent use of Chlorphenamine and hypnotics (medicines to make you sleep) or anxiolytics may potentiate drowsiness. Concurrent use of alcohol may have a similar effect.
Chlorphenamine inhibits phenytoin (found in medicines for epilepsy) metabolism and can lead to phenytoin toxicity.
The liver toxic effects of Panadol Cold and Flu may be increased by the use of alcohol. Avoid drinking alcohol with this medicine

Overdose:

Seek medical advice immediately in the event of overdose even if symptoms of overdose are not present.

Paracetamol:

Paracetamol overdose may cause liver failure. Immediate medical management is required in the event of overdose, even if symptoms of overdose are not present.

In massive over dosage exceeding 10 g of paracetamol may cause liver damage. Early symptoms may include pallor, nausea, vomiting, excessive sweating and general malaise.
Clinical and laboratory evidence of liver damage may not be apparent until 48 to 72 hours past ingestion. Overdose should be promptly treated by gastric lavage followed by intravenous N- acetylcysteine or methionine without waiting for the results of plasma paracetamol levels.
Additional antidote therapy is normally considered in light of further plasma paracetamol levels and the time elapsed since ingestion. In all cases of suspected overdose, prompt medical attention is critical for adults as well as for children, even if you do not notice any signs or symptoms.

Pseudoephedrine:

Pseudoephedrine overdose may result in symptoms due to central nervous system and cardiovascular stimulation e.g. excitement, restlessness,hallucinations, hypertension and arrhythmias. In severe cases, psychosis convulsions, coma and hypertensive crisis may occur. Serum Potassiumlevels may be low due to extracellular shifts in Potassium.Treatment should consist of standard supportive measures.Beta blockers should reverse the cardiovascular complications and the hypokalemia.

Chlorphenamine:

Overdose is likely to result in effects similar to those listed under adverse reactions. Additional symptoms may include paradoxical excitation,toxic psychosis, convulsions, apnoea, dystonic reactions and cardiovascular collapse including arrhythmias.Treatment should be supportive and directed towards specific symptoms. Convulsions and marked CNS stimulation should be treated withparenteral diazepam.
Panadol Cold & Flu – Your Cold & Flu Partner