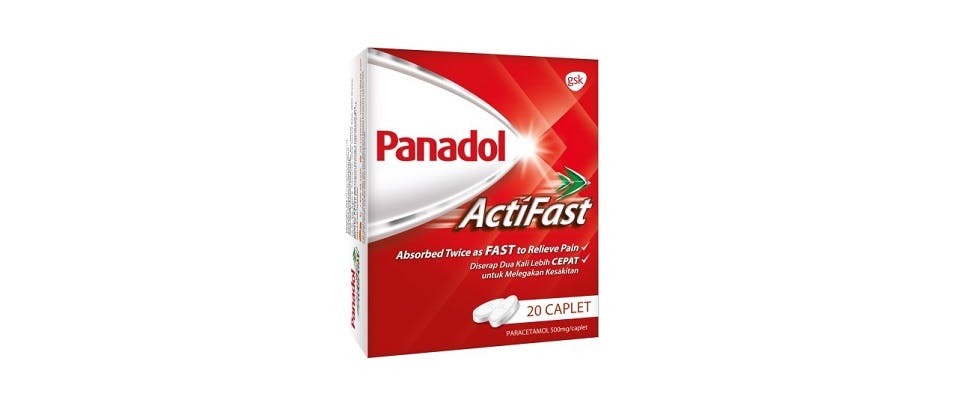 For fast relief1*
With 2x faster disintegration and absorption than standard paracetamol tablets, Panadol Actifast relieves pain fast1 and can even be taken on an empty stomach.2,3†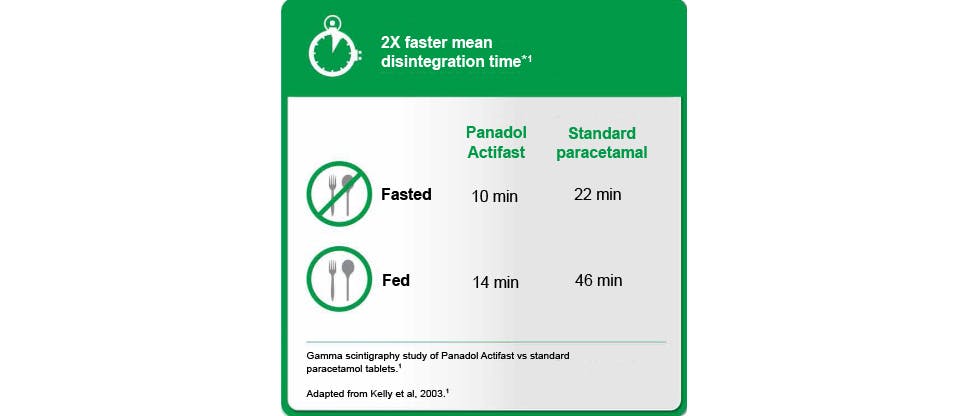 2X faster mean disintegration time1*
Gamma scintigraphic images (scinitigraphy is a form of radio-imaging or scanning that involves injecting a radioisotope that emits gamma rays into a patient's vein, which are captured as images)4 of the stomach showed that Panadol Actifast disintegrated 2x faster than standard paracetamol tablets, whether patients were fasted or fed.1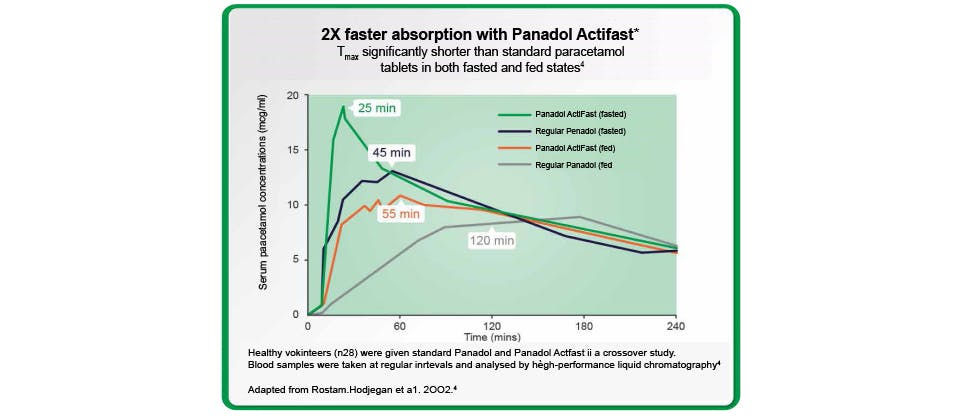 2X faster absorption with Panadol Actifast5,6*
Twenty-eight healthy volunteers were given standard paracetamol tablets and Panadol Actifast in a crossover study. Blood samples were taken at regular intervals and analysed by high-performance liquid chromatography.
The time taken to reach maximum dose (Tmax) of Panadol Actifast was significantly shorter than standard paracetamol tablets in both fasted and fed subjects.5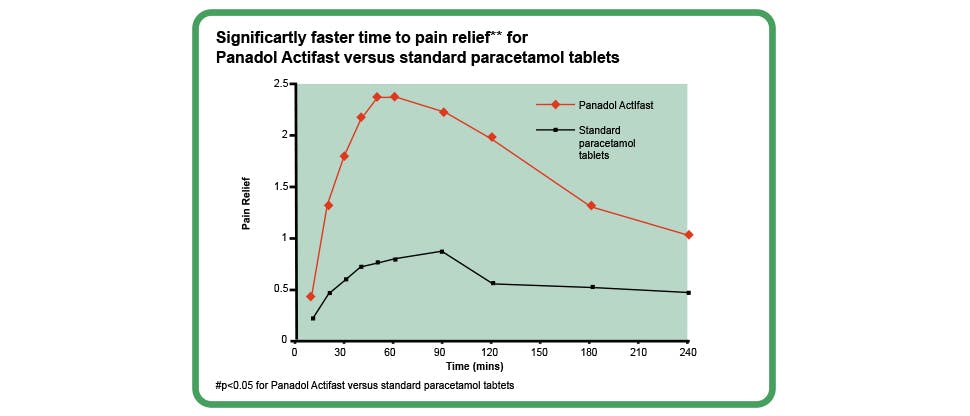 Pain relief ‡ 10 minutes faster7*
Panadol Actifast was shown to provide some pain relief 10 minutes faster than standard paracetamol. In a single centre randomised, double blind, single-dose study, the time to onset and the degree of pain relief were determined with either two Panadol Actifast tablets (n=90) or standard paracetamol tablets (n=90) administered to patients who had undergone dental extraction. The time to onset of meaningful pain relief was 30 minutes vs. 40 minutes for standard paracetamol.7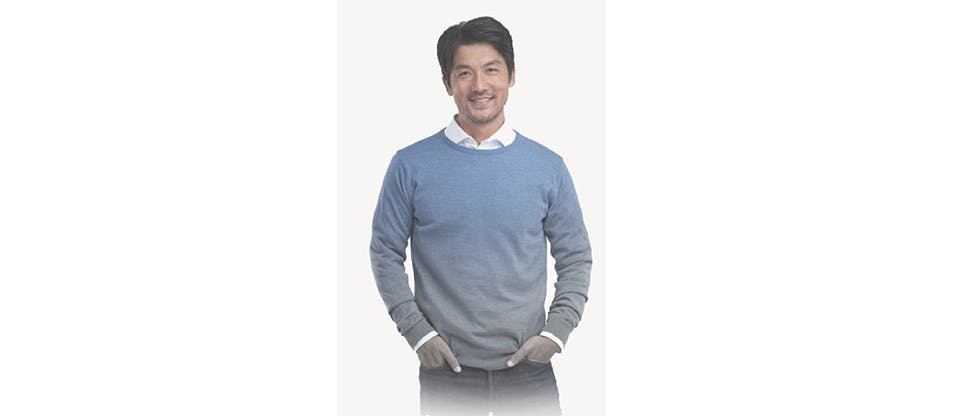 Brody wants to get rid of his headache fast
Brody is a young executive working his way up the corporate ladder. With long workdays and tight deadlines, it's not surprising he sometimes suffers from headaches. He's seen his doctor about it and was glad to hear that these were nothing more serious than tension type headaches, though it impacts his life and work at times.
Brody needs something that works fast to relieve his headaches when he gets them. He also wants something gentle for his stomach, as regular meal times aren't part of his lifestyle.
Panadol Actifast offers Brody the fast relief he needs and is gentle to the stomach.
Recommend Panadol Actifast for fast relief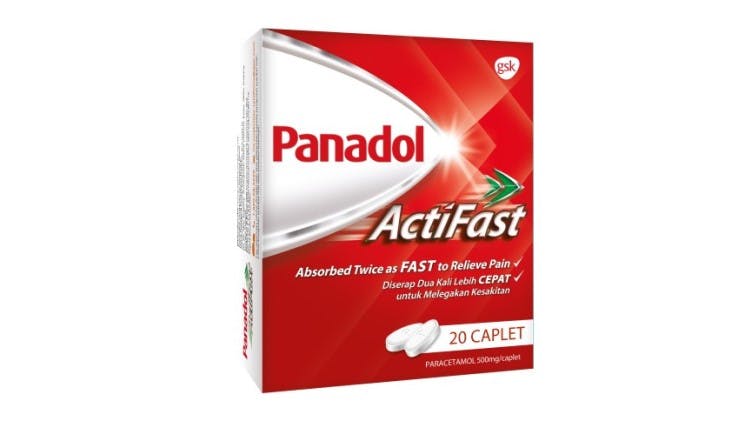 Panadol Actifast
Release paracetamol even before it reaches the stomach.1 Does not compromise the stomach's protective lining and can be taken even on an empty stomach or by those at risk of stomach ulcers.2,3†
Each tablet contains 500 mg paracetamol.

Sodium bicarbonate, maize starch, pregelatinized starch, povidone, sodium starch glycolate, colloidal anhydrous silica, magnesium stearate, microcrystalline cellulose, carnauba wax, opadry ll white

Recommended Dose

Adults (including the elderly) and children aged 12 years and over:

500mg to 1000mg paracetamol (1 to 2 tablets), taken every 4 to 6 hours as required.

Children under 12 years:

Not recommended for children under the age of 12 years.

Do not exceed the stated dose.
The lowest dose necessary to achieve efficacy should be used for the shortest duration of treatment.
Oral administration only.
Minimum dosing interval: 4 hours
Maximum daily dose: 4000mg (8 tablets)

This preparation contains PARACETAMOL. Do not take any other paracetamol containing medicines at the same time.

Do not take more than the recommended dose as it may cause serious harm to your liver.

Check with your doctor before use if you:

Have liver or kidney problems
Are underweight or malnourished.
Regularly drink alcohol.

You may need to avoid using this product altogether or limit the amount of paracetamol that you take.

Check with your doctor before use if you have a severe infection, are severely malnourished, severely underweight or are a chronic heavy alcohol user as this may increase the risk of metabolic acidosis. Signs of metabolic acidosis include:

Deep, rapid, difficult breathing
Feeling sick (nausea), being sick (vomiting)
Loss of appetite

Contact a doctor immediately if you get a combination of these symptoms.

Please see your doctor if your symptoms do not improve.

Keep out of sight and reach of children.

Always read and follow the label.

Allergy Alert

Paracetamol may cause severe skin reactions. Symptoms may include skin reddening, blisters and rash. These could be signs of a serious condition. If these reactions occur, stop use and seek medical assistance right away.

Each tablet contains 173mg of sodium (346mg sodium in 2 caplets). To be taken into consideration by patients on a controlled sodium diet.

Interaction with Other Medication

Before taking this medicine, make sure you consult your doctor if you are taking warfarin or similar medicines used to thin the blood.

The anticoagulant effect of warfarin and other coumarins may be enhanced by prolonged regular daily use of paracetamol with increased risk of bleeding; occasional doses have no significant effect.

Pregnancy:

As with the use of any medicine during pregnancy, pregnant women should seek medical advice before taking paracetamol. The lowest effective dose and shortest duration of treatment should be considered.

Lactation:

Paracetamol is excreted in breast milk but not in a clinically significant amount at recommended dosages. Available published data do not contraindicate breastfeeding.

Stop taking this medicine and tell your doctor immediately if:

You experience allergic reactions such as skin rash or itching, sometimes with breathing problems or swelling of the lips, tongue, throat or face
You experience a skin rash or peeling, or mouth ulcers
You have experienced breathing problems with aspirin or non-steroidal anti-inflammatories, and experience a similar reaction with this product
You experience unexplained bruising or bleeding

These reactions are rare.

From post marketing data, the reactions below are very rare: Thrombocytopaenia, Anaphylaxis, cutaneous hypersensitivity reactions including, among others, skin rashes, angioedema, Stevens-Johnson syndrome and Toxic Epidermal Necrolysis, Bronchospasm in patients sensitive to aspirin and other NSAIDs, Hepatic dysfunction.

Consult your doctor if you have any concerns about this.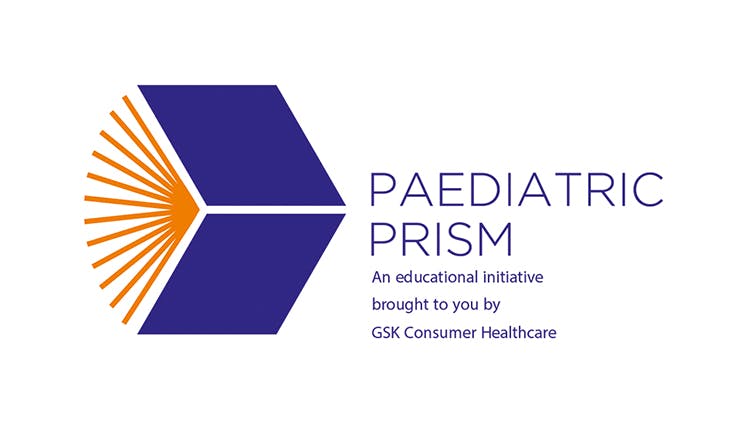 Vector-borne infections
Dengue, malaria, zika and chikingunya are vector-borne diseases affecting millions of people globally including children. Gain more insight about these diseases that present with fever and other signs and symptoms.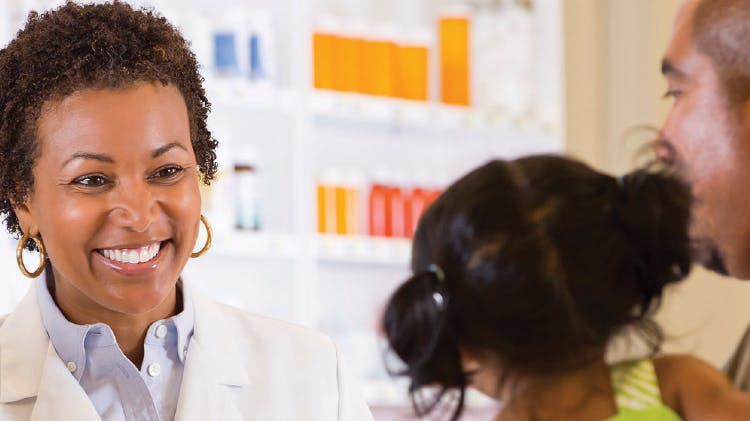 Managing children's fever and pain
Specially tailored for pharmacists, this module presents in-depth sharing of children's fever and pain conditions and how to manage them.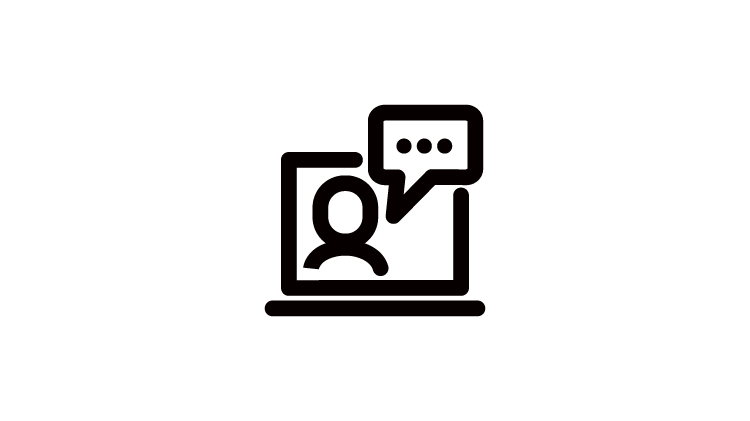 Learn from the experts
Bite sized information from experts in the field of pain management.