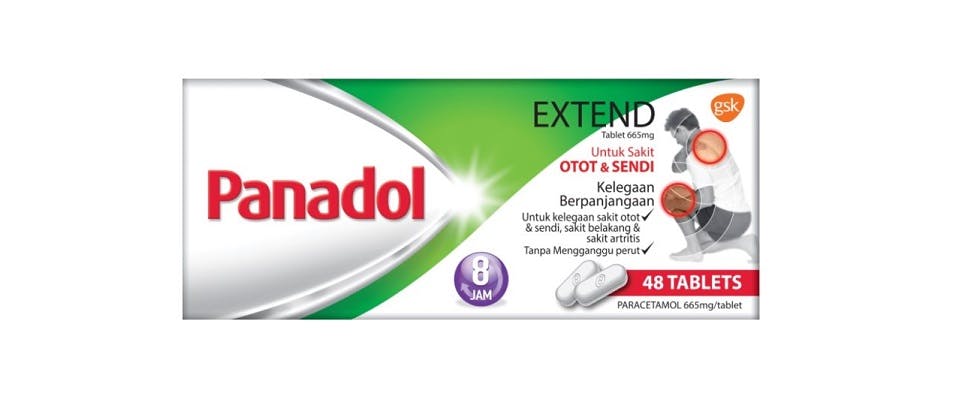 Panadol Extend with bi-layer technology
With a technology that allows for fast and yet sustained release of paracetamol for extended pain relief of up to 8 hours.3,10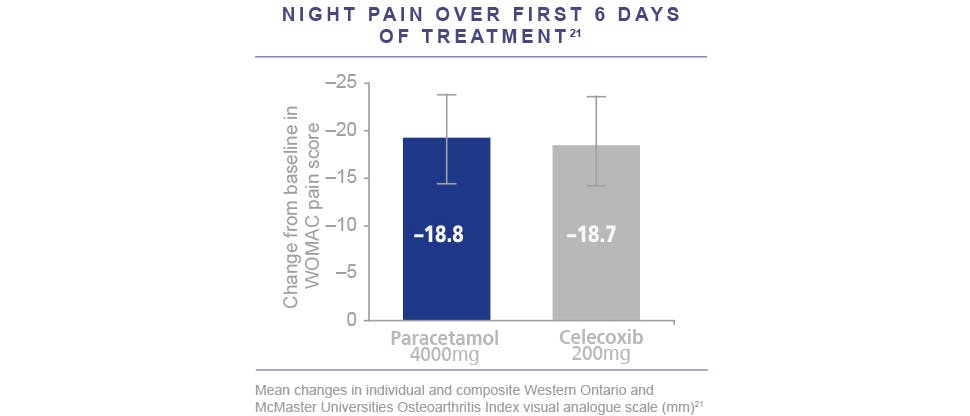 As effective as some prescription strength treatment5,6*
Paracetamol 4000 mg was as effective as celecoxib 200 mg in reducing the pain scores of patients (based on the individual and composite Western Ontario and McMaster Universities Osteoarthritis Index visual analogue scale [WOMAC]).5
In another study, 80% (33 of 41 patients) found Panadol Extend to be as effective as celecoxib.6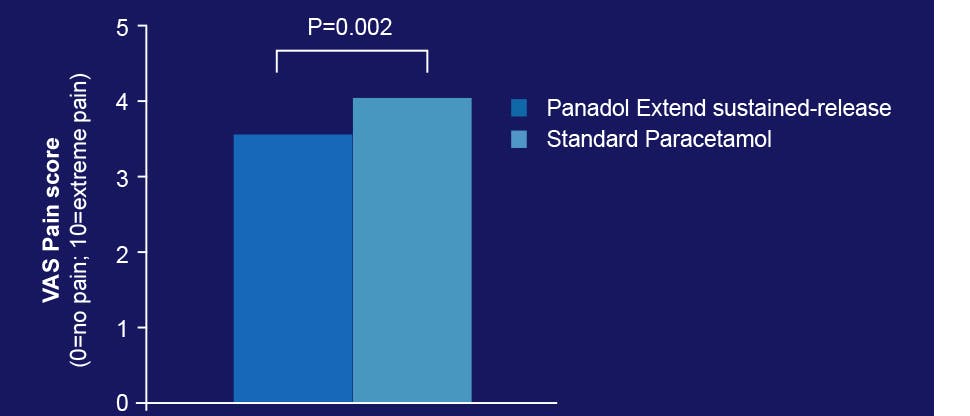 Provides effective and long-lasting pain relief for up to 8 hours7†
In this open label study, Panadol Extend sustained release achieved significantly improved pain levels (based on Visual Analog Scale [VAS]) vs. standard paracetamol in patients with knee osteoarthritis. The improved pain levels experienced on Panadol Extend could potentially encourage treatment adherence.7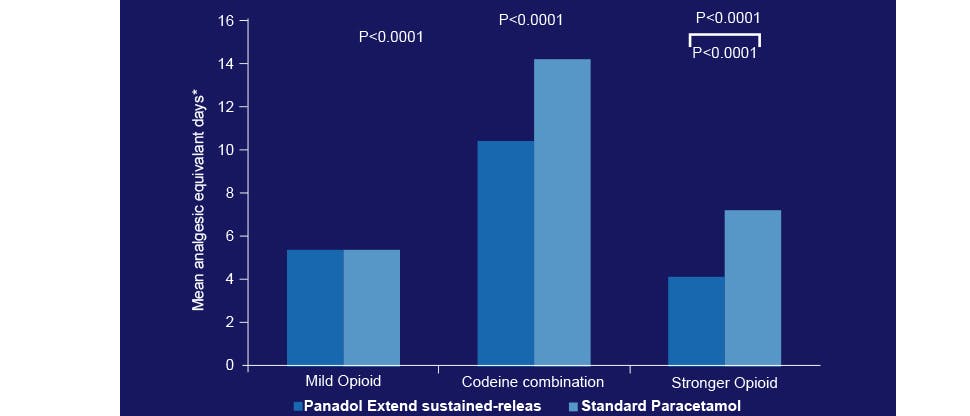 May delay opioid use8†
The graph aboves shows the number of days the patients were on an analgesic (mild opioid, codeine combination, stronger opioid). The mean number of analgesic equivalent days in patients taking Panadol Extend vs. standard paracetamol with a codeine combination and stronger opioid was less.
Therefore, in this retrospective longitudinal cohort analysis in 74,114 patients prescribed paracetamol for osteoarthritis, patients prescribed Panadol Extend for osteoarthritis had significantly lower mean analgesic days and were less likely to progress to narcotic analgesics compared to those on standard paracetamol tablets.9
(The analgesic equivalent days were calculated as dose strength x quantity x number of prescriptions/defined daily doses.)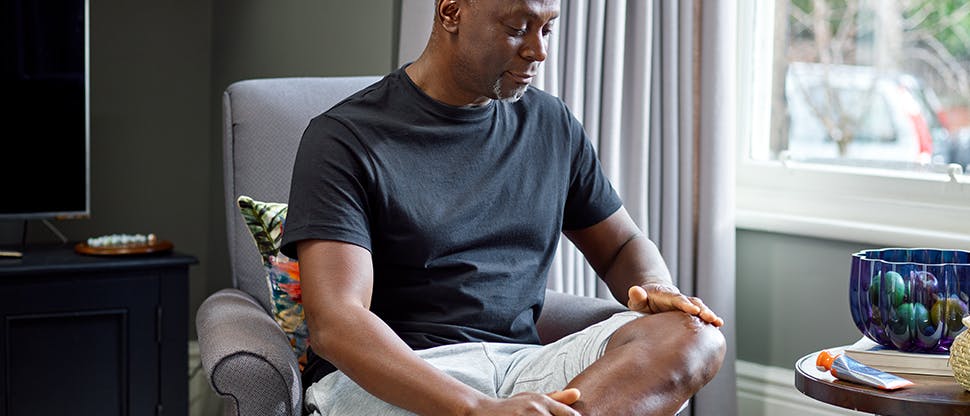 Robert needs pain relief for osteoarthritis
Robert was an athlete when he was younger. As the years progressed he developed persistent knee pain and was diagnosed as having right knee osteoarthritis. He's already on other medications for his hypertension and diabetes but really needs help to ease his pain. He tries staying active by going for walks and gardening but some days it is a struggle. Robert wishes he could go back to being active again.
Panadol Extend with its bi-layer technology can offer Robert sustained pain relief for up to 8 hours. Containing paracetamol, it is also gentler compared to other prescription pain medications.
Recommend Panadol Extend for fast and sustained relief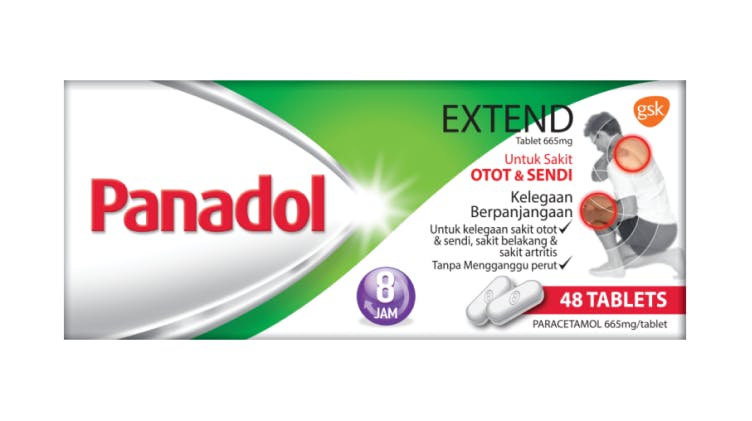 Panadol Extend
Fast and sustained paracetamol release for extended pain relief.1,2
Ingredient

665mg Paracetamol

Carnauba wax, Triacetin, Stearic acid, Croscarmellose sodium, Hypermellose, Pregelatinised starch, Povidone, Magnesium stearate

Recommended Dose

Adults (including the elderly) and children aged 12 years and over:

2 tablets (1330mg paracetamol) taken three times a day, every 6 to 8 hours as required, up to a maximum of 6 tablets (3.99g paracetamol) in any 24-hour period.

Can be taken with or without food.

Children under 12 years:

Not recommended for children under the age of 12 years.

Do not exceed the stated dose.
The lowest dose necessary to achieve efficacy should be used with the shortest duration of treatment.
Oral administration only.
Minimum dosing interval: 6 hours
Swallow whole tablet. Do not chew or suck, as it impairs the sustained release properties.
Maximum daily dose: 4000mg
Taking too much paracetamol can cause serious harm to your liver.

Warning & Precaution

This preparation contains PARACETAMOL. Do not take any other paracetamol containing medicines at the same time.

Do not take more than the recommended dose as it may cause serious harm to your liver.

Check with your doctor before use if you:

Have liver or kidney problems
Are underweight or malnourished.
Regularly drink alcohol.

You may need to avoid using this product altogether or limit the amount of paracetamol that you take.

Check with your doctor before use if you:

Have a severe infection, are severely malnourished, severely underweight or are a chronic heavy alcohol user as this may increase the risk of metabolic acidosis. Signs of metabolic acidosis include:
Deep, rapid, difficult breathing
Feeling sick (nausea), being sick (vomiting)
Loss of appetite

Contact a doctor immediately if you get a combination of these symptoms.

Please see your doctor if your symptoms do not improve.

Keep out of sight and reach of children. Jauhkan daripada kanak-kanak.

Always read and follow the label.

Allergy Alert

Paracetamol may cause severe skin reactions. Symptoms may include skin reddening, blisters and rash. These could be signs of a serious condition. If these reactions occur, stop use and seek medical assistance right away.

Interaction With Other Medication

Before taking this medicine, make sure you consult your doctor if you are taking warfarin or similar medicines used to thin the blood.

The anticoagulant effect of warfarin and other coumarins may be enhanced by prolonged regular daily use of paracetamol with increased risk of bleeding; occasional doses have no significant effect.

Pregnancy:

As with the use of any medicine during pregnancy, pregnant women should seek medical advice before taking paracetamol. The lowest effective dose and shortest duration of treatment should be considered.

Lactation:

Paracetamol is excreted in breast milk but not in a clinically significant amount at recommended dosages. Available published data do not contraindicate breastfeeding.

Stop taking this medicine and tell your doctor immediately if:

You experience allergic reactions such as skin rash or itching, sometimes with breathing problems or swelling of the lips, tongue, throat or face
You experience a skin rash or peeling, or mouth ulcers
You have experienced breathing problems with aspirin or non-steroidal anti-inflammatories, and experience a similar reaction with this product
You experience unexplained bruising or bleeding

These reactions are rare. From post marketing data, the reactions below are very rare:

Thrombocytopaenia, Anaphylaxis, cutaneous hypersensitivity reactions including, among others, skin rashes, angioedema, Stevens-Johnson syndrome and Toxic Epidermal Necrolysis, Bronchospasm in patients sensitive to aspirin and other NSAIDs, Hepatic dysfunction.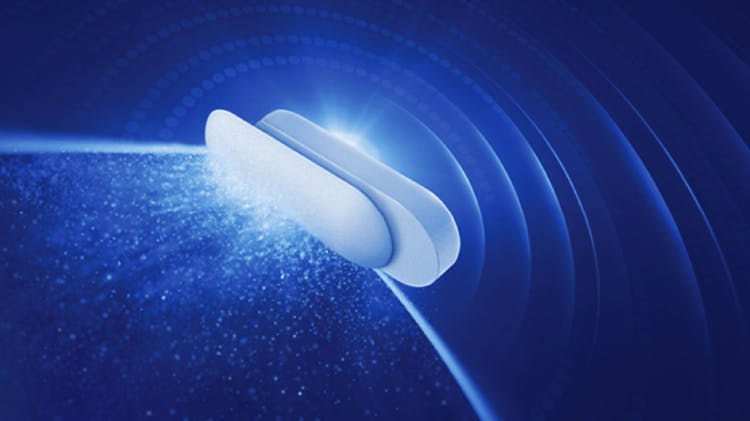 Bi-layer technology
A bi-layer technology that allows for sustained pain relief for up to 8 hours.10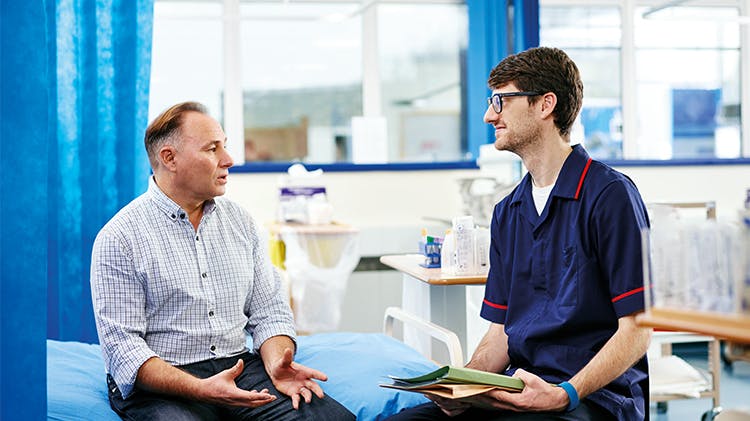 Osteoarthritis care guide
Specially tailored for pharmacists, this tool helps you manage your patient's osteoarthritic pain needs efficiently.