Sensodyne Complete Protection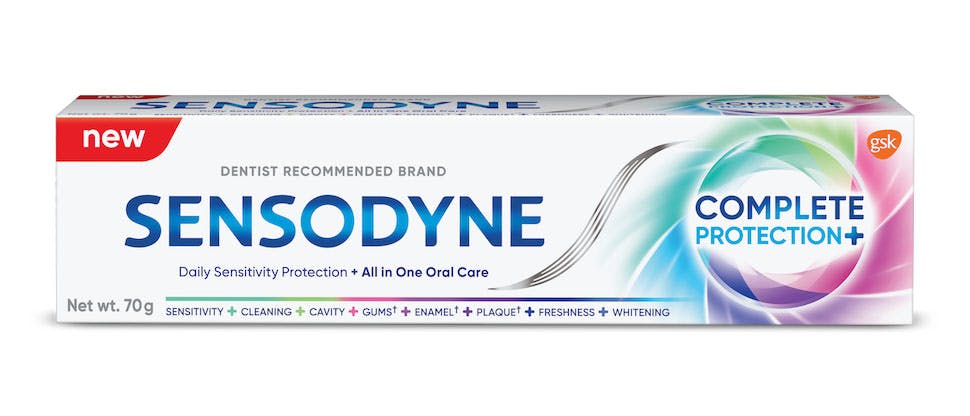 Helps relieve, restore and protect sensitive areas of teeth*1–3
Complete Protection + is an all-in-one daily toothpaste that delivers sensitivity protection along with multiple oral care benefits.
Daily sensitivity protection
Unique formula with an Advanced Cleaning System
Helps maintain natural whiteness of the teeth
Refreshing Mint flavor for an invigorating cooling sensation
Contains fluoride to help protect against cavities
Helps maintain healthy gums
Helps maintain strong enamel
Plaque removal
*with twice daily brushing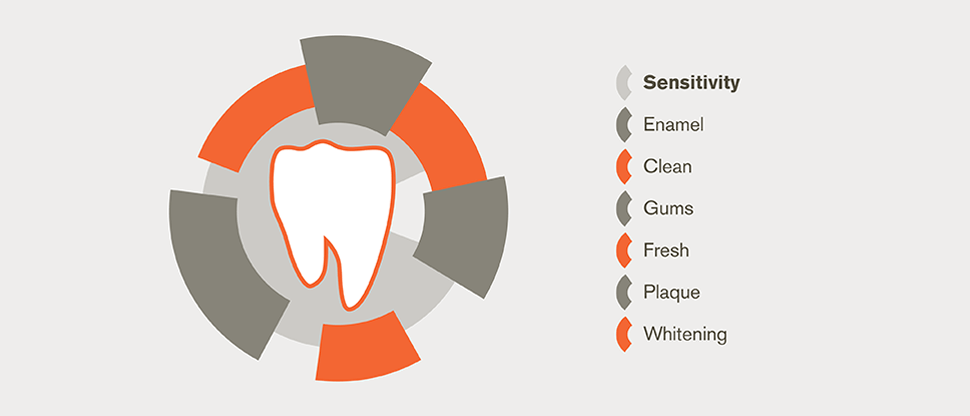 One complete sensitivity toothpaste specially designed with seven benefits*1–8
Sensodyne Complete Protection is specifically designed to care for sensitive teeth. The unique formula is designed with an Advanced Cleaning System, which provides Deep Cleaning action plus All-in-1 Protection, delivering 8 key oral care benefits: Sensitivity Protection, Deep Cleaning, Cavity Protection, Healthy Gums*, Strong Enamel*, Plaque Removal*, Fresh Breath, and Whitening.
*With twice-daily brushing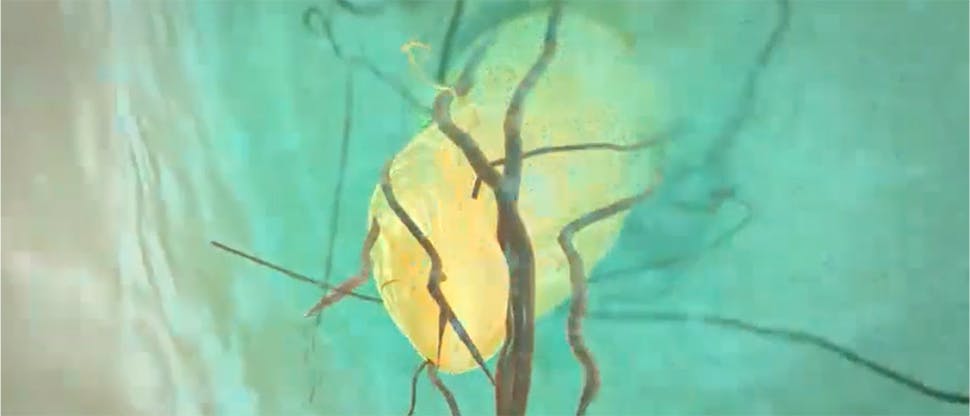 Potassium nitrate formulations build protection over time to help desensitise nerves in tooth pulp*11–14
Potassium nitrate builds soothing protection by desensitising the nerve inside the tooth.*9,10
*With twice daily brushing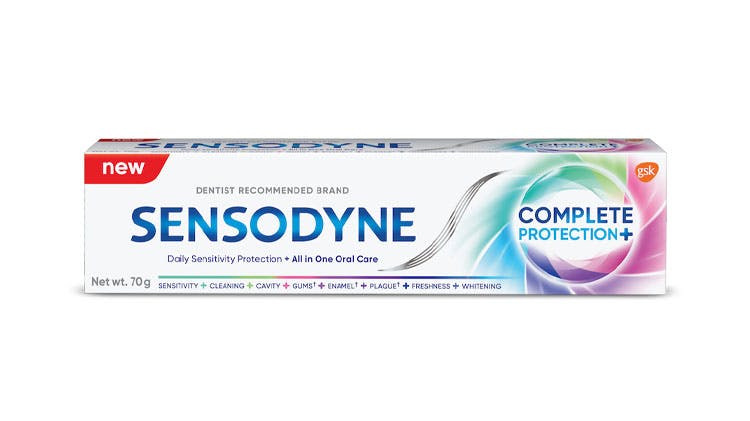 Sensodyne Complete Protection (Pentasodium Triphosphate and sodium fluoride 927ppm)
For patients with dentine hypersensitivity who need sensitivity relief in a toothpaste with all-round benefits.1,3–6
Aqua, Sorbitol, Hydrated Silica, Glycerin, Pentasodium Triphosphate, Potassium Nitrate, PEG-6, Sodium Lauryl Sulphate, Aroma, Xanthan Gum, Cocamidopropyl Betaine, Titanium Dioxide, Silica, Sodium Hydroxide, Sodium Saccharin, Sodium Fluoride, Limonene.

Contains Sodium Fluoride (approx. 927 ppm Fluoride)

For long-lasting protection, brush twice daily with approximately 2cm of paste. Close cap after each use to protect contents from moisture. Do not use if foil seal on the nozzle is broken. Remove foil seal before use.

For oral use only. Keep out of reach of children. Not for use by children 12 years and under unless directed by a dentist or healthcare professional. Sensitive teeth may indicate an underlying problem which needs prompt care by a dentist. If symptoms persist consult your dentist. If irritation occurs, discontinue use.
Sensodyne – the world's leading sensitivity toothpaste₹