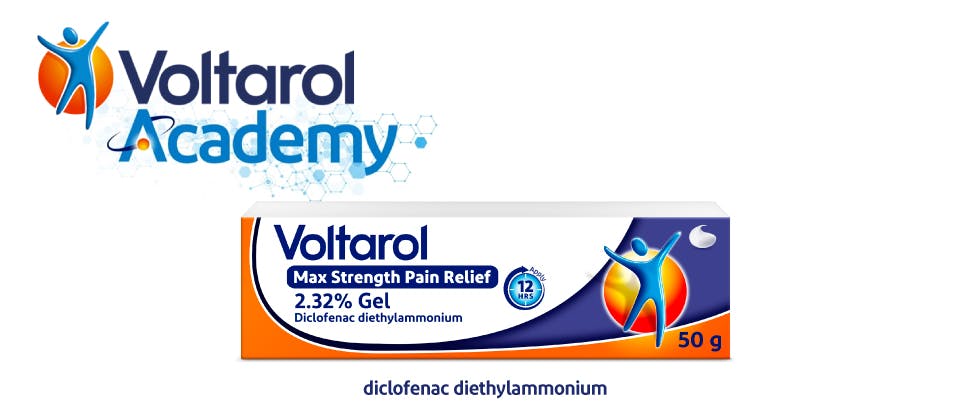 Voltarol is committed to being the world's leading body pain expert. We understand that pain isn't just physical discomfort – it's a barrier to freedom, to sociability, to self-reliance – all the things that make up the joy of movement.
When choosing the most appropriate treatment for a patient, there are a number of factors to consider. This page has been developed to share a series of resources which can support you and your team when dealing with patients with musculoskeletal (MSK) pain in pharmacy.
Resources here include:
Bite size videos on the formulation and mode of action of topical pain relief including Voltarol
A flow chart and print/video resources on the management of joint pain in pharmacy, aligned to NICE guidance
Resources from the 'Listen to Pain' series designed to support patient consultations on pain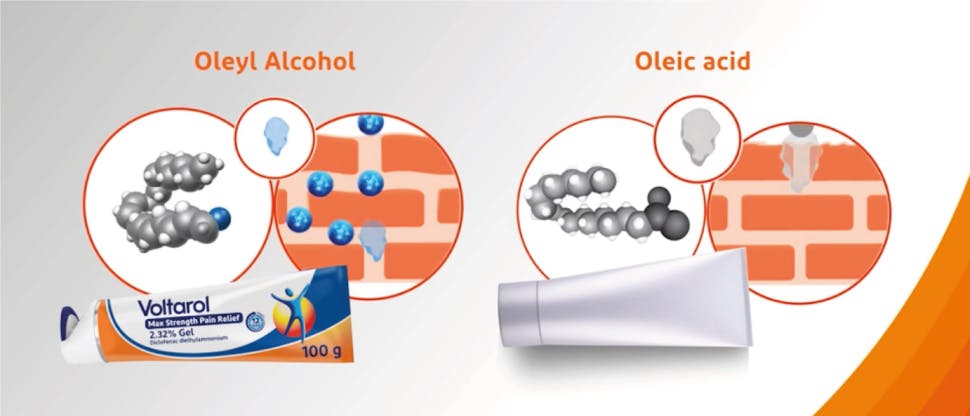 Not all topical diclofenac products are the same.
Voltarol is the only clinically proven 2.32% diclofenac gel to demonstrate deep tissue penetration† into joints.
Formulated with oleyl alcohol, a permeation enhancer – proven to deliver up to 3x greater skin penetration†

Effective delivery

of diclofenac through the skin
Strikes at the site of

pain and inflammation

Up to 12 hours

long lasting pain relief for sprains, strains, back pain, joint pain and now osteoarthritis
Voltarol Science Academy videos
Product Information: Voltarol Max Strength Pain Relief 2.32% Gel (diclofenac diethylammonium). Indications Local symptomatic relief of pain and inflammation in trauma of the tendons, ligaments, muscles and joints e.g. due to sprains, strains and bruises and localised forms of soft tissue rheumatism. Relief of pain of non-serious arthritic conditions. Dosage and method of use Adults and children aged 14 years and over. Gently rub 2-4 g into skin of affected site. Apply 2 times daily (morning and evening) for up to 14 days. Maximum daily dose 8 g. If symptoms worsen or do not improve within 7 days, seek medical advice. Not for use for longer than 14 days unless recommended by doctor. Contraindications Patients whose asthma, angioedema, urticaria or acute rhinitis are precipitated by aspirin or other NSAIDs. Hypersensitivity to diclofenac, aspirin, other NSAIDs or excipients. Third trimester of pregnancy. Precautions Do not use on large areas of skin and over a prolonged period. Apply only to intact, non-diseased skin. Do not use with occlusion. Avoid ingestion or contact with eyes or mucous membranes. Caution in patients with previous or active peptic ulceration; suffering from/previous history of asthma or allergic disease. Discontinue use if skin rash develops. Caution with concomitant use of other diclofenac products or systemic NSAIDs. Contains propylene glycol and butylhydroxytoluene which may cause skin irritation. Do not smoke and avoid naked flames. Avoid excessive exposure to sunlight to avoid photosensitivity. Side effects See SPCs for full details. Rash, erythema, pruritus, dermatitis, eczema. Hypersensitivity (including urticaria), angioedema. Asthma. Photosensitivity reactions. Desquamation, skin discolouration. Product licence number, legal category, pack size and RSP (excl. VAT) PL 44673/0154 (P), 30 g £7.08, 50 g £9.99, 100 g £16.24. PL holder Haleon UK Trading Limited, The Heights, Weybridge, KT13 0NY, U.K. Date of revision May 2023.