Sensodyne Sensitivity & Gum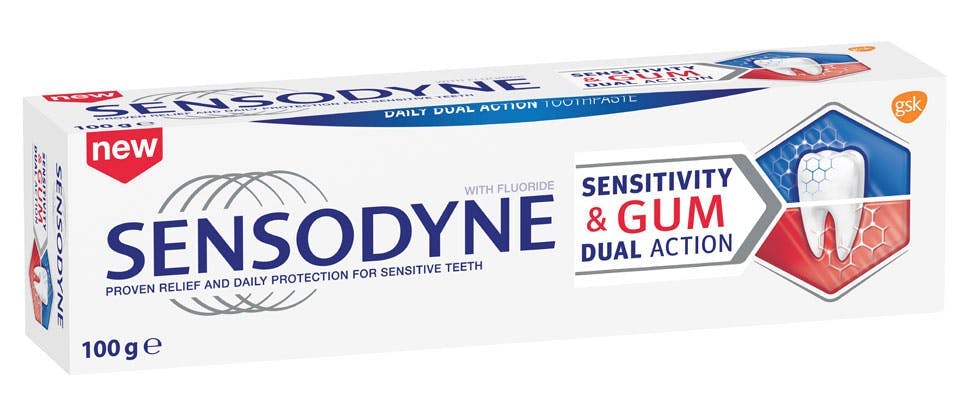 Sensodyne Sensitivity & Gum: The specialist dual action* toothpaste
With twice-daily brushing, Sensodyne Sensitivity & Gum toothpaste relieves sensitivity and helps remove plaque to maintain healthy gums2-4
Provides 63% greater sensitivity relief after 8 weeks5**
Continued improvement in sensitivity relief over 24 weeks†1
Effective plaque control, predominantly through mechanical plaque removal, which is considered to be key to maintenance of gingival health2-4
*With twice-daily brushing.**Percentage improvement in Schiff score vs fluoride-only toothpaste after 8 weeks, test 0.454% w/w stannous fluoride toothpaste vs. control fluoride-only toothpaste. The differences for tactile threshold for test toothpaste compared to fluoride-only toothpaste were 7.5 g after 4 weeks and 27.2 g after 8 weeks†Study conducted using a 0.454% w/w stannous fluoride toothpaste; measuring Schiff score and DHEQ questionnaire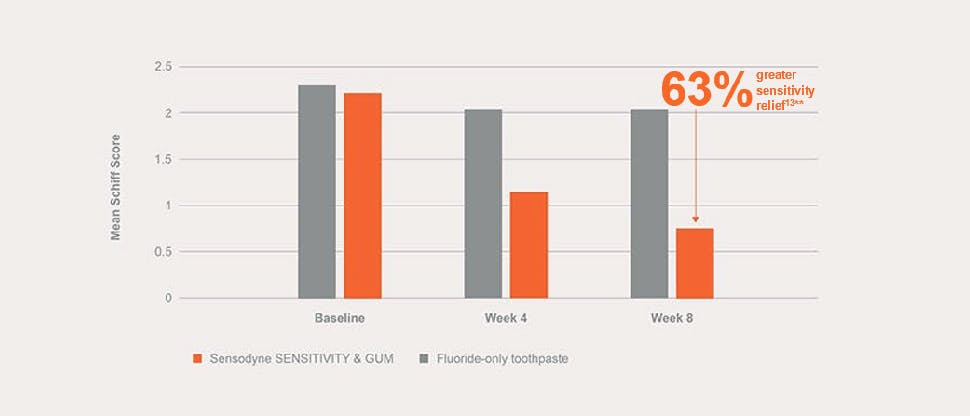 63% greater sensitivity relief5**
Sensodyne Sensitivity & Gum delivered 63% greater sensitivity relief to patients with dentine hypersensitivity at 8 weeks5**
**Percentage improvement in Schiff score vs fluoride-only toothpaste after 8 weeks, test 0.454% w/w stannous fluoride toothpaste vs. control fluoride-only toothpaste. The differences for tactile threshold for test toothpaste compared to fluoride-only toothpaste were 7.5 g after 4 weeks and 27.2 g after 8 weeks.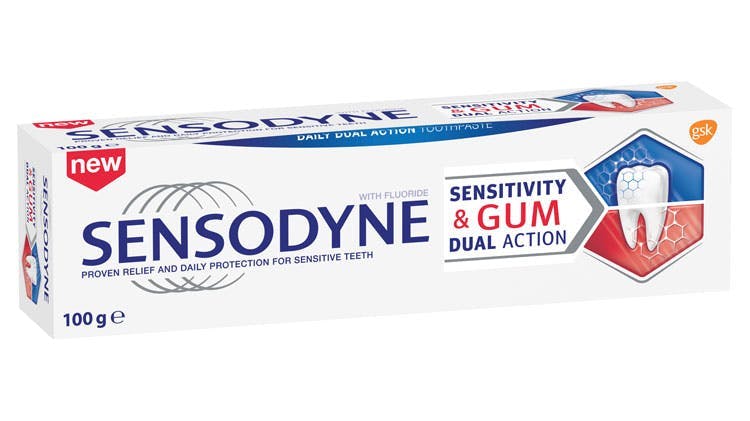 Sensodyne Sensitivity & Gum (0.454% stannous fluoride [1426ppm fluoride])
Sensodyne Sensitivity & Gum: for your patients with sensitivity and for maintenance of healthy gums
Glycerin, PEG-8, Hydrated Silica, Pentasodium Triphospbate, Sodium Lauryl Sulfate, Flavour, Titanium Dioxide, Carbomer, Stannous Fluoride, Cocamidopropyl Betaine, Sodium Saccharin, Sodium Fluoride, Limonene. Contains Stannous Fluoride 0.454% w/w, Sodium Fluoride 0.072% w/w (1426 ppm Fluoride).

DO NOT SWALLOW. Not for use by children 12 years of age or under unless on the advice of a dental professional or doctor. Do not use if carton seals are open.

Always read the label. Use only as directed. Brush twice a day and not more than 3 times, be sure to spit out.

Store below 30°C.

Sensitive teeth may indicate an underlying problem that needs prompt care. If symptoms persist or worsen consult your dentist. Talk to your Dentist or Doctor as soon as possible if you experience swelling of the mouth or face.

If irritation occurs discontinue use. Keep out of reach of children.