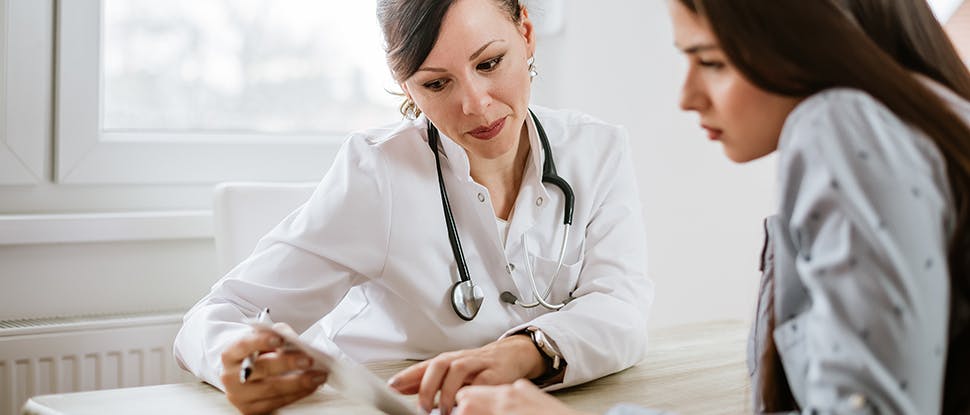 Management of colds
For most people, symptoms are self-limited without interventions. The condition is usually uncomplicated; however, occasionally, complications may develop such as sinusitis, lower respiratory tract disease, asthma exacerbations, and acute otitis media.
The management of colds depends on the severity of symptoms:
Mild symptoms:
Most patients with mild symptoms do not need any symptomatic treatments. Such patients should be advised to return for review if their condition worsens or exceeds the expected time for recovery.1,2
Moderate to severe symptoms
Symptomatic therapy is the mainstay of common cold management. Patients with moderate to severe symptoms may use a variety of therapies to relieve symptoms such as nasal symptoms, fever, pain and cough.3
Symptomatic treatment of colds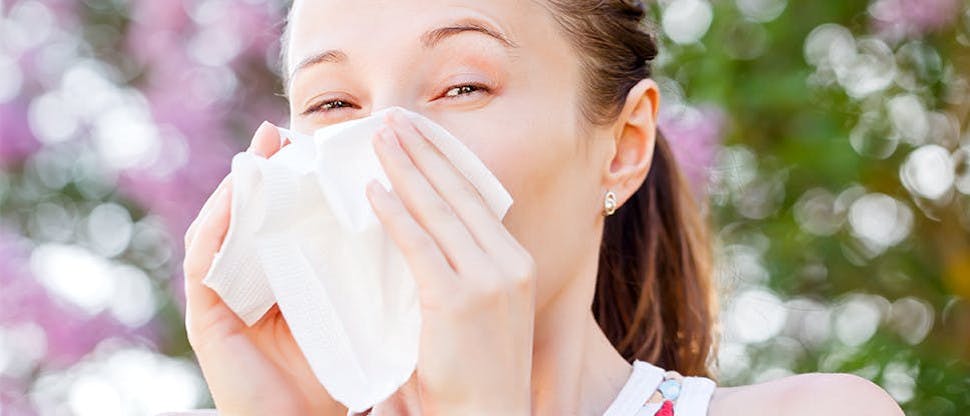 Nasal symptoms
There are many different formulations of decongestants and/or antihistamines available OTC for the treatment of nasal symptoms (i.e. rhinorrhoea, congestion, and sneezing). This includes single-agent and combination formulations.
In adults, decongestants and/or antihistamines proved to be the best option for patients with bothersome nasal symptoms.3
Decongestant monotherapy:
Sympathomimetic decongestants are available in oral (e.g. pseudoephedrine) or intranasal (e.g. oxymetazoline) formulations.3 They may offer mild relief of nasal congestion associated with the common cold when used alone.4,5
Xylometazoline and Oxymetazoline nasal sprays have been shown to have an effect in reducing airways resistance. Xylometazoline should be used for a maximum of 7 – 10 consecutive days (depending on the strength/formulation) whilst Oxymetazoline should be used for a maximum of 10 consecutive days, due to the risk of chronic/rebound nasal congestion (rhinitis medicamentosa).6,7
Antihistamine monotherapy:
A Cochrane systematic review found that first-generation antihistamines are associated with relief of sneezing and rhinorrhoea, but not nasal congestion. However, patients may experience sedation as a common adverse effect.8
Antihistamine/decongestant combinations:
Antihistamines and decongestants are often combined, with or without an analgesic. The combination of antihistamines and decongestants may be more beneficial than either component alone. They were found to improve rhinorrhoea, congestion and sneezing.4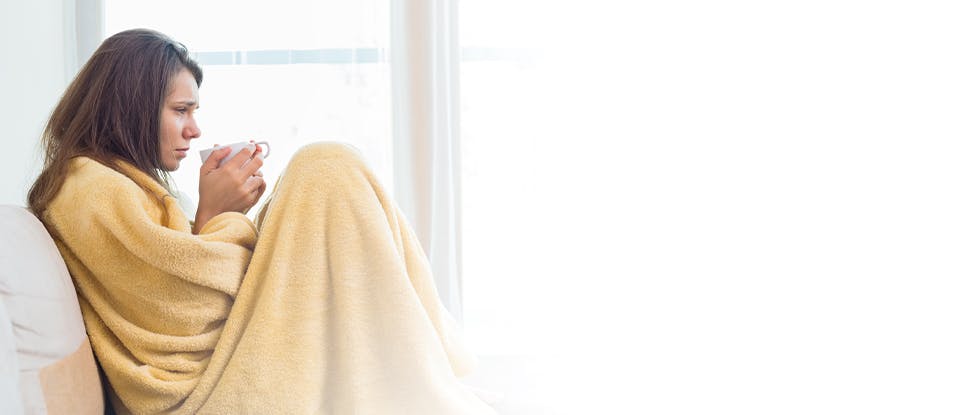 Fever and pain
Paracetamol is recommended for fever and/or pain. Evidence suggests that it may also help with nasal congestion and rhinorrhoea, but not sore throat, malaise, sneezing, or cough.9
Paracetamol is one of the most widely used analgesic/antipyretic agents, and is a first choice for many clinicians for the management of pain and fever in both adults and children.10
A review of non-steroidal anti-inflammatory drugs (NSAIDs) found that they do reduce discomfort, but provide no benefit in terms of improving respiratory symptoms.11
Analgesics are available as single-agent or combination (with decongestants and/or antihistamines) formulations.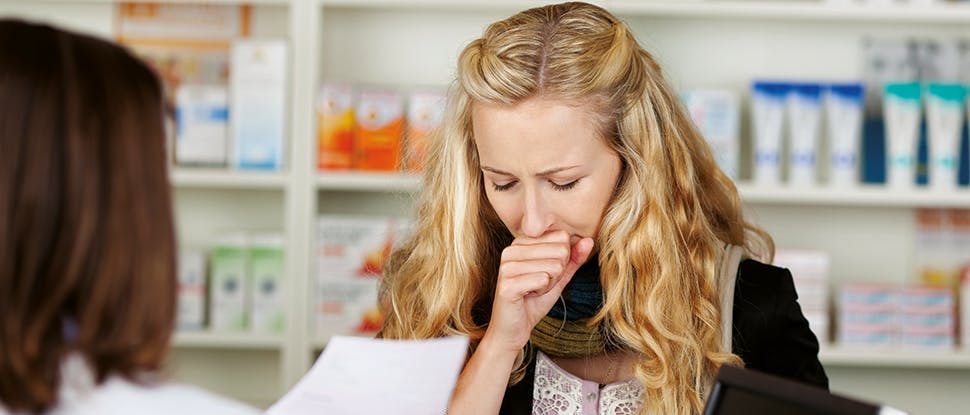 Cough
Many different cough suppressants or expectorants are available, including single-agent and combination formulations (often combined with decongestants and/or antihistamines).
There is no evidence to support or refute the use of OTC antitussive drugs, expectorants, or mucolytic agents to reduce the incidence of cough in adults or children, particularly young children.12,13 However, the American College of Chest Physicians recommends against the use of OTC cough and cold medicines for the treatment of coughs.14
Cough and cold medications that include opioids, such as codeine or hydrocodone, should not be used in children aged 18 years or younger as the risks (slowed or difficult breathing, misuse, abuse, addiction, overdose, and death) outweigh the benefits when used for cough in these patients.15
Honey has been shown to offer more relief of cough symptoms compared to no treatment, placebo, and diphenhydramine in children aged 1 to 18 years, but is not better than dextromethorphan.14,16
A review of inhaled corticosteroids for acute and sub-acute cough found insufficient evidence to recommend their routine use for acute respiratory tract infections in adults.17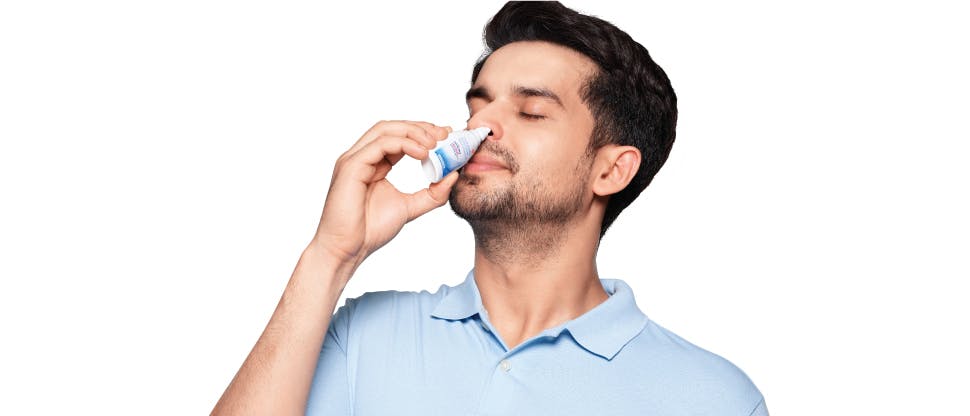 The advantages of a topical vs oral decongestant18-25
A nasal spray can deliver fast and effective targeted relief,18 but 52% of cold sufferers do not choose this topical option:26
Multi-symptom remedies may contain unnecessary ingredients (e.g. cough suppressants, antihistamines)27,28 and needlessly expose users to medications that won't help them with their nasal congestion
Oral decongestants are unlikely to offer the same rapid onset as topical decongestants, as they must first be systemically absorbed via the small intestine before they can achieve their action on nasal blood vessels28
ORAL DECONGESTANTS

Vs

TOPICAL NASAL SPRAY

Systemic – dissolves in the stomach, enters the blood and acts throughout the body

MODE OF ACTION

Local – acts directly on the nasal mucosa at the source of cold symptoms
May take 30 minutes18

ONSET OF RELIEF

Immediate (within 2 to 5 minutes)18
3 to 6 hours19-23

DURATION

10 to 12 hours18
Less likely than topical agents to cause rhinitis medicamentosa (rebound congestion) with prolonged use

ADVANTAGES

Unlike oral decongestants, topical nasal sprays are minimally absorbed, therefore systemic side effects are milder and occur less frequently24
Less risk of sleep disturbance25

Slower onset of action
Risk of cardiovascular and central nervous system adverse events

DISADVANTAGES

Excessive or prolonged use can cause rhinitis medicamentosa (rebound congestion)
Managing colds in babies29
Methods for treating nasal congestion in babies

There are a variety of ways to treat nasal congestion in babies, depending on country habits, the age of the baby, and the seriousness and cause of the congestion, including:29

Non-medicated sprays or drops (physiological serum, saline solutions)
Breast milk
Manual nasal aspirators ("Chicco" type)
Mouth pump nasal aspirators
Water
Decongesting creams/rubs
Inhalations
Cotton buds
Tissues
Some serious nasal congestion cases may require medicated nasal sprays

Treating children with natural products (treatments that are perceived to be gentle and chemical-free with no side effects) is a widespread practice.30

Favoured product attributes are:29

Work fast
Easy to buy/widely available
Include clear dosing/usage instructions
Effective for a good night's sleep
Are not messy
Will not trigger anxiety in the child
From a trusted brand/source
Is appropriate for their child's specific symptoms
Doesn't dry out the nasal passage
Doesn't irritate or redden the nose
Doesn't cause allergies

The Otrivin Baby nasal care solution uses a saline solution to liquefy the mucus and aloe vera.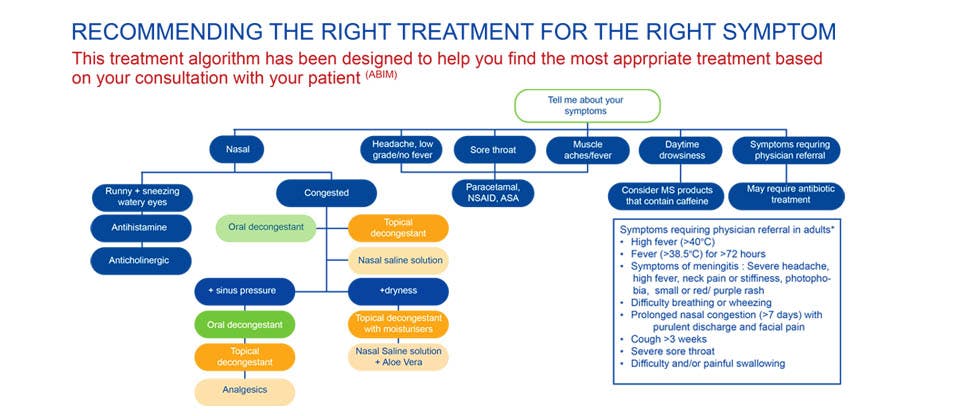 Advice on how to avoid colds29,30
Spreading colds to others may be limited by physical measures, including:
Hand-washing
Covering the mouth and nose when sneezing or coughing
Efficient disposal of tissues carrying nasal secretions
Staying away from work or school
Otrivin – Formulated to meet different consumer needs, with both medicated and natural options for infants, children and adults providing fast and long-lasting relief18