Iodex Ultragel 1.16% Emulgel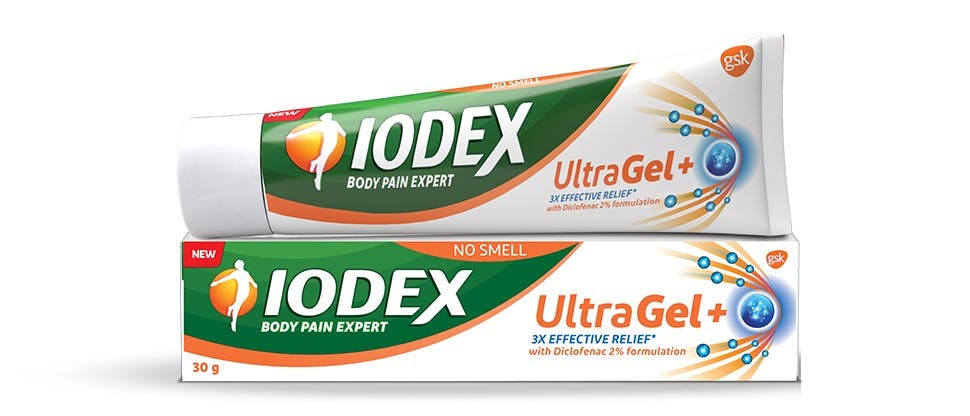 A formulation designed for fast absorption6,7
After topical application, diclofenac penetrates through the skin and into the tissues beneath.8It is retained in the muscle and other tissues that are often the source of pain.8,9
When it comes to topical NSAIDs, formulation can be more important than concentration.10
The Emulgel formulation possesses the advantages of both gels and emulsions, favouring rapid absorption, ease of application and good accepta4,5bility to patients. 7,11,12
IodexUltragel 3x effective refief (Voltaren Triple Effect) penetrates through the skin to a depth of up to 1 cm, enabling targeted action against pain and inflammation.4,5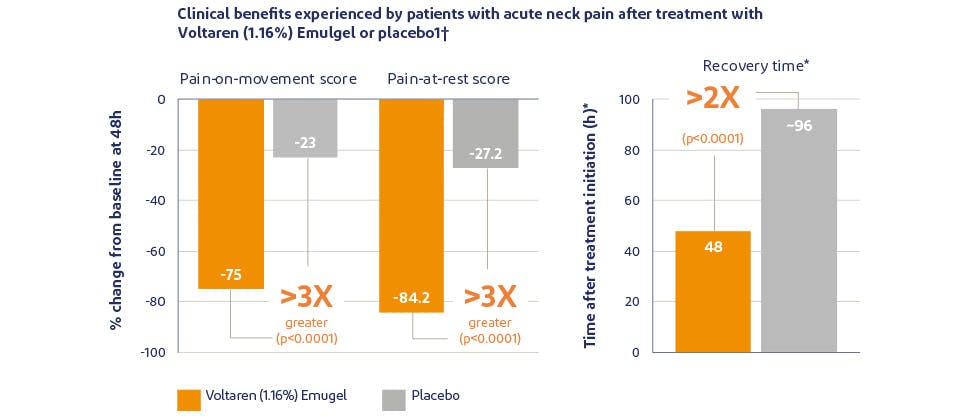 Effective relief of pain and reduction of inflammation1–3
In a randomised, double-blind, placebo-controlled study of patients with acute neck pain, Voltaren Triple Effect delivered significantly greater reduction in pain-on-movement and pain-at-rest – over three times that of placebo. Additionally, recovery time was about twice as fast as placebo.1*†
*Recovery time was defined as a clinically relevant decrease in pain plus an increase in neck function.†72 patients with acute neck pain received 2 g Voltaren Triple Effect (1.16%) Emulgel four times daily or placebo for 5 days.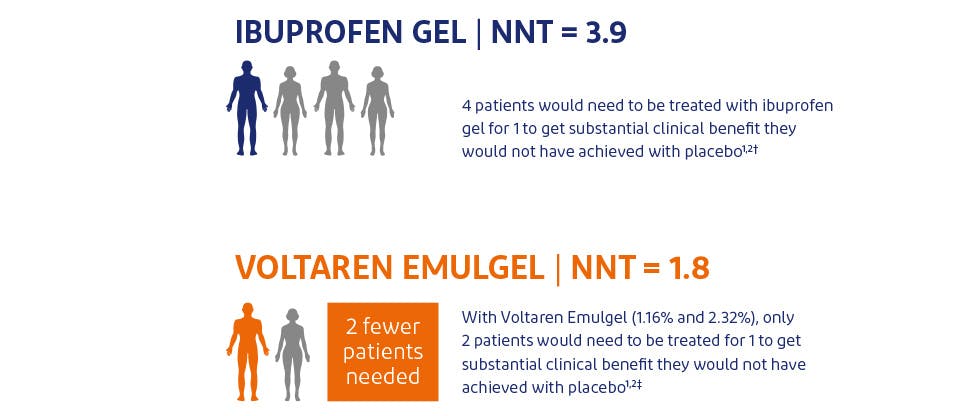 The lowest number-needed-to-treat (NNT) vs other topical NSAIDs in acute musculoskeletal pain3,13
A Cochrane Review comparing topical NSAIDs and placebo showed favourable efficacy for Voltaren Emulgel*† vs other treatments. Of all topical NSAIDs tested for treatment of acute musculoskeletal pain, Voltaren Emulgel had the lowest NNT.3,13‡ with pain relief reported as similar to oral NSAIDs.
This means that for every single patient you treat with Voltaren Emulgel over other topical NSAIDs, you have a better chance of giving them the significant pain relief that helps get them back on their feet and enjoying life again.3
*1% and 2% Voltaren Emulgel formulations included in the review.
†For treatment of strains, sprains or sports or overuse-type injuries.
‡vs topical ibuprofen, ketoprofen, benzydamine, piroxicam and indomethacin.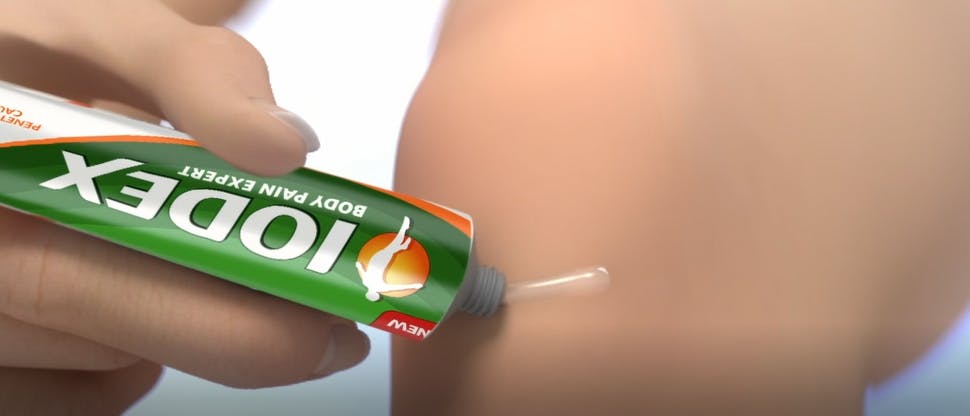 Iodex Ultragel has a reduced systemic side-effect risk15,16
The low systemic absorption of Iodex Ultragel means that it has a reduced risk of systemic side effects.8,15,16*
*There is an increased risk of mild dermatological side effects (e.g. skin irritation) with topical diclofenac, but this is non-serious and reversible.
First-line medication use
To improve pain, inflammation and recovery after sprains and strains, guidance from the National Institute for Health and Care Excellence (NICE) recommends using topical NSAIDs or paracetamol as initial analgesics for soft-tissue injuries.17
Patients should also be advised not to apply heat to the injury during the first 72 hours.17
Recommend Iodex Ultragel to your patients for reduction of muscle pain and inflammation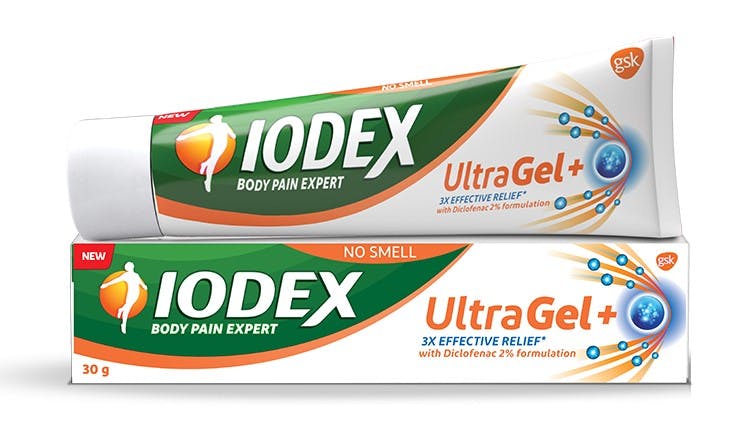 Iodex ultra gel 1.16% Emulgel
For patients suffering from osteoarthritis knee, low back pain,Musculoskeletal pain.
Iodex Ultragel − relieves pain, reduces inflammation and speeds up the natural healing process1–3