Sensodyne Sensitivity & Gum Toothpaste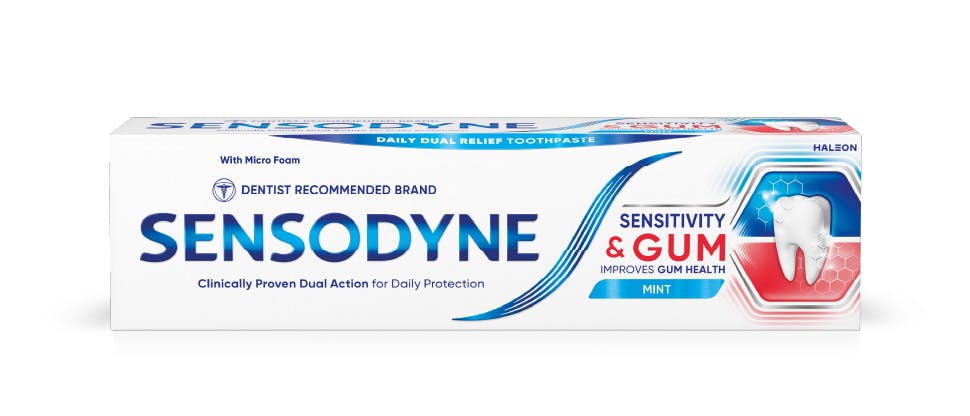 One specialist toothpaste, two benefits
Our specialist dual action toothpaste is clinically proven to help protect sensitive teeth and provide a 40% improvement in gum health with twice-daily brushing over 24 weeks.*1
*Percentage improvement in Bleeding Index after 24 weeks test 0.454% w/w stannous fluoride toothpaste vs. control fluoride-only toothpaste. Study also showed 19% improvement in modified Gingival Index with the test toothpaste vs. control at Week 24 in favour of the test product. Both these measures are indicative of improvements in gum health for the test product compared to control toothpaste.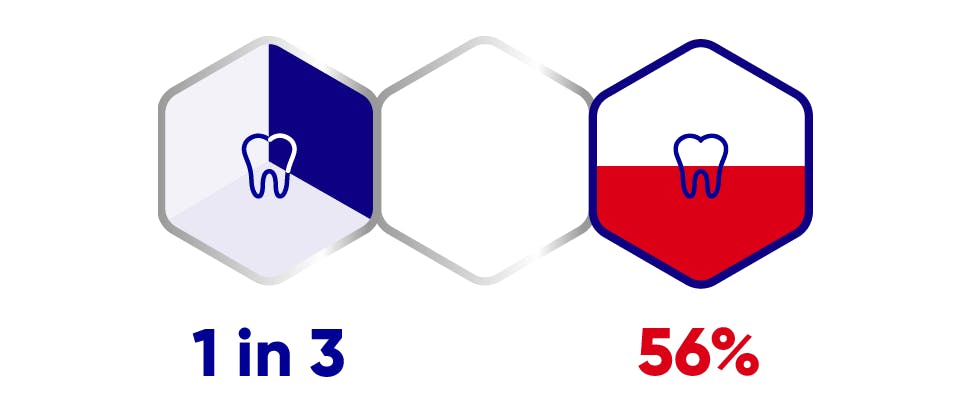 Sensitive teeth and gum problems can co-exist2
As many as 1 in 3 adults may experience sensitive teeth.2,3
56% of those who suffer from sensitive teeth also experience gum problems. †4
†Adults in Great Britain aged 16-75 with sensitive teeth/gum problems. N=238.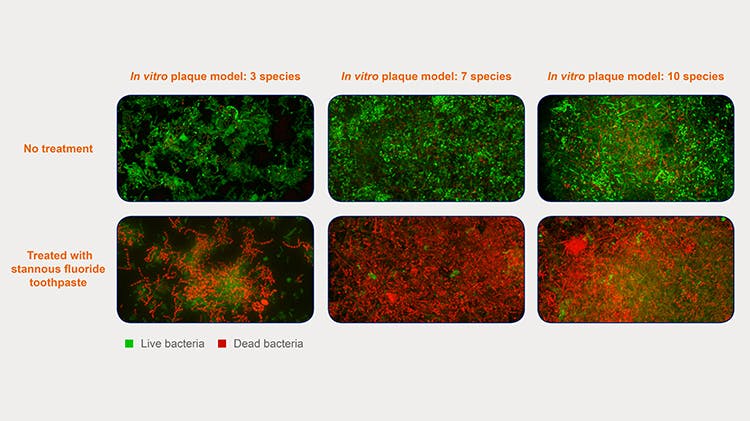 Sensodyne Sensitivity & Gum supports gum health through effective plaque control
Early and mature plaque are affected by antimicrobial action of stannous fluoride*5
*Significant loss of viability of in vitro plaque when treated with Sensodyne Sensitivity & Gum. Confocal Laser Scanning Microscopy (CLSM) images of in vitro plaque models with 3, 7 or 10 dental plaque bacterial species vs untreated respective in vitro plaque models.
Recommend Sensodyne Sensitivity & Gum to your patients with sensitive teeth and gum problems.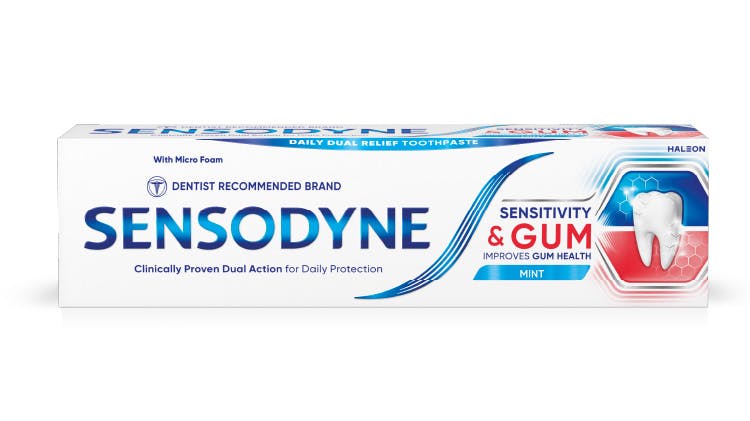 Sensodyne Sensitivity & Gum (0.454% stannous fluoride [1450ppm fluoride])
Dual action, one toothpaste with micro foam technology. Help your patients with sensitive teeth to proactively care for their gums with Sensodyne Sensitivity & Gum.
Glycerin, PEG-8, Hydrated Silica, Pentasodium Triphosphate, Aroma, Sodium Lauryl Sulfate, Titanium Dioxide, Carbomer, Stannuous Fluoride, Cocamidopropyl Betaine, Sodium Saccharin, Sodium Fluoride, Limonene. Contains Stannuous Fluoride 0.454% w/w, Sodium Fluoride 0.0721% w/w (1450 ppm fluoride).

Always follow the label directions. Brush twice a day and not more than three times, minimise swallowing and spit out. Close cap after each use to protect contents from moisture.

Keep out of reach of children. Not for use by children under 12 years of age, unless on the advice of a dental professional or doctor. Sensitive teeth may indicate an underlying problem that needs prompt care, if symptoms persist or worsen, see your dentist. If irritation occurs, discontinue use. Talk to your dentist or doctor as soon as possible if you experience swelling of the mouth or face. The ends of this carton have been glued down. Do not use if carton ends are open.
#1 dentist recommended brand for people with sensitive teeth*