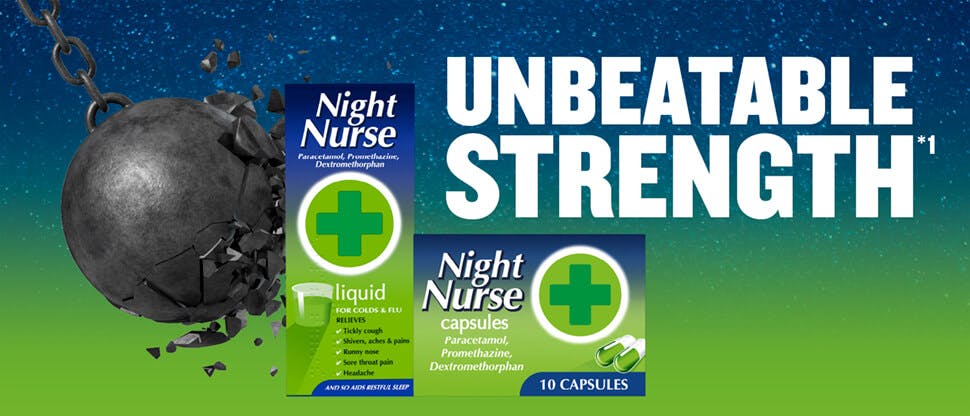 Unbeatable strength cold & flu relief for night time1
Night Nurse Capsules & Liquid – multi-symptom relief formulated for use at night and so aids restful sleep.
Night Nurse offers unbeatable strength relief for the following symptoms:
Tickly cough
Shivers, aches & pains
Runny nose
Sore throat pain
Headache
Night Nurse contains:
Paracetamol to fight sore throat, headaches shivers, aches and pains
Dextromethorphan to relieve a tickly cough
Promethazine to dry up a runny nose
Night Nurse / Night Nurse Capsules. (20 ml liquid or one 2-capsule dose contains paracetamol 1000 mg, promethazine hydrochloride 20 mg, dextromethorphan hydrobromide 15 mg).

Indications: Symptomatic relief of colds, chills and influenza at night. Dosage: Adults and children 16 years and over: 20 ml or 2 capsules before bed. Maximum daily dose: Only one dose should be taken per night. Allow at least four hours between taking any paracetamol-containing product and this product. Contraindications: Hypersensitivity to the active ingredients or any of the excipients. Patients with or at risk of developing respiratory failure and patients taking or have taken monoamine oxidase inhibitors (MAOIs) in the last two weeks. Warnings and precautions: Contains paracetamol. Avoid use of other antihistamine-containing preparations, including topical and cough and cold medicines. Caution must be used in patients with severe hepatic or renal impairment, chronic or persistent cough, cough accompanied by excessive secretions, narrow angle glaucoma, prostatic hypertrophy, urinary retention, epilepsy. Medical advice should be sought in patients taking antidepressants, CNS depressants and anticholinergics. Use with caution in elderly, who are more likely to experience confusion and paradoxical excitation. Caution in patients with depleted glutathione levels. Avoid alcohol. Prolonged use may lead to addiction, even at therapeutic doses. Patients with a history of dextromethorphan abuse and dependence. Concomitant use with serotonergic agents can result in serotonergic effects, including serotonin syndrome. Caution should be exercised in patients who are slow metabolizers of CYP2D6 or use CYP2D6 inhibitors. Medical advice should be sought if symptoms persist, or are accompanied by high fever, skin rash or persistent headache. May cause urine pregnancy tests to produce false results. Do not take with any other paracetamol-containing products. Immediate medical advice should be sought in the event of an overdose. Use during pregnancy and lactation only on medical advice. Liquid only: Harmful for those suffering from alcoholism. Caution must be taken in patients with diabetes mellitus and those who are on a low sodium diet. Side effects: See SPC for full details. Hypersensitivity reactions including anaphylaxis, drug dependence and drug withdrawal syndrome, skin rashes, SJS, blood dyscrasias, bronchospasm, hepatic dysfunction, gastrointestinal disturbance, nausea, vomiting, abdominal discomfort, drowsiness and dizziness, confusion, paradoxical excitation, dry mouth, eye disorders, blurred vision, urinary retention. Legal category: P. Product licence number: PL 44673/0070, 0071 MAH: GlaxoSmithKline Consumer Healthcare (UK) Trading Limited, Brentford, TW8 9GS, U.K. RRP (excl. VAT): Liquid: £6.66. Capsules: £4.16 Text prepared: August 2020.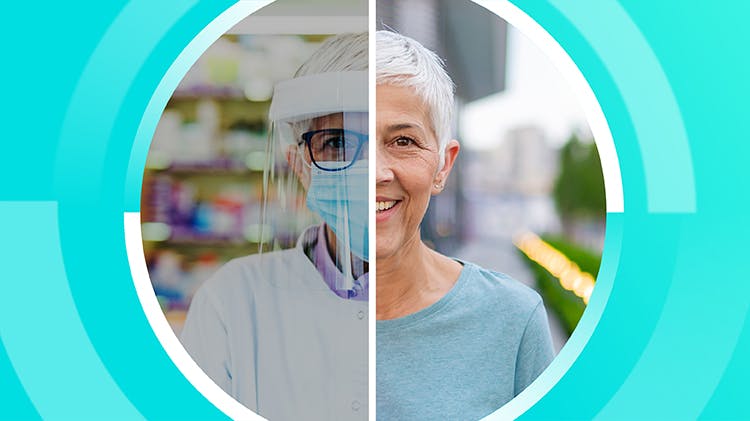 Building mental resilience in pharmacy teams
Find out more about the lessons learned from coping with COVID-19 and explore how you could build mental resilience for your pharmacy team in the future.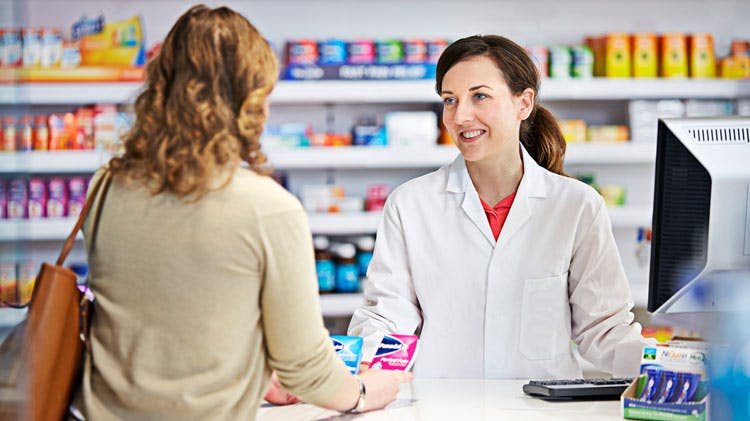 Learning Lab
Access educational resources to build your knowledge and skills including podcasts on cold & flu for pharmacy teams.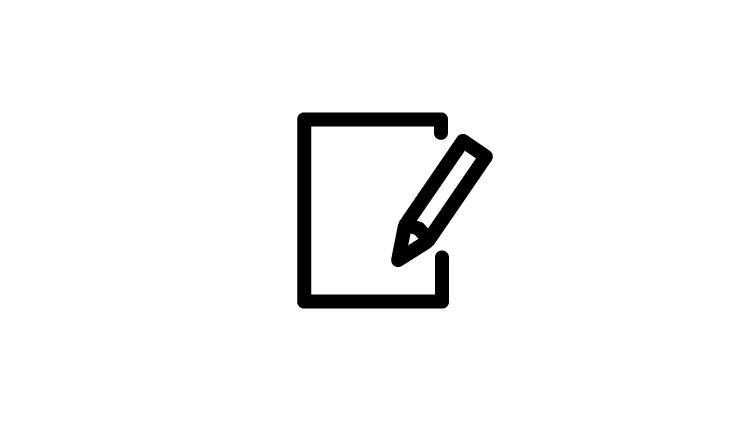 Sign up for updates
For news, updates and more, click the link below to sign up and be on our mailing list.