Voltarol Emulgel 1% w/w Gel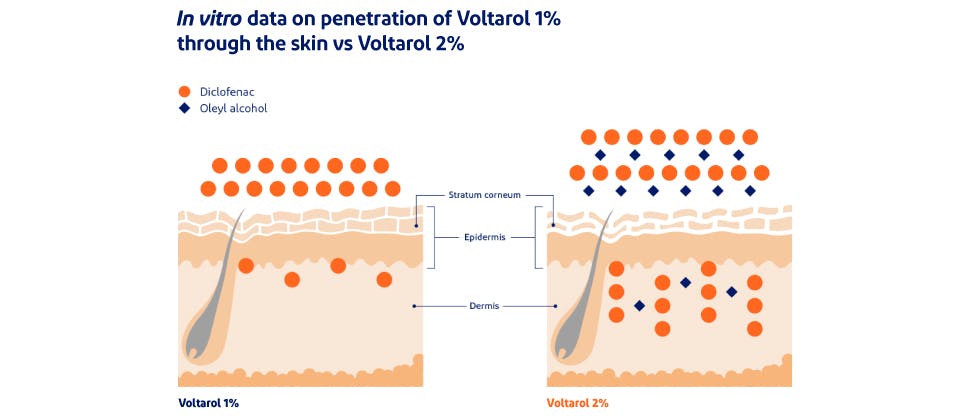 Voltarol has a formulation designed for effective absorption6,7
After topical application, diclofenac penetrates through the skin and into the tissues beneath.8 It is retained in the muscle and other tissues that are often the source of pain.8,9
When it comes to topical NSAIDs, formulation can be more important than concentration.10 The formulation of Voltarol Emulgel 1% w/w Gel means that it possesses the advantages of both gels and creams, favouring effective absorption, ease of application and good tolerability for patients.7,11,12
Voltarol Emulgel 1% w/w Gel penetrates through the skin to a depth of up to 1cm, enabling targeted action against pain and inflammation.4,5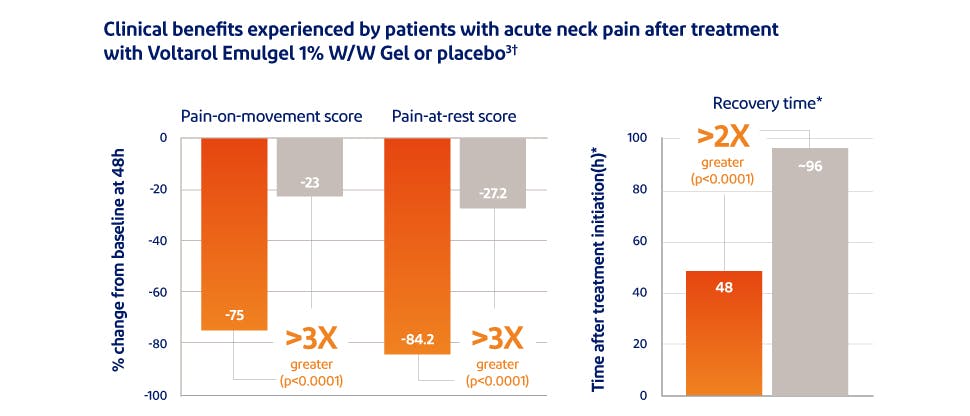 Effective relief of pain and reduction of inflammation1–3
In a randomised, double-blind, placebo-controlled study of patients with acute neck pain, Voltarol Emulgel 1% w/w Gel delivered significantly greater reduction in pain-on-movement and pain-at-rest – over three times that of placebo. Additionally, recovery time* was about twice as fast as placebo.1†
*Recovery time was defined as a clinically relevant decrease in pain plus an increase in neck function.†72 patients with acute neck pain received 2 g Voltarol Emulgel 1% w/w Gel four times daily or placebo for 5 days.
Product Information can be found at the bottom of the page
The lowest number-needed-to-treat (NNT) for Voltarol Gels vs other topical NSAIDs in acute musculoskeletal pain3,13
A Cochrane Review comparing topical NSAIDs and placebo showed favourable efficacy for Voltarol Gels*† vs other treatments. Of all topical NSAIDs tested for treatment of acute musculoskeletal pain, Voltarol Gel had the lowest NNT.3,13‡ with pain relief reported as similar to oral NSAIDs.
This means that for every single patient you treat with Voltarol Gels over other topical NSAIDs, you have a better chance of giving them the significant pain relief that helps get them back on their feet and enjoying life again.3
*1% and 2% Voltarol Gel formulations included in the review.†For treatment of strains, sprains or sports or overuse-type injuries.‡vs topical ibuprofen, ketoprofen, benzydamine, piroxicam and indomethacin.
Voltarol Emulgel 1% w/w Gel has a reduced systemic side-effect risk15
The low systemic absorption of Voltarol Emulgel 1% w/w Gel means that it has a reduced risk of systemic side effects vs. oral NSAIDs.8,15*
*There is an increased risk of mild dermatological side effects (e.g. skin irritation) with topical diclofenac, but this is non-serious and reversible.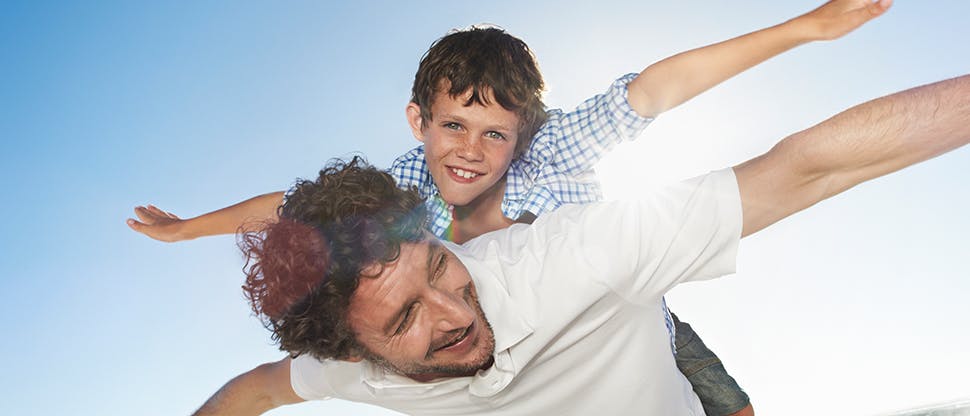 Ben wants effective pain relief and recovery
Ben balances the demands of his full-time job with taking care of two young children.
He enjoys going to the gym or exercising outdoors and loves nothing more than playing with his children.
The last thing he needs is pain from a sprain or strain affecting his life.
Voltarol Emulgel 1% w/w Gel helps restore movement by relieving pain and reducing inflammation. Recommend to help Ben get back on with his life.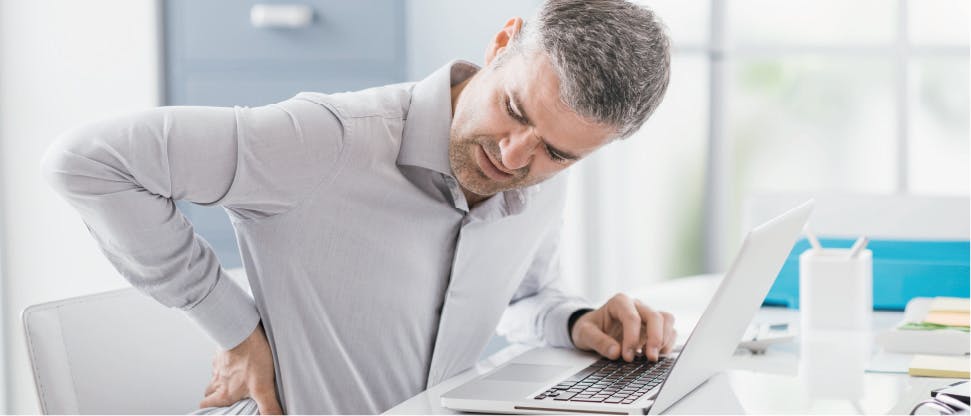 Peter wants effective pain relief and recovery
Peter is a senior manager in a large multi-national company with a demanding commute. By the time he has driven 2 hours in each direction, he is usually experiencing pain in his lower back.
On days when his pain is troublesome he needs pain relief that will allow him to get comfortable, so his evening is not disrupted.
Peter has been seeing a physiotherapist regularly since his youth and prefers using topical treatments. He has recently moved on to using the one with the applicator – which he has found useful not only for keeping his hands clean during application but also helps him to apply in the exact place to obtain the relief he needs.
With Voltarol Emulgel 1% w/w Gel with No Mess Applicator the power of topical pain relief recommendation is in your hands, and not on your patients' hands.
Recommend Voltarol Emulgel 1% w/w Gel to your patients to relieve muscle pain and inflammation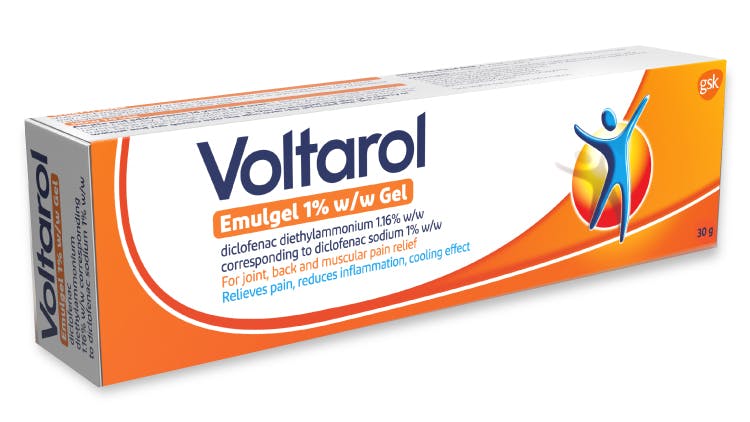 Voltarol Emulgel 1% w/w Gel
For patients who are looking for relief from sprains and strains, back and muscle pain using a topical formulation.
Product Information: Please consult the Summary of Product Characteristics for full product information.Voltarol Emulgel 1% w/w Gel (diclofenac) and Voltarol Emulgel Extra Strength 2%w/w Gel (diclofenac). Indications: For the local symptomatic relief of pain and inflammation in trauma of tendons, ligaments, muscles and joints, localised forms of soft tissue rheumatism. Dosage: Adults and adolescents 14 years and over: Voltarol Emulgel 1% w/w Gel: 2g to 4g of gel, applied topically 3-4 times daily. Maximum treatment duration is 7 days. Voltarol Emulgel Extra Strength 2%w/w Gel: 2g to 4g of gel, applied topically 2 times daily – morning and evening. Maximum treatment duration is 14 days. All gels: Patients should consult their doctor if the condition does not improve within 7 days, or worsens. Contraindications: Patients with or without chronic asthma in whom asthma, angioedema, urticaria or acute rhinitis are precipitated by aspirin or other non-steroidal anti-inflammatory agents. Hypersensitivity to diclofenac, acetylsalicylic acid or other non-steroidal anti-inflammatory drugs. Hypersensitivity to any other ingredient of the gel. Use in third trimester of pregnancy. Use in children and adolescents aged less than 14 years. Warnings and precautions: Apply only to intact, non-diseased skin and not to skin wounds or open injuries. It should not be used with occlusion. Do not smoke and avoid naked flames. It should not be allowed to come into contact with the eyes or mucous membranes and should never be taken by mouth. Application over extensive areas for prolonged periods or application in excess of recommended dosage may give rise to systemic effects. These include gastrointestinal disturbances and bleeding, irritability, fluid retention, rash, hepatitis, renal dysfunction, anaphylaxis and rarely blood dyscrasias, bronchospasm and erythema multiforme. Discontinue if rash develops. Use with caution in patients with a history of peptic ulcers, gastrointestinal bleeding, hepatic or renal insufficiency, or bleeding diathesis, or intestinal inflammation. Side effects: Very rare: rash pustular, hypersensitivity (including urticaria),angioedema, asthma, photosensitivity reaction. Rare: Dermatitis bullous. Common: Dermatitis (including contact dermatitis), rash, erythema, eczema, pruritus. MA Holder: GlaxoSmithKline Consumer Healthcare (Ireland) Limited, 12 Riverwalk, Citywest Business campus, Dublin 24, Ireland. MA Number: Voltarol 1% w/w Gel: PA 678/140/2. Voltarol 2% w/w Gel: PA 678/140/3. Legal category: 1%: GSL, 2%: Pharmacy only. Text revised: March 2022. Further information available on request.

Contains diclofenac diethylammonium. Always read the label/leaflet.
Voltarol Emulgel 1% w/w Gel – relieves pain, reduces inflammation and helps restore movement1-3