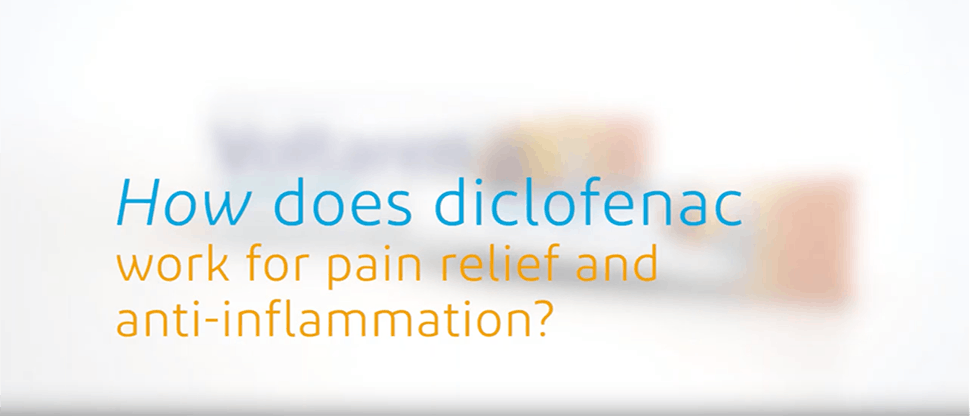 Voltaren 11,6 mg/g gel is formulated to help the anti-inflammatory ingredient get through the skin.5
After topical application, diclofenac penetrates through the skin and into the tissues beneath.8 It is retained in the muscle and other tissues that are often the source of pain.8,9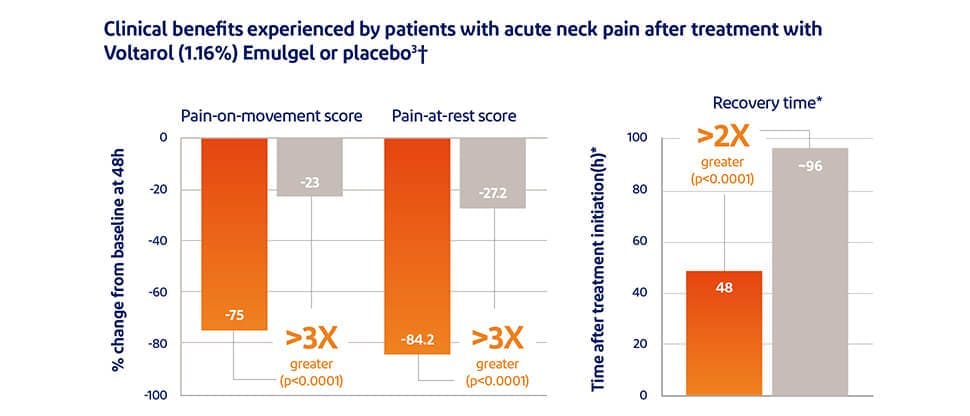 Relieves pain and reduces inflammation1–3
In a randomised, double-blind, placebo-controlled study of patients with acute neck pain, Voltaren 11,6 mg/g gel - delivered significantly greater reduction in pain-on-movement and pain-at-rest – over three times that of placebo. Additionally, recovery time was about twice as fast as placebo.1*†
*Recovery time was defined as a clinically relevant decrease in pain plus an increase in neck function.†72 patients with acute neck pain received 2 g Voltaren double Effect (1.16%) Emulgel four times daily or placebo for 5 days.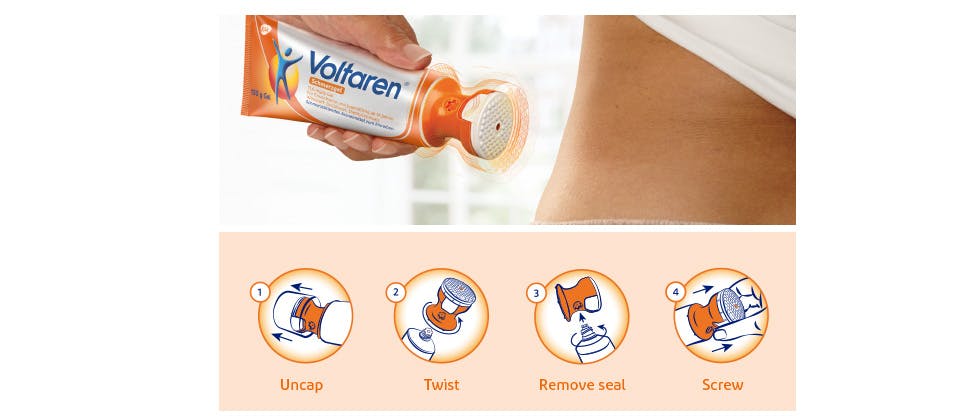 NoMess applicator: making Voltaren even better
Over a quarter of patients (27%) say that physical contact with the gel* stops them using a topical analgesic.14
The NoMess applicator allows patients to get Voltaren 11,6 mg/g gel directly to the point of pain,1,4,5 while keeping hands and fingers clean.
*Or odour.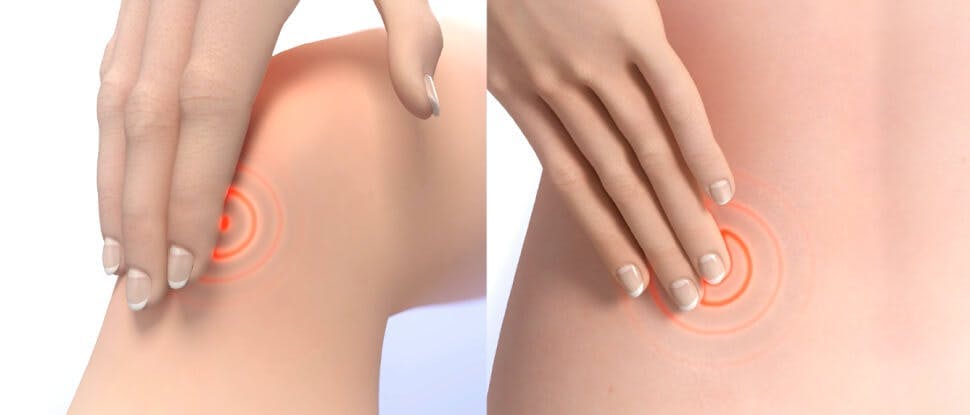 Voltaren 11,6 mg/g gel - Low systemic exposure15,16
Due to low systemic absorption, interactions with other medicinal products are unlikely.8,15,16
First-line medication use
To improve pain, inflammation and recovery after sprains and strains, guidance from 'Läkemedelsboken', recommends topical NSAIDs could be used for such acute pains, or in case of inflammation, cox inhibitors may be appropriate as an add-on to paracetamol.
References:
https://lakemedelsboken.se/kapitel/smarta/smarta_och_smartbehandling.html (Swedish medical products agency)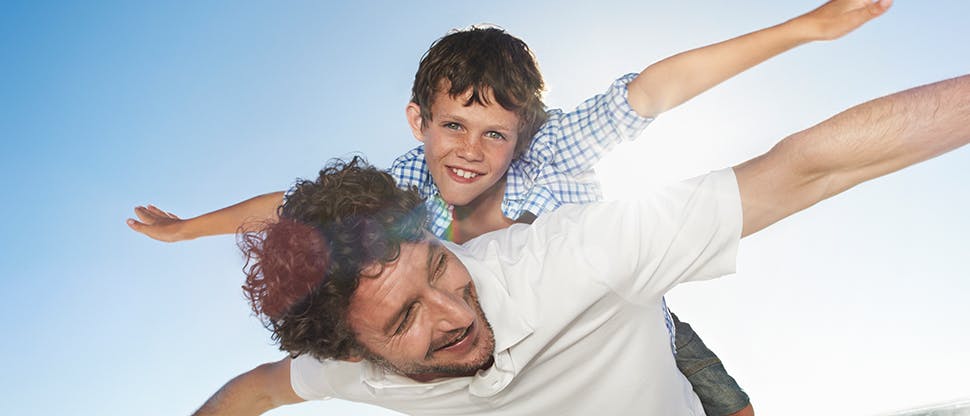 Ben wants pain relief
Ben balances the demands of his full-time job with taking care of two young children.
He enjoys going to the gym or exercising outdoors and loves nothing more than playing with his children.
The last thing he needs is pain from a sprain or strain affecting his life. Voltaren 11,6 mg/g gel speeds recovery by relieving pain and reducing inflammation and swelling,1 so Ben can get back on with his life.
What can Voltaren 11,6 mg/g gel with NoMess applicator do for Peter?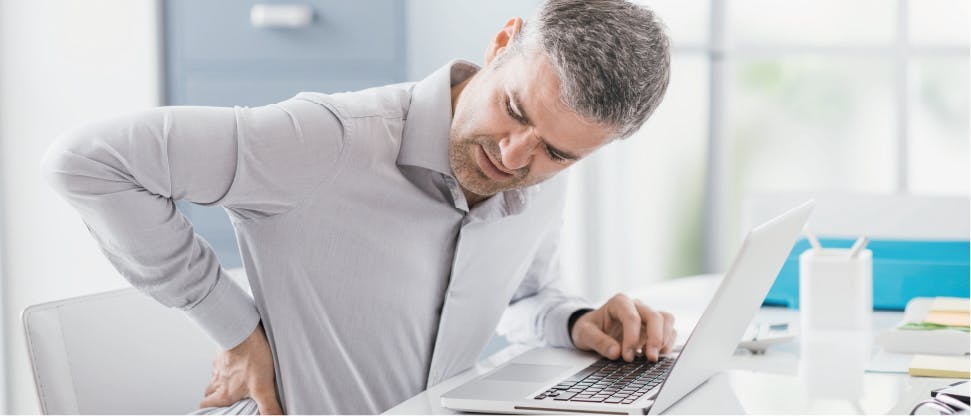 Peter wants pain relief
Peter is a senior manager in a large multi-national company with a demanding commute. By the time he has driven 2 hours in each direction, he is usually experiencing pain in his left knee.
On days when his pain is troublesome he needs pain relief that will allow him to get comfortable, so his evening is not disrupted.
Peter has been seeing a physiotherapist regularly since his youth and prefers using topical treatments. He has recently moved on to using the one with the applicator – which he has found useful not only for keeping his hands clean during application but also helps him to apply in the exact place to obtain the relief he needs.
Voltaren 11,6 mg/g gel speeds recovery by relieving pain and reducing inflammation,1 to help Peter get on with his daily activities.
Recommend Voltaren 11,6 mg/g to your patients for reduction of muscle pain and inflammation
Voltaren 11,6 mg/g gel
For patients who are looking for relief from sprains and strains, using a topical formulation.
Voltaren 11,6 mg/g gel relieves pain, reduces inflammation1–3