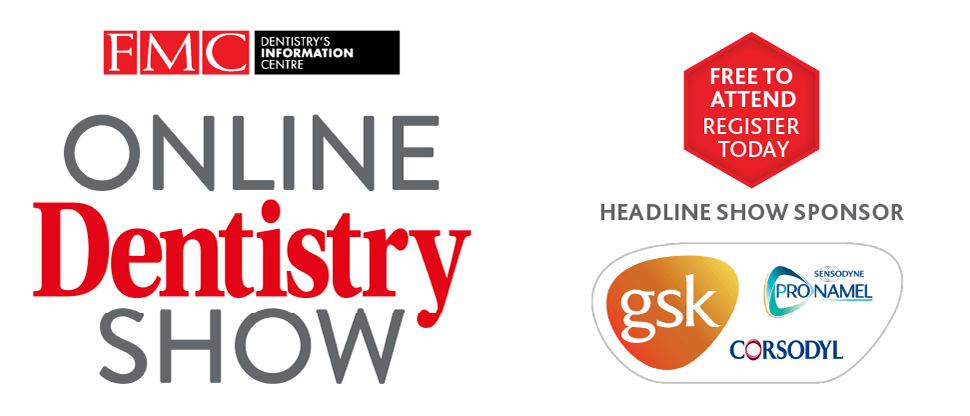 GSK is pleased to be announced as the Headline Sponsor of the inaugural Online Dentistry Show which takes place on 4th-5th September 2020. It will be the first virtual exhibition and conference for UK dentistry and will offer every delegate:
12 hours of enhanced CPD across the 2 days covering GDC recommended topics
Content delivered by leading speakers across the profession

A virtual exhibition hall with the chance to interact with suppliers via video link, audio or live chat
The event is free to attend and even allows you to fill a 'delegate pack' with show offers from exhibitors.
Visit the virtual GSK stand at the event to learn more about how GSK can be your Partners in Prevention and the role of both the BPE and BEWE in helping to support patients in the prevention of periodontal disease or erosive tooth wear. Find out more about the exciting product science of our Pronamel and Corsodyl toothpastes in a virtual chat with a member of our fantastic team and request patient samples. You will also have the chance to win a £5 Uber Eats voucher when you take part in the onstand game.
GSK are also sponsoring a lecture by Domniki Chatzopoulou on 4th September at 1pm on the subject "Periodontal Management in the New World: Where is the Emphasis?".
Andrei Gutierrez, Senior Expert Marketing Manager comments; "We are excited to see the interest amongst the dental profession in the first virtual event. The impact of the ongoing COVID-19 pandemic has highlighted the importance of staying in touch remotely. GSK is committed to continuing to support dental professionals and their patients and we look forward to engaging with dental teams at the event!"
You can register to attend the event free of charge now.